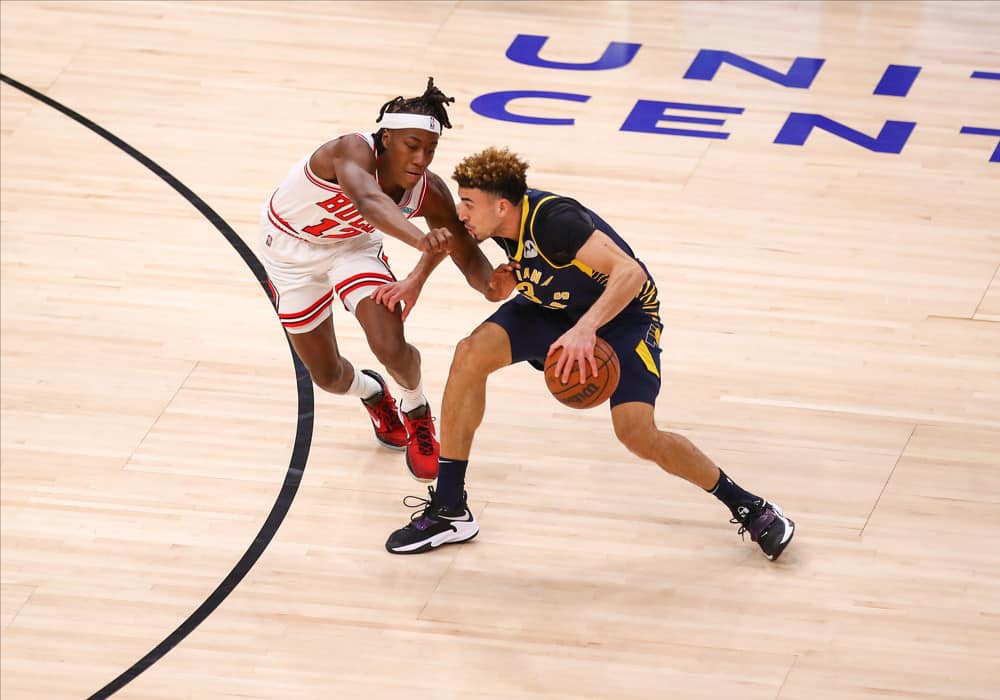 Not only has the Omicron tsunami decimated NBA rosters in real life – it obviously has done the same to all our fantasy basketball rosters. The fantasy basketball waiver wire has become a very busy place, as we're all scrambling to find players who are actually going to see action on an NBA court and subsequently help our fantasy squads. Here are the best players on the fantasy basketball waiver wire who are, at least as these words are being typed, still healthy.
(only includes players rostered in less than 50% of Yahoo Fantasy leagues)

Fantasy Basketball Waiver Wire: Best Pickups Dec 22nd
Grayson Allen – Milwaukee – SG/SF – Rostered 41%
13.1 ppg, 3.6 rpg, 1.2 apg, 0.8 spg, 0.4 bpg, 3.0 3PT/G, 43.7% FG, 86.5% FT, 0.9 tpg
Grayson Allen has survived the carnage thus far and repeats as our top-ranked player currently free on more than half of the fantasy basketball waiver wires out there. He's actually playing so many minutes the team held him out last game for rest, so he should be raring to go the rest of the week. His last game was a dandy – 25 points, three rebounds, three steals, a block, and seven three-pointers.
Luke Kennard – Clippers – SG/SF – 45%
11.7 ppg, 3.5 rpg, 2.0 apg, 0.7 spg, 0.1 bpg, 2.8 3PT/G, 43.6% FG, 95.5% FT, 0.8 tpg
Another repeat appearance, as Luke Kennard continues to shine in Paul George's absence. He brings you pretty much the same as Allen, just in slightly lesser doses. He's also capable of breakout performances, like Allen. Take his line from two games ago – 27 points, seven rebounds, three assists, a steal, and seven three-pointers. He then promptly followed that up with a five-point performance. However, that was his first single-digit scoring performance in December, so hopefully it was just an aberration.
9.8 ppg, 4.7 rpg, 1.8 apg, 1.4 spg, 0.5 bpg, 1.8 3PT/G, 44.9% FG, 61.3% FT, 0.9 tpg
What's with you people – did you not read this column last week?! Dorian Finney-Smith is the third guy in a row that I told you to snatch up last week, yet he's still only rostered in 47% of leagues. He's doing his part, posting double-digit scoring numbers in four straight games, including 23 and 19 in his last two games, respectively. He's also averaged six boards and over three assists a game over the past week.

12.9 ppg, 4.2 rpg, 2.1 apg, 1.0 spg, 0.1 bpg, 1.8 3PT/G, 42.0% FG, 74.4% FT, 1.7 tpg
He's a rookie, so he's maddingly inconsistent, but Chris Duarte seems to be on the upswing again for the Pacers. The past week has seen him post three-straight double-digit scoring games, average over five rebounds a game and two assists, and hit seven threes total. Not too shabby.
7.8 ppg, 5.2 rpg, 2.5 apg, 1.4 spg, 0.6 bpg, 1.5 3PT/G, 48.1% FG, 72.0% FT, 1.1 tpg
He doesn't put up flashy numbers, but there's a lot to like about Royce O'Neal, perhaps most prominently his three-position eligibility. You don't get a bunch of scoring from him, but the rebounds, threes, and steals are nice, and he gets consistent minutes for the Jazz.
11.2 ppg, 3.1 rpg, 1.8 apg, 0.6 spg, 0.2 bpg, 2.7 3PT/G, 36.1% FG, 72.0% FT, 0.7 tpg
Combo guard Malik Beasley is having his worst season in Minnesota, but the past few games have been a return to form for him. Over his last three games, he's averaged 17.3 ppg, 2.7 rpg, 3.7 apg, 1.0 spg, and has hit 13 three-pointers. This might be the time to jump on board before it's too late.
Other fantasy basketball waiver wire players worth checking out: Terance Mann, JaVale McGee, KJ Martin, Josh Christopher
Related Content