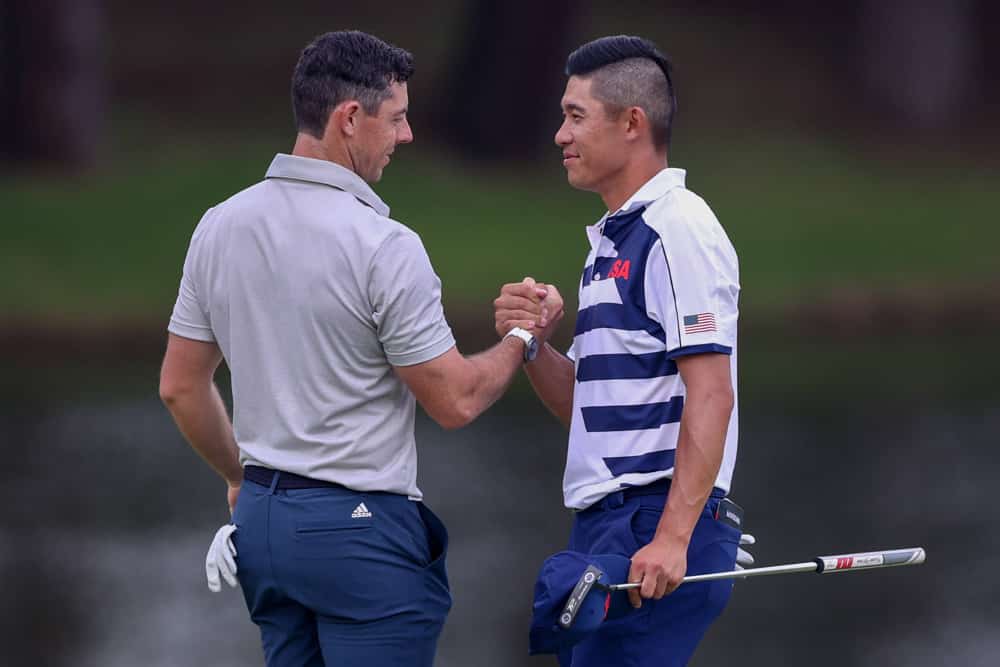 Sometimes it seems like betting on golf is random. One day a golfer plays like Tom Brady. The next day he plays like Blake Bortles. For very little rhyme or reason, a golfer's performance day to day can swing wildly.
This variance makes betting on golf, particularly on head-to-head matchups, frustrating at times. Sometimes it almost feels like Russian Roulette. If that's the case, is it more profitable to blindly bet the underdog in all matchups? Is it better, in the long run, to eat the juice and bet the favorites? Or is a combination of both needed to make the most money betting on golf matchups.
Let's dive into the data.
2021 Golf Matchups: The Data
The following data was used for this analysis:
All 72 Hole and Round-By-Round Matchups for every PGA Tour event (excluding the WGC Match Play and Zurich Classic) in 2021
Only matchups involving two players where ties void the bet was used. No 3 Balls or H2H's where the tie was a bet option was used.
Any head-to-head matchup with equivalent odds on both sides was excluded. For example, if a Xander Schauffele vs. Rory McIlroy matchup was -110 each way, the matchup was excluded. Clear favorites and underdogs only.
Matchups were obtained from one large nationally recognized sportsbook per the odds archive in DataGolf.
The profitability of the closing lines of all applicable matchups was analyzed.
The total profit and ROI per 1 unit bet were calculated on all applicable bets if one blindly bet all favorites or underdogs during 2021.
Here are the results.
2021 Golf Matchups: 72 Hole Matchups
Hypothesis
While betting on golf can be turbulent at times, over the course of a tournament the better golfer (i.e. favorite) should prevail. As the sample size increases, the better chance golfers revert back to their mean over the course of four rounds. Therefore, one would expect that blindly betting on the pre-tournament favorite would be more profitable than blindly betting an underdog.
The Results
Discussion
The first takeaway from this data is that, as one would expect, the house always wins. Assuming equal action on both sides, books would make 5.1% ROI on 72 hole matchups where one side was the definitive favorite. As the old adage goes, there's a reason why they build big casinos in Las Vegas.
The more important (and unexpected) takeaway, however, is that the hypothesis presented above was incorrect for 2021. A $50 bettor who blindly bet all favorites in pre-tournament 72 hole matchups would have lost $3,025 in 2021 or a -7.2% ROI. Conversely, a $50 bettor who blindly bet all the underdogs would have only lost $1,210, or a -2.9% ROI. While blindly betting both wasn't a profitable endeavor, it was less costly to blindly bet the underdog in these matchups.
Is there a possible way to explain this? One possible explanation is the manner in which these matchups are created pre-tournament. The books typically do a pretty good job squaring two fairly equal golfers against each other. It's not often one can find a horribly mispriced mismatch in a pre-tournament head-to-head. A lot of care, time, and effort is put in by books to make sure not only is a matchup fairly equal on paper, but can also generate equal action on both sides.
If that's the case, then blindly betting an underdog would be the better option in the long run. Both players, in theory, are about equally capable of hitting their highs and lows over the course of four rounds. Why not opt for the player that's offered at better odds if their expected outcomes are relatively the same tournament to tournament.
But not all pre-tournament matchups are created equal. Are there particular odds that seem to be more profitable (or least costly) to blindly bet than the others?


Here is where we see a big edge towards blindly betting underdogs pre-tournament. About 94% of all pre-tournament head-to-head matchups featured a golfer no better than a -150 favorite against another golfer no worse than a +125 underdog. A $50 bettor who blindly bet underdogs either with juice or no worse than +125 would have lost $465, or a -1.2% ROI. Conversely, a $50 bettor who blindly paid small to moderate juice on all favorites between -115 and -150 would have lost $3,390 in 2021, or -8.8% ROI. In matchups featuring either slight or moderate favorites, blindly betting the underdog proved to be the better bet in 2021. A savvy bettor would be able to identify mispriced underdogs to return a profit.
Though rarely offered, there were pre-tournament matchups featuring a heavy favorite in 2021. In this case, sucking it up and paying for the juice was the more profitable endeavor. A $50 bettor who blindly bet big favorites greater than -150 pulled a profit of $364, or 11.4% ROI. A $50 bettor who blindly bet the big underdogs worse than +125 would have lost $742, or -36.2% ROI.
However, trying to draw a conclusion from these results is misleading. For one, the sample size in 2021 for these heavy favorites and significant underdogs is very small. Second, most of these profits were from Jon Rahm. Starting last summer, Rahm began finishing Top 5 and 10's in tournaments at an astounding rate. Books responded in kind beginning at the FedEx Cup playoffs by pricing him as a significant favorite over his peers. Those who laid the juice on Rahm were handsomely rewarded. Of the 11 times Rahm was greater than a -150 favorite, blindly betting him would have resulted in a net profit of 4.4 units, or an ROI of 40%. Rahm also accounted for over 60% of all profits from blindly betting big favorites in 2021.
Not many golfers can experience such a strong and consistent run of golf as Rahm did. As such, treat the results above for blindly betting big favorites as circumstantial and volatile year to year.
2021 Golf Matchups: Round-By-Round Matchups
Hypothesis
As mentioned in the introduction, golf is seemingly random day-to-day. As such, one would expect that blindly betting the underdog in individual round matchups would be more profitable (or least costly) than blindly betting favorites.
The Results
The first takeaway, once again, is that the house crushes everyone who bets round-to-round matchups. Assuming equal action on both sides, books generated 4.9% ROI on all matchups with a definitive favorite and underdog. That's a similar return to the 72 hole matchups offered above.
The second takeaway is that blindly betting either side of every round-to-round matchup isn't something anyone should do. A $50 bettor who blindly bet the favorite in every round-to-round golf matchup would have lost $6,515 in 2021 or a -3.1% ROI. A $50 bettor who blindly bet the underdog in every round-to-round golf matchup would have lost $14,165, or -6.7% ROI. It either takes an absolute degenerate, or a bored bettor with deep pockets, or a complete sick-o who would want to try something like this. But in 2021, however, blindly betting favorites in round-to-round matchups was the better (yet still costly) avenue to take.
Once again, 2021 disproved the hypothesis above. Maybe golf isn't as random as we perceive it to be? Or is something else in play. To explore this topic further, let's take a look at the data per round:

While favorites have the edge the first two rounds, blindly betting either side isn't all that appealing. Typically the PGA Tour will pair similar types of players in each group. Books will respond by creating head-to-head matchups based on the Thursday and Friday pairings. Not often will they create ones against players from different groups or tee times. Because the books aren't the ones setting the pairings, they could pit one player with a much higher ceiling than his counterpart. That's probably why favorites hold an edge when evaluating matchups round to round. But overall, though, Round 1 and 2 matchups are pretty much a crapshoot that doesn't provide much edge for the average bettor.
However, where we see a huge disparity in the results is in Round 3. A $50 bettor who blindly bet the favorite in a Round 3 matchup would only have lost $435 in 2021 or a -0.9% ROI. Conversely, a $50 bettor who blindly bet every underdog in Round 3 matchups would have lost $4,950 in 2021 or a -9.8% ROI. In this case, a savvy bettor could parse through all the Round 3 favorites and have a great chance of pulling a net profit for the year. Someone under the assumption that golf is a crapshoot and bets all the underdogs in Round 3 would lose their shirt.
This disparity can be explained away with intangible measures. For starters, pairings in Round 3 are generated based on the leaderboard and can often pit superior players against inferior ones. A superior player may enter Round 3 looking to climb the leaderboard and get back in the hunt. And as a good player, they have the ability to do so. Or maybe a strong player barely squeaked into the weekend and regresses to their mean. Conversely, an underdog might be someone who played out of their mind over the first two rounds and is due for some regression of their own. Or maybe they don't find themselves in contention all that often and falter in the spotlight.
So how large of favorites typically yield the best returns in Round 3?

Three of the four odds ranges yield profitable (albeit small) results. Blindly betting slight and heavy favorites were overall profitable in 2021. The only area that seems like a sucker bet was blindly betting favorites between -125 and -150. At that point, it seems like the juice a bettor would have to pay for these types of players outweighs their expected outcome. Their ROI is similar to blindly betting all favorites in Rounds 1 and 2. But for either slight or heavy favorites, a savvy bettor that can sniff out underpriced favorites can turn a very nice profit.
Interestingly enough, Round 4 matchups seem to revert back to the returns yielded in Rounds 1 and 2. At that point, inferior players may sink to the bottom of the leaderboard on moving day and yield crapshoot matchups. Or a good player who's out of contention might punt on Sunday. betting head to heads in the final round seems like a quick way for the books to get some last-minute money from all bettors.
2021 Golf Matchups: Conclusions
So what are some things bettors can take away from this analysis? Here's a few New Years Resolutions one can adopt for betting golf matchups in 2022.
Don't blindly bet one side. In order to make money betting matchups, a combination of betting favorites and underdogs as well as finding line value is required. One can't break a book simply by blindly betting one side. This isn't breaking news.
Bet more underdogs +125 or better pre-tournament. There appears to be much more value in betting a small to moderate underdog in a pre-tournament matchup than betting a counterpart favorite. Do your due diligence on these types of matchups in order to find your targets. One may not win at as high of a rate, but the overall returns would be stronger.
Target favorites in Round 3. Again, one must do their due diligence before betting. But a savvy bettor has a good chance of turning a profit if small and large favorites are targeted. Avoid moderate favorites.
Obviously, this is a one-year sample size. It's possible several of these trends could turn around in 2022. But when the PGA Tour returns, give these things a try! Maybe it'll lead to some better bankroll management in 2022. If so, that'll help subsidize betting fun things like long shot winners and props.
Related Content