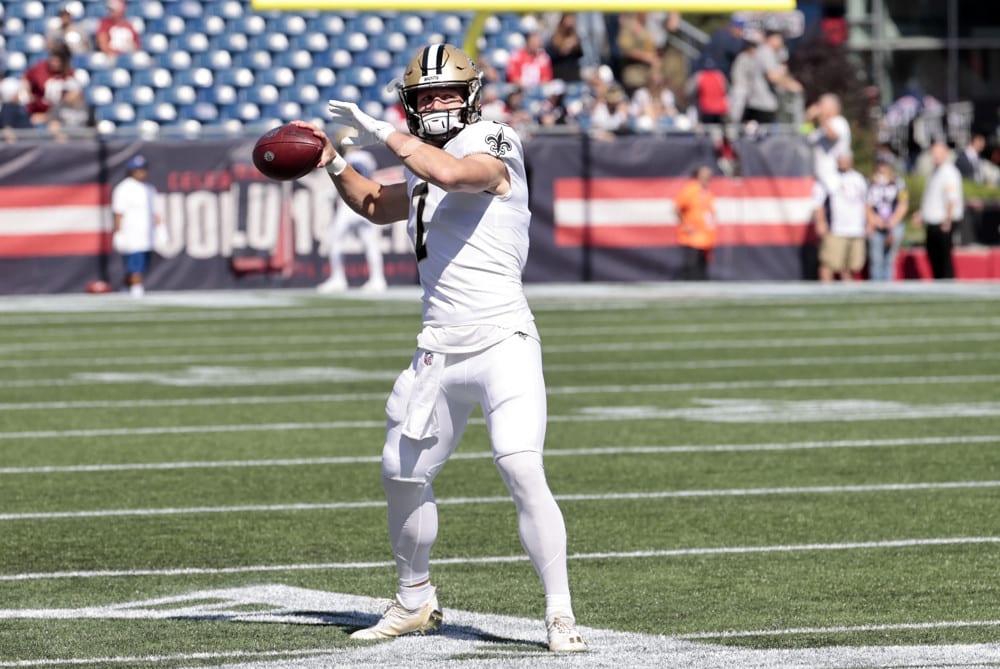 Now that it is Week 14 of the NFL season, it is "must-win" time for a lot of teams. With a spot in the playoffs potentially at stake, it is time to find some potential saviors on the waiver wire. However, opposing managers have the exact same mindset. Therefore, this article will be a guide about which players you should target for Week 14 with your FAAB balance.
EXCLUSIVE SGPN FANTASY CONTENT
SGPN Fantasy Football Rankings
FAAB Waiver Wire Week 14 Guide
Potential Gems (10-20% of FAAB)
Being a good fantasy football player does not always equate to being a good NFL player and that is definitely the case with Taysom Hill. While most people noticed the four interceptions, fantasy football managers noticed the 101 rushing yards and the two touchdown passes. While it remains to be seen if Hill will be starting next week, New Orleans has a Week 14 matchup against a New York defense that is allowing 263.4 passing yards per game which ranks 29th in the league. As a result, expect Hill to play well on Sunday. Use 15% of your FAAB if you are desperate for a QB in Week 14.
Despite having an inconsistent role all season long, it appears that Kenneth Gainwell might be the new starting running back in Philadelphia. After Miles Sanders suffered an ankle injury, Gainwell handled the majority of the work which allowed him to finish with 87 total yards and a touchdown. Even though Philadelphia does not play in Week 14, Sanders might be out for a while so Gainwell could be a sneaky RB2 to use during the fantasy football playoffs.
Risky But Potentially Rewarding (5-10% of FAAB)
Even though Atlanta's offense has been inconsistent all season long, Russell Gage is technically the WR1 on the depth chart. He has been targeted at least seven times in four of the last five games as he has clearly become Matt Ryan's favorite wide receiver. Plus, he had a team-high 11 receptions for 130 receiving yards last week so one should expect to see him heavily involved once again in Week 14. Use 8% of your FAAB if you are a bit weak at wide receiver.
Throughout the entire season, the Seattle Seahawks have had issues at the running back position. Now, Seattle is forced to use a running back by committee approach as its season hangs in the balance. However, Rashaad Penny seemed to be the most impressive running back in Week 13 which was why he was on the field for 41% of the offensive snaps. In that game, he recorded 63 total yards on 11 touches. Now, he will get to face off against a Houston defense that is allowing 144.2 rushing yards per game which is the most in the league. With this elite matchup, he is at least worth a flex play.
Despite struggling as a spot starter this season, Jeff Wilson Jr. might have another shot at securing a large workload in Week 14. Last week, starting running back Elijah Mitchell suffered a concussion so he is questionable for this upcoming game. If Mitchell is out, then one can expect Wilson Jr. to take over the starting role once again. Plus, San Francisco is averaging 125.9 rushing yards per game which ranks seventh in the league so the 49ers should continue to establish the run on Sunday. Use 7% of your FAAB if you are in desperate need of a running back heading into Week 14.
Tyler Conklin – 7% of FAAB
D'Onta Foreman – 7% of FAAB
K.J. Osborn – 6% of FAAB
Amon-Ra St. Brown – 6% of FAAB
Spot Starters (1-2% of FAAB)
Despite Chicago's lackluster offensive numbers this season, Cole Kmet has continued to receive volume on a weekly basis. In three of the last four games, he has recorded at least seven targets as he remains one of Andy Dalton's favorite weapons. Plus, he was on the field for 72% of the offensive snaps last week so he is receiving a ton of playing time. With a matchup against Green Bay up next, expect Chicago to throw the ball a lot in the second half once it falls behind early.
If you are in need of a kicker for Week 14, then Brandon McManus is a "must-add" for your fantasy team. So far this season, McManus has been extremely reliable as he has made 86.4% of his field goal attempts. Plus, he will get to face off against a Detroit team that is allowing 2.7 field goal attempts per game which is the most in the league. As a result, expect him to attempt at least two field goals in Week 14.
If you are looking for an extremely cheap quarterback, then acquiring Tua Tagovailoa makes sense. After a quiet start to the season, Tagovailoa has been playing quite well over the past few weeks. Over the last three games, he has recorded 747 passing yards and five passing touchdowns. Now, Miami will be facing New York after having a bye in Week 14. If you are already planning ahead for the fantasy playoffs, then use 2% of your FAAB to acquire him.
Marquez Valdes-Scantling – 2% of FAAB
Carolina Defense – 2% of FAAB
Gerald Everett – 1% of FAAB
No Bid/Free Agency Targets (0% FAAB)
If you want to add a quarterback that might be available for free, then acquiring Ben Roethlisberger makes sense. Despite being a slightly below-average NFL quarterback at this stage in his career, Roethlisberger put up solid numbers last week. In Week 13, he recorded 236 passing yards and two passing touchdowns. Now, he will face a Minnesota defense that is allowing 250.5 passing yards per game which ranks 23rd in the league so he should have a decent performance.
After being quiet for the first months of the regular season, Josh Reynolds has made some noise over the past few games. He has recorded at least 69 receiving yards in each of the last two games as he has continued to earn the trust of the coaching staff. Plus, he was on the field for 83% of the offensive snaps last week as he is the clear WR2 on the active roster. As a result, look for him to remain involved in Week 14 so pick him up after the FAAB run.
If you are looking for a cheap defense, then Los Angeles Defense is an interesting choice for Week 14. After underperforming during the middle of the season, the Chargers put together a defensive clinic in Week 13. In that game, the Chargers forced four turnovers and recorded one defensive touchdown. Now, the Chargers will get to face the Giants in Week 14 with a potential third-string quarterback behind center. One can expect the defense to shine once again on Sunday.
If you are looking for a tight end that will get a lot more targets in the future, then John Bates is an intriguing option. After being listed as the backup tight end last week, Bates eventually took over the starting job when Logan Thomas suffered a knee injury. He finished the game with three receptions for 42 receiving yards. Although the upside might not be that high, he should still receive a ton of playing time.
Foster Moreau – He remains Las Vegas' starting tight end until Darren Waller returns from his knee injury.
Dee Eskridge – He recorded a touchdown last week for Seattle so he might get more playing time moving forward.
Tre'Quan Smith- He was on the field for 67% of New Orleans' offensive snaps so he is the WR2 on the depth chart.
Jared Goff – He threw for 296 passing yards and three passing touchdowns last week so he might be able to perform well against Denver.

RELATED CONTENT