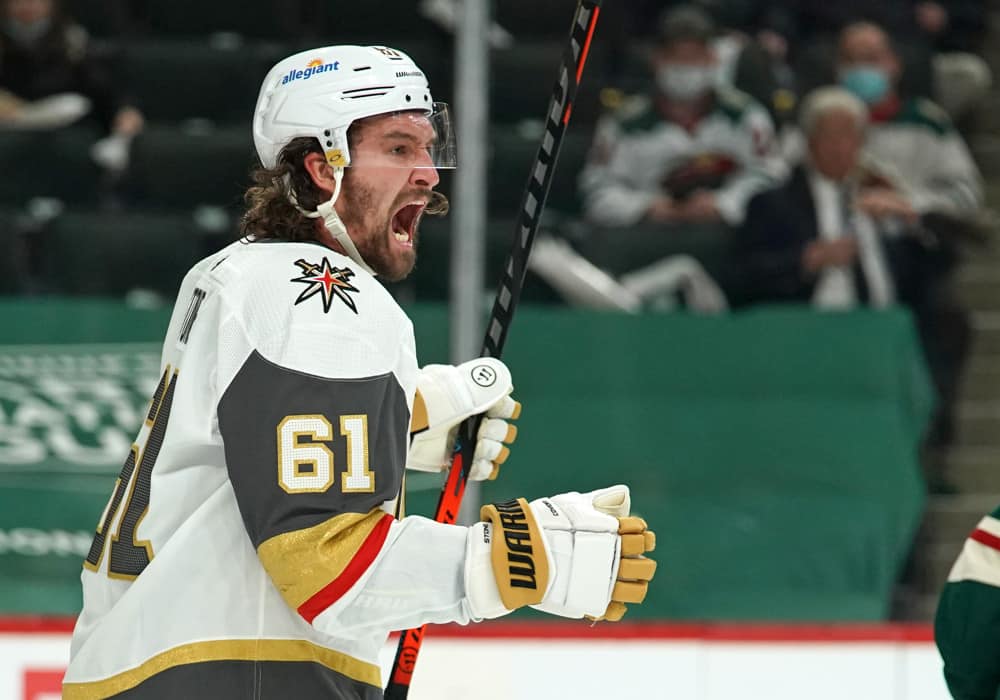 The NHL season is in full swing and what better way to get into the game than with some player props! While hockey can be a bit volatile, NHL player props offer another way to get into the action. Tonight, we're looking at a few NHL player props in the form of shots on goal.
I've been recently tweeting out some of my top NHL player props for the night and wanted to share some of the reasoning behind them. I went 6-2 last night to move to 13-5 on the week. Let's keep it rolling with some NHL Player Props for Friday night!
NHL Player Props: Vegas Golden Knights vs. Arizona Coyotes
The Golden Knights visit the Coyotes in a game set for a lot of shots on goal. The Knights average 33 shots per game while the Coyotes allow 33.7 shots per contest. In fact, in their last eight games, the Coyotes have allowed 310 shots (38.75 per game), including three games with at least 44 shots against.
This opens up the door for us to look at a few different Golden Knights players tonight.
It's rare that we see a SOG line at 1.5 for a forward, but Mark Stone is that type of player. The assist-happy winger is known for his playmaking and defense, but he shoots the puck as well.
Stone has 20 shots in 10 games this season, an average of two per game. However, he had zero shots on goal in his first three games. So, he's had 20 shots in his last seven games (2.85 per game) with at least two shots in each contest.
Stone is on Vegas' top line and power-play unit. He's riding a streak of seven-straight games with 2+ SOG and I can't bet against that tonight.
Jonathan Marchessault is averaging three shots per game and has had at least three SOG in both games since returning from COVID. Going back further, he has 3+ SOG in 11 of 17 games this season. The teams that held him to two shots or fewer are solid defensively, unlike the Coyotes.
Marchessault plays on the second line and seems to be the shooter on that trio with Nicolas Roy and Reilly Smith. He also plays on the second power-play unit, opening up another opportunity for shots.
I like Marchessault to get at least three SOG tonight and the -145 price is about right. Last season, Marchessault had 3+ SOG in 32 of 56 games, so this is nothing new for him.

---
NHL Player Props: Calgary Flames vs. Anaheim Ducks
The red-hot Flames visit Anaheim to take on the Ducks. The Flames average the fifth-most shots in the league at 34.3 per game while the Ducks allow 33 shots per game. Anaheim has allowed at least 30 shots in its last eight games, including five games of 34 or more shots.
Johnny Gaudreau has been one of my go-to players for SOG props. He averages 3.35 shots per game and has been firing at will recently.
Gaudreau has at least four shots on goal in two straight and seven of his last eight games and has 3+ SOG in eight of his last nine games. Going back a tad further, he has 3+ SOG in 11 of his last 13 games.
The Flames in a back-to-back does give me some pause, but that hasn't slowed down Johnny Hockey. Gaudreau had four SOG in Boston the night after taking the same amount on Long Island just two weeks ago.
---
Follow Ryan Gilbert on Twitter (@RGilbertSOP) and subscribe to the Hockey Gambling Podcast on Apple (sg.pn/hockey) & Spotify (sg.pn/hockeys)!
---
Related Content