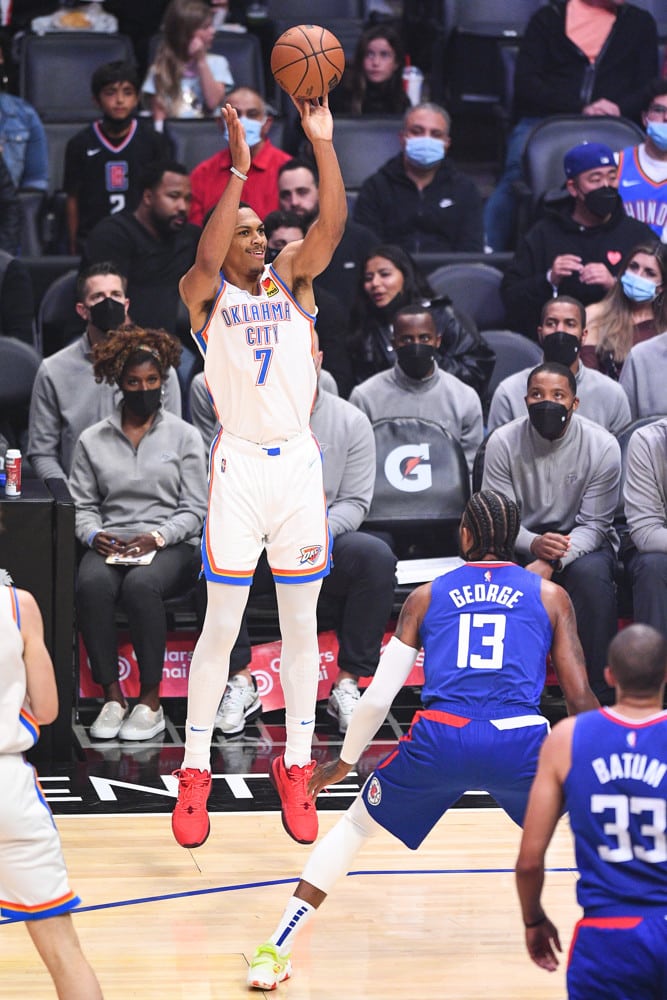 How are you doing in your fantasy basketball league? I'm middling at best in mine. Regardless of your answer, there's always room to improve your roster around the margins, whether it be a temporary injury replacement or a certain stat category you need help in. Here are the best players for your needs currently sitting on the fantasy basketball waiver wire.
(only includes players rostered in less than 50% of Yahoo Fantasy leagues)

Fantasy Basketball Waiver Wire: Best Pickups Nov 24th
Pat Connaughton – Milwaukee – SG/SF – Rostered 33%
11.7 ppg, 5.0 rpg, 1.6 apg, 1.0 spg, 0.3 bpg, 2.6 3PT/G
The fear of Pat Connaughton's numbers dropping off once the Bucks got healthy appears to have been for not, because he's still getting plenty of minutes and putting stats on the board. Over the past week (four games), the wingman averaged 13.3 ppg, 5.0 rpg, and 1.3 spg, while hitting three three-pointers per contest. The career-year continues, yet not many fantasy owners seem to have caught on so he is our top pick currently on the fantasy basketball waiver wire.
Darius Bazley – Oklahoma City – SF/PF – 29%
9.4 ppg, 6.9 rpg, 1.6 apg, 0.6 spg, 1.1 bpg, 1.1 3PT/G
Darius Bazley keeps his streak alive, making it into this column every week I've run it. His ownership actually dropped off last week, as did his scoring, which surely is linked. While he's only averaged 4.8 points over the past week (four games), he's stuffed other parts of the stat sheet – 7.3 rpg, nine assists over his last two games, a game with 10 boards and six assists, another game with seven boards and three blocks. There's still some value here.
11.2 ppg, 2.7 rpg, 4.0 apg, 0.8 spg, 1.2 3PT/G
Monte Morris continues to get the job done for the Nuggets in Jamal Murray's absence, and fantasy players are starting to take note. He had another productive four-game week, averaging 10.8 points, 2.3 boards, and 3.5 assists, and hit over a three-pointer a game. With Murray's return nowhere in sight, there's no reason Morris can't keep this going.
Patty Mills – Brooklyn – PG/SG – 38%
11.9 ppg, 1.7 rpg, 2.6 apg, 0.6 spg, 0.2 bpg, 3.0 3PT/G
This man has been ON FIRE lately! In the Nets' three games this past week, Patty Mills has scored 21, 22, and 17 points respectively, while averaging five three-pointers made per game. He doesn't bring much value outside of scoring, threes, and high shooting percentages, but almost three assists per game is not too shabby. Get in on him while he's hot.

Georges Niang – Philadelphia – SF/PF – 21%
11.8 ppg, 2.8 rpg, 1.7 apg, 0.7 spg, 2.3 3PT/G
Another big week got Georges Niang back on our list. He put up 12.7 ppg, 4.7 rpg, 2.3 apg, and hit eight three-pointers over the three-game stretch. Again, he's one of those guys that doesn't get you much other than points and three-pointers, but if you're in need he seems to be heating up again.
8.6 ppg, 4.7 rpg, 4.7 apg, 0.9 spg, 1.1 bpg, 1.3 3PT/G
The Wolves have gotten an unexpected scoring burst from defensive pest Patrick Beverley, as he's gone for double-digit scoring in three of his last four games. He brings you nice assists numbers, but it's the high rebounds and blocks at the point guard position that could be the deal-sealer for you.
7.8 ppg, 4.7 rpg, 2.3 apg, 1.5 spg, 0.6 bpg, 1.5 3PT/G
It looks like I may have given up on Royce O'Neale on my personal fantasy team a bit prematurely, as he's come alive again. In the last three games he's averaged 11.3 ppg, 5.0 rpg, and 2.7 apg, with three three-pointers made per game. The 1.5 steals per game on the season is a key selling point, as is his eligibility at three positions.
10.0 ppg, 3.7 rpg, 1.5 apg, 1.5 spg, 0.3 bpg, 2.0 3PT/G
Maybe it's his inconsistency that keeps his rostered level so low, but KCP seems to be on a tear again, going for 16 and 17 points respectively in his last two games. That includes a five three-pointer game and a four-steal contest. The high steal and three-pointer numbers, plus the three-position eligibility, means he should be rostered higher than 16%.
Other fantasy basketball waiver wire players worth checking out: Cody Martin, Jae Crowder, Luke Kennard, Cam Reddish
Related Content