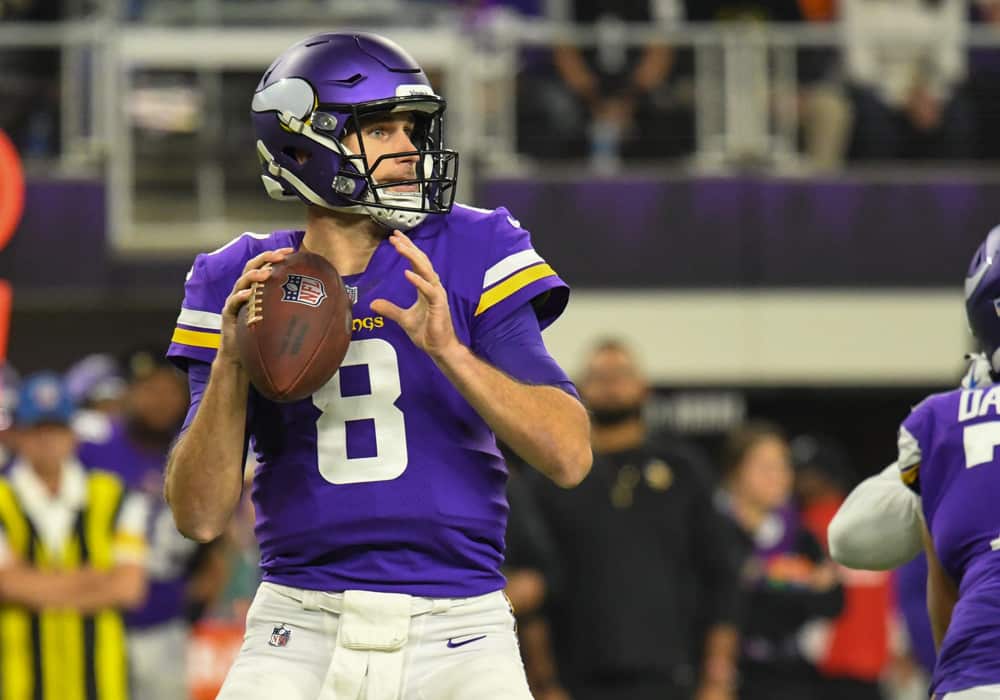 A new week begins and our SGPN Fantasy Football Rankings for Week 11 are once again ready to rock. So far the 2021 NFL season has taken absolutely no prisoners. There have been devastating injuries, mega bye weeks, and several unexpected absences. It's been all fantasy managers can do to keep up with the news. Luckily, the folks here at the SGPN have been keeping tabs on all the action for you. There is a lot at stake as we move closer to the fantasy playoffs, so these rankings become more and more important. As always, you can use them to decide who to start, and who to sit. Here are a few notable players from this week's update.
It's easy to access our collective staff rankings which we've done with the help of the FantasyPros expert platform. These are updated each week to keep up with the ever-changing landscape of the NFL week to week. Among the staff rankers are Dan Titus, Nick Dant, Scott Reichel, Ryan Kramer, Sean Green, Rod Villagomez, Jeremy Popielarz, and Adam Pelletier. Additionally, make sure you are subscribed to the SGPN Fantasy Football Podcast for the most up-to-date news and analysis. You can also check for the latest news and info in the SGPN App available on Android and Apple devices.
SGPN Fantasy Football Rankings Week 11 Update
Kirk Cousins (QB) Minnesota Vikings
It was a rough start to the season for the Vikings. Despite that, Kirk Cousins got off to a hot start in fantasy. Minnesota lost their first two games before rallying back in Week 3 to beat the Seahawks. In that span, Cousins threw for 918 yards and eight touchdowns. More importantly, he did not throw a single interception. He cooled off some in the following weeks and hasn't yet risen back to the heights he reached to open his year. Last week, he came close with a 294 yard, two touchdown performance in a win against the Chargers. The week before he actually rushed for a touchdown. It seems Cousins is gaining momentum again and could be a sneaky good start this week.
https://twitter.com/Vikings/status/1460027377866592260
He may have a rough go of it this week though. Cousins faces a Green Bay defense that has stifled opposing quarters of late. No signal caller since Joe Burrow in Week 5 has thrown for two touchdowns against the Packers. What's more, they have held Russell Wilson and Patrick Mahomes to just over 160 yards passing in each of the last two weeks. Even still, they have registered eight interceptions in that span as well. This narrative plays out in our rankings. A majority of our panel have Cousins sitting just outside the starting range in a 12-team league. Only Dan, Scott, and Sean have faith that he belongs in your QB slot this week. It's a tough call as you may not have a better option. That said, it might be best to temper expectations if you have to roll him out as per our Week 11 Fantasy Rankings.
Elijah Mitchell (RB) San Francisco 49ers
All Elijah Mitchell has done so far this season is silence his doubters. The rookie made serious noise with a 104 yard outing in his first professional game. He even found the end zone. Mitchell then rocketed up the San Francisco depth chart after the Raheem Mostert injury the following week. Since then, Mitchell has two games over 100 yards and two touchdowns. He has made Trey Sermon an afterthought and has become one of the main ball carriers. Last week he proved that he could handle an enormous workload. In a win against the Rams, Mitchell saw the most carries by a single 49ers running back all season. On 27 carries, he gained 91 yards. This was impressive considering Los Angeles had not given up more than 57 yards to a back since Week 5.
https://twitter.com/DynastyNerds/status/1460691642805932033
The only drawback to Mitchell's overall fantasy potential is San Francisco's tendency to hand the ball off to anyone and everyone. In the game against the Rams, Jeff Wilson Jr. made his return, and even wideout Deebo Samuel saw some carries. Overall though, the 49ers stayed committed to the running game and Mitchell's usage, despite all the noise, proved that. The crowded backfield is the reason he can never truly be ranked as an RB1 from week to week. That said, it was enough to send him outside of even starting RB range for Ryan in our Week 11 Fantasy Rankings. Nick also has him as borderline unstartable. Mitchell is going against a Jacksonville team that just got touched up by Jonathan Taylor for 116 yards. The potential is there for the young back to have another solid outing.
Rashod Bateman (WR) Baltimore Ravens
On a team that is known for its running game, Rashod Bateman is beginning to make a name for himself as a pass catcher. SInce his first start in Week 6, he's seen 28 targets. He's caught 18 of them for 241 yards. He's yet to find the end zone, but you have to think that is coming sooner rather than later. Last week, he led the Ravens in receiving catching six of his eight targets for 80 yards. The rookie is still not the main target on this team, but he's building a solid case for why he should be. The majority of the looks will continue to go towards Marquise Brown and Mark Andrews and rightfully so. They will need to make room for Bateman though, as he will only get better with time.
Ravens WR Rashod Bateman's breakout is coming.

Get him while you can.

And 2 other pass catchers. pic.twitter.com/gMy8S2nJn7

— Field Yates (@FieldYates) November 17, 2021
Our panel doesn't quite know what to make of his overall potential against the Bears this week. He currently sits as the consensus WR33, but he's all over the place individually. Adam has him all the way up at the #22 spot, while Nick has him as low as #36. Truth be told, Nick might be onto something. Taking a look at the Chicago pass defense is enough to give you pause on rolling Bateman out this week. With the exception of Deebo Samuel, wideouts have had a rough time against the Bears secondary. The way to beat Chicago is to run the ball, which happens to be something Baltimore does very well. This feels like a week where Bateman will slide in as a back end WR3 or a flex play.
Dan Arnold (TE) Jacksonville Jaguars
It's never fun to have to start a Jacksonville player. Although, the prospect of starting Dan Arnold this week doesn't seem all that embarrassing. For the last three weeks, Arnold has led the Jaguars in receiving. That is an important stat considering the current state of the tight end position in the league. In each of those games, he has at least 60 yards and four receptions. He has no touchdowns to show for his efforts, but not many Jacksonville pass catchers do anyway. Despite all of this, our Week 11 Fantasy Rankings have him on the outside looking in the starting range. Adam is the one true believer of the group as he would start Arnold in a 10-team league.
TODAY AT 5: @Jaguars TE Dan Arnold 1 on 1 with @HaysCarlyon!

Arnold led Jacksonville with 4 catches for 60 yards in Sunday's win over Buffalo.

— 1010 XL / 92.5 FM (@1010XL) November 10, 2021
That might be a big ask this week though. Jacksonville is going up against a San Francisco defense that has given up next to nothing against opposing tight ends. Since T.J. Hockenson went off on them in Week 1 for 97 yards, no other tight end has had more than 38 yards against them. What's more, the 49ers have only surrendered four touchdowns to the position all season. If you picked Arnold up off waivers this week, don't plan on using him for at least a couple of more weeks.
Related Content