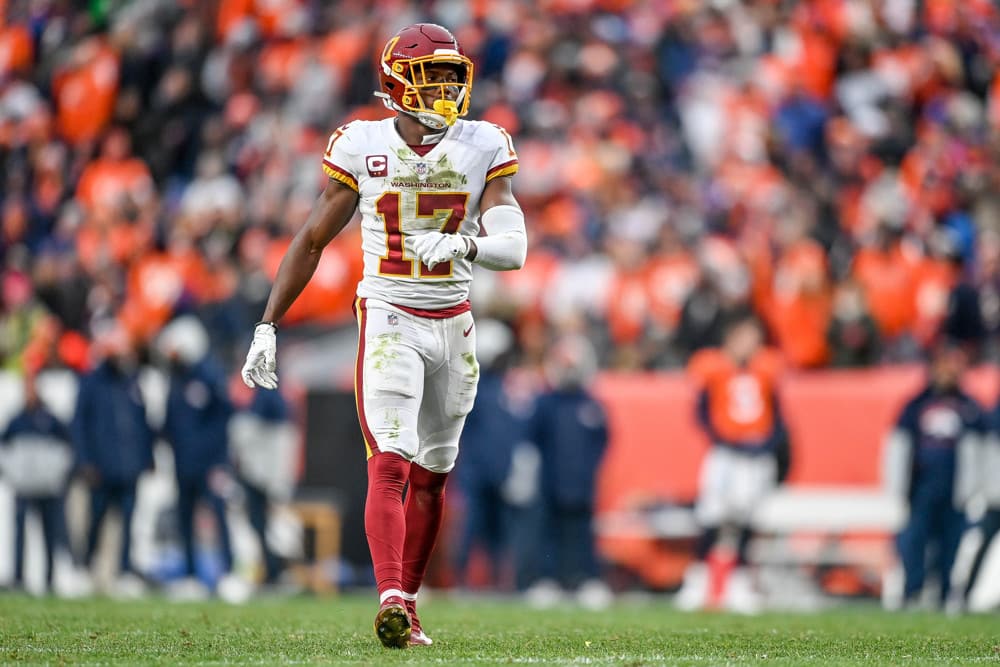 The Week 10 Fantasy Football Rankings Update could not come any sooner! As we start the final quarter of the regular season in fantasy football, the wins and losses get even more important. Luckily your SGPN crew is here to help you figure out who you need to start! This week we have to deal with bye weeks from the Giants, Texans, Bears, and Bengals. With this being said some of us will be missing some high-end pieces this week. If this is you come to take a look at our SGPN fantasy football rankings to find that top-end fill-in. Our staff keeps them updated weekly to help keep you up to date on the changing landscape of the NFL. I have a few key names to highlight that have moved up or down our fantasy rankings heading into Week 10.
We will be updating our rankings regularly throughout the season. Be sure to check back regularly as we update you with the latest news and information. Our rankers this year are Dan Titus, Nick Dant, Scott Reichel, Ryan Kramer, Sean Green, Rod Villagomez, Jeremy Popielarz, and Adam Pelletier. Additionally, make sure you are subscribed to the SGPN Fantasy Football Podcast for the most up-to-date news and analysis. You can also check for the latest news and info in the SGPN App available on Android and Apple devices.
EXCLUSIVE SGPN FANTASY CONTENT
SGPN Fantasy Football Rankings
Fantasy Football Rankings Week 10 Update
Devonta Freeman (RB) Baltimore Ravens
Coming off a bye week we saw Devonta Freeman handle a bulk of the workload for the Ravens. In what was once a crowded backfield, we have finally gained some clarity. Over the past three games, Freeman has seen 26 carries in which he took for 146 yards and two touchdowns. He has also added 5 receptions on 8 targets, taking these for 29 yards and a touchdown. He has become a clear favorite of Greg Roman and the Ravens offense, even with Latavius Murray back.
This week he faces a defense that has underperformed this year in the Miami Dolphins. Right now they average 21 points to the position weekly. I expect Devonta Freeman to find the endzone Thursday night and produce low  RB2 numbers this week. This makes him a great fill-in play if you are missing one of your running backs or flex players. This is why he has risen up the SGPN fantasy football rankings
Terry McLaurin (WR) Washington Football Team
Although the season started off very bright for Terry McLaurin, the once quarterback-proof wide receiver is no more. In the past four games, he has struggled to produce on the field. This has led to single-digit points in three of the four games.  However, the targets are there for him as he has seen 39 targets over those four weeks. The problem lies in the fact he has only caught 18 of them. Hopefully, the bye week was a reset for Washington as they have lost four straight.
Unfortunately this week they draw a tough matchup in Tampa Bay. Although the Buccaneers are one of the weakest teams against wide receivers allowing over 39 points to the position weekly. I fear the pass rush will be too much for the Football Team's offensive line. This will force Taylor Heinicke to make inaccurate and rushed throws. As a result, we see Terry McLaurin slide down the SGPN fantasy football rankings for Week 10.
Courtland Sutton (WR) Denver Broncos
Just as we started to feel great about starting Courtland Sutton weekly Jerry Jeudy returned off IR. This has affected Courtland Sutton greatly. Over the past two weeks, we have seen his targets dip to 4 and 2. This is concerning for a player who saw no less than 5 while Jerry Jeudy was out.  Even worse he has only managed 9.9 total fantasy points over those two weeks. It seems pretty clear that Jerry Jeudy has taken the lead of this wide receiver room upon his return.
This week he draws the toughest matchup since Jeudy's return in the Philadelphia Eagles. The Eagles have been allowing 40.7 points to wide receivers weekly currently. I expect Darius Slay to lock onto Courtland Sutton, this will make for a long day as Darius Slay is one of the best in the business. I expect him to produce WR3 numbers at best. As a result, he has slid down the SGPN fantasy football rankings this week.
Dalton Schultz (TE) Dallas Cowboys
Early season success has put Dalton Schultz on the map again in 2021. With the return of Dak Prescott, he has emerged as a top fantasy option at the tight end position. He had five double-digit PPR point weeks leading into their Week 7 bye. Since then it has been some tough sledding only producing 12.5 PPR points in two weeks.  However, with the recent news of Blake Jarwin going to IR I expect to see a bump for Dalton Schultz.
This week the Cowboys face off against a weak Atlanta defense. They currently rank third-worst to tight ends allowing over 15 PPR points a week. I expect that Dalton Schultz will produce top 5 numbers this week. He is a smash start in any format, even as a flex player. This is why he has risen up our SGPN fantasy football rankings in Week 10.
RELATED CONTENT