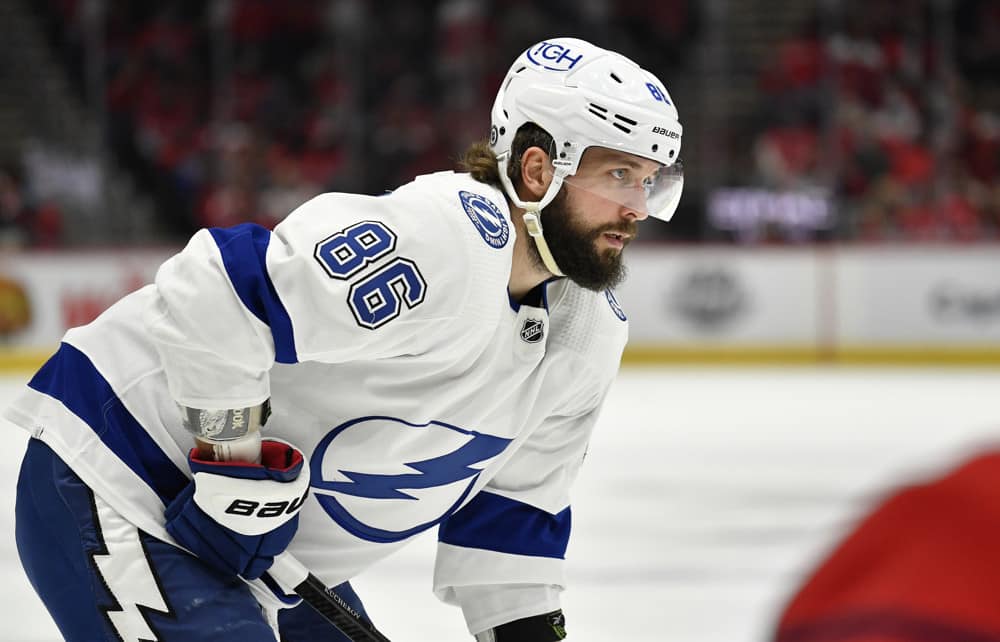 Week 2 of Fantasy Hockey is over.  There's no time to celebrate your winning team or sulk about an upsetting loss. What separates Fantasy Hockey from the likes of Fantasy Football is that you're back in the saddle as soon as your previous week is finished. There's plenty of happenings around the NHL & Fantasy landscape, so let's dive right into everything you need to know to help put your team over the top in Week 3.
Fantasy Hockey Replacements for Nikita Kucherov
You can't help but feel for managers that selected Nikita Kucherov in the first round of their draft. Tampa Bay recently placed the 28-year-old Russian winger on LT-IR with no expected return date.
Lightning teammate Mikhail Sergachev spoke to the media stating "He's going to get some rest and get ready for the Olympics and Playoffs. He'll be fine." Based on this, you can expect Kucherov to be out until at least January.
Let's look at potential replacements you might be able to scoop up in free agency or on the waiver wire to fill that hole at RW caused by Kucherov's injury.
Dustin Brown has spent his 18 years in the NHL often being overlooked by most casual fans. There's no doubt that the 36-year-old Canadian is on the tail-end of his career, but Brown has seemed to have found the fountain of youth.
His last full (non-COVI season) in 2018-19, Brown put up 22 goals and 29 assists for 51 points in 72 games. He currently has two goals and three assists for five points in five games with a growing Kings team. With Brown playing the half-board on the Kings power play, he has the potential to reach the 20-goal mark again for the eighth time in his career.
J.T Compher (RW), Colorado Avalanche
As a team, Colorado has yet to jump off the page this season, sitting at sixth in the Central Division through five games. It's safe to assume that this team won't be at the bottom for long.
Enter J.T Compher.
The American winger is off to a solid start with two goals and two assists for four points in five games with the Avs. Playing on the second line with Nazem Kadri and Tyson Jost doesn't hurt his cause either.  Compher will have every opportunity to blow his career-high points total (32) out of the water.
Josh Bailey (RW), New York Islanders
The Islanders have been a tad slow out the gate from a scoring perspective in the 2021-22 season so far, only recording four or more goals once. Josh Bailey's production has been affected by this, but there's ZERO reason to think it will last. The Islanders right winger is a sure lock for at least 50 points this season.
He may not put up the goal totals that Nikita Kucherov would, but with elite play making ability, and a top-level hockey IQ, Bailey is a player worth scooping up in any Fantasy Hockey league. Playing on a line with Mathew Barzal doesn't hurt either.

Fantasy Hockey Players To Watch
The NHL in 2021 has been dominated by young talent now more than ever. Let's talk about some of these young stars worth keeping an eye on in your Fantasy Hockey leagues.
If you weren't aware of Lucas Raymond already, I'm sure you are now. The 19-year-old Swedish Winger turned heads around the league on Sunday Night putting up three goals and one assist in a 6-3 win against the Blackhawks.
Raymond is playing on a top line with Dylan Larkin and Tyler Bertuzzi on a young –– and red-hot –– Detroit team. It's bold to assume he'll keep his point-per-game pace up for the entire season, but it's safe to say the kid has potential to be an impact player in the NHL.
Noah Dobson (D), New York Islanders
The fans in Long Island have every right to be excited about the 21-year-old Canadian defenseman. But Dobson seems to be forgotten by most fans around the league. You can probably blame this on his first two seasons in the NHL being cut short by COVID.
Dobson has quietly put up three assists in six games as a defenseman in the best league in the world. What intrigues me most about Dobson is his role quarterbacking the first power play unit for the Islanders. A 35-point season isn't out of the realm of possibilities for Dobson.
The NHL is a league of opportunity. With the noted injury to Nikita Kucherov, Mathieu Joseph is expected to be bumped up the line-up in Tampa. The 24-year-old forward broke out in the playoffs last year, making a name for himself around the league.
Joseph will have every opportunity to solidify himself as a young top-six option on one of the best teams in the league. The Lightning are off to a slow start, but when they inevitably get back on track, the French-Canadian should be a contributor to their success.
---
Tally's Shame Shack
I'm debuting a new segment titled "Taly's Shame Shack". In this weekly segment, I'll be placing five players that had a terrible fantasy hockey performance the week prior into my "Shame Shack".
Please note that I'm not advocating to drop these players, but just keep in mind they're in the doghouse and will have to take strides to get off my list. Players will be judged for their Weekly performance, not their overall performance on the season.
Mitchell Marner (RW), Toronto Maple Leafs
Marner is often the subject of criticism from the Leafs faithful, not always deservingly so. But last week, Mitch secured his spot in the Shame Shack by multiple lackluster performances, registering zero points in 3 games. A Marner breakout could be right around the corner, but there's no argument it's been a slow start for the First Team All Star Winger.
Sean Monahan has been the topic of conversation for Flames fans over the past few years. His inability to have playoff success seems to have started to affect his regular season play as well. Maybe it's the trade rumours, maybe it's the being pushed down the line-up. But the zero goals, zero assists, and -3 Plus/Minus rating have earned Monahan his spot in this week's Shame Shack.
Giordano might be put in the Shame Shack unfairly. When you're the top D-man playing the most minutes on a weak expansion team, you're bound to have a tough Fantasy Hockey performance. I included the veteran defenseman primarily because he has expectations to be "The Man" in Seattle, and unfortunately is battling to live up to this role. Gio is starting to show the same prowess he had in Calgary, but the past week has been tough.
Shea Theodore has exploded over the past three years proving himself to be a top-10 defenseman in Fantasy Hockey. The 26-year-old veteran is an important part of the Golden Knights backend. He's expected to be a top star on Canada's Olympic squad this year. as well Unfortunately, Theodore earned his spot in this weeks Shame Shack with zero points and a -4 Plus/Minus in three games last week. Fantasy managers expect more from the Vegas Ace and honestly, I don't expect him to be in the Shack for long.
Marc-Andre Fleury and the Chicago Blackhawks had high expectations to take a step forward this season. Unfortunately, Fleury hasn't been able to have the success he had in Vegas through the start of the year. His performance last week hurt Fantasy Hockey GMs around the world. Fleury might be in the Shame Shack for the coming weeks unless the Hawks can start providing him with the team defence that the 36 year old veteran needs to succeed.
---
RELATED HOCKEY CONTENT