The UFC returns once more to the UFC Apex this Saturday night for another weak UFC Fight Night card. I did well with my picks for last week's weak UFC card, so why not wash, rinse, repeat for this Saturday? This is another chalky fight card, in my eyes, so I had to make a couple of compromises with my UFC Vegas 40 DraftKings roster. However, fear not – it'll still be a winner.
RELATED
UFC Vegas 40 Betting Guide
UFC Vegas 40 DraftKings Roster
L'udovit Klein – $9,200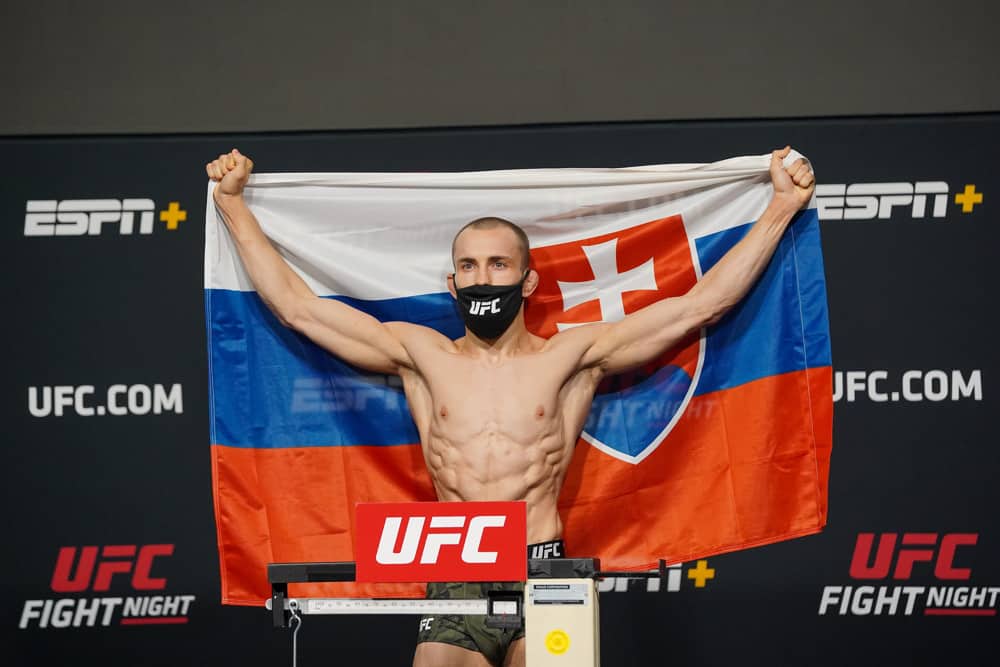 I'm spending the big bucks on big-hitting Slovakian L'udovit Klein to kick things off. He lost his last fight, but still posted a respectable 45 points. However, in his UFC debut, he scored 109 points with a head kick knockout. There's a reason he's known as 'Mr. Highlight', after all. This weekend I'm expecting another triple-digit performance, as opponent Nate Landwehr is going to get hit often – and hard – by Klein.
Manon Fiorot – $8,900
The top fantasy point producer per fight on Saturday's card is 'The Best' Manon Fiorot, who averages a beastly 109.9 FPPF. Both of her UFC fights ended in a knockout, with her putting up 100 points in her debut and 120 in her second fight. This week's victim, Mayra Bueno Silva, will be no match in the striking department and I'm predicting yet another knockout and 100-plus points for Fiorot in Vegas.
Aspen Ladd – $8,400
We'll move to the main event and grab last-minute replacement Aspen Ladd at a pretty affordable $8,400. Other than her fight against Germaine de Randamie, where she got quickly knocked out and scored 0 points (ouch), she's been an extremely dependable DFS performer. In her four other UFC fights, she's scored between 88 and 115 points. There's no reason why she won't do that again in Saturday's main event offering, as she's a way better fighter than Norma Dumont.

Bruno 'Blindado' Silva – $8,300
The second-best fantasy performer swapping leather on Saturday is Bruno 'Blindado' Silva (nickname included so you don't confuse him with his namesake who is a UFC bantamweight). Silva put up 102.3 points in his debut, sparking out Wellington Turman. I'm expecting the same aggressive striking this weekend against Andrew Sanchez, who has been knocked out four times in his career. Another triple-digit performance for $8,300.
Looking for more opportunities to bet? Check out V9bet.
Istela Nunes – $7,700
Now comes my aforementioned compromises to my UFC Vegas 40 DraftKings roster. I picked Ariane Carnelossi to beat newcomer Istela Nunes on Saturday. However, my MMA Gambling Podcast cohost is high on Nunes, and he knows a lot about new prospects coming into the UFC. So worth a dice roll here at a very cheap price.
Jordan Wright – $7,400
My final compromise. I'm expecting Julian Marquez to beat Jordan Wright on Saturday. However, I don't think it's a given and I feel 'The Beverly Hills Ninja' has more than a puncher's chance in this fight (can you call it a puncher's chance in MMA where they also kick and elbow and choke?!). And when Wright is right, he's been dynamite in the UFC, scoring triple-digits in his two wins.
Listen to this:
UFC Vegas 40 Betting Guide (Journey Through Gumby's Mind) | MMA Gambling Podcast (Ep.81)
Make sure to visit our odds page for up-to-the-minute lines from various books!