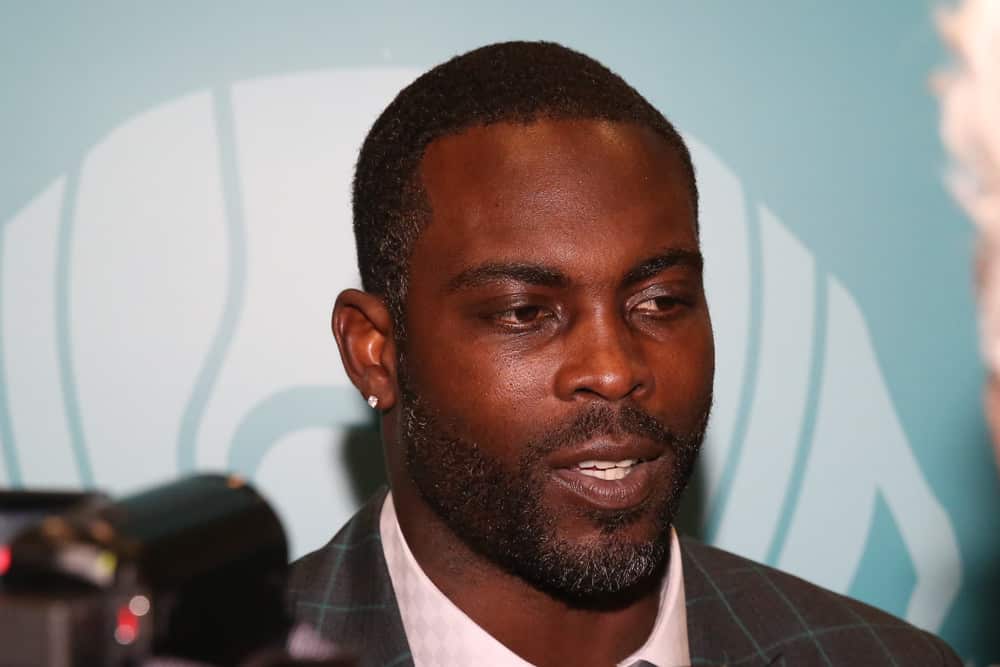 Active NFL players are barred from betting on league games by law. Still, this doesn't stop everyone from flouting the rule. The National Football League has suspended at least one player—Cardinals' Josh Shaw—for betting on football games in 2019.
Although active league players can't bet on football, it doesn't mean they can't play casino games. It also doesn't mean the NFL can't partner with gambling companies—the NFL now has sponsorship deals with DraftKings, FanDuel and Caesars Entertainment.
Here, we've compiled a list of NFL players with an outspoken love for gambling. Let's get into it.
#1: Michael Vick
Every NFL fan knows the story of Michael Vick. He was one of the biggest quarterbacks of the 2000s. He appeared on football video game covers, set numerous NFL records and signed multi-million endorsement deals.
Then his football career came to an abrupt ending in 2007 after he was apprehended for running a dog fighting gambling den. The entire saga made news around the world, with NFL fans split on what to think of the former Falcons QB.
Ultimately, Vick was sentenced to 21 months in prison. Although his legal problems tarnished his reputation beyond repair, Vick got a second chance in the NFL after the Eagles signed him in 2009. 
Surprisingly, the Virginia Tech alumnus performed pretty well during his run in Philadelphia, qualifying for the pro-bowl after recording the best season of his career in the 2009-10 season. 
#2: Adam "Pacman" Jones
Adam "Pacman" Jones is a former cornerback who had stints with the Cowboys, the Bengals, and the Broncos. Unfortunately, Pacman really didn't put much effort to his NFL career as much as he did to off-field mischiefs.
Indeed, Pacman had trouble with the law since the first day he joined the Tennessee Titans in 2005. His biggest mistake, though, was initiating an altercation that led to a shooting which left a man paralyzed from his waste-down in 2007.
Away from legal troubles, Pacman was also a regular sports bettor while active in the NFL. In one case, phone recordings of drug dealer Darryl Moore released by the FBI revealed Pacman would bet on college games to make quick money.
In 2007, betting on college games was largely illegal. In 2021, sports betting is legal in most states in the US. Betting is also legal in Canada: Click here to visit cabets.ca for the latest sports betting tips and guides. 
#3: Adrian McPherson
Adrian McPherson is a former football player who spent the majority of his career playing in the Canadian Football League. He started his career in the NFL, though—the New Orleans Saints drafted him in 2005.
Considering Adrian mostly played for non-NFL teams like the Los Angeles KISS and the Calgary Stampeders, he's isn't very famous among many football fans. In fact, the quarterback is more famous for his betting issues.
For example, McPherson was arrested in 2002 for betting on college games in which he participated. He pleaded no contest for the accusation and avoided jail-time. 
#4: Art Schlichter
Art Schlichter's case is sad and regrettable. During his college years in Ohio State, the now 61-year-old regularly ranked in the top-10 list of most likely to succeed football players. But after he got drafted by the Indiana Colts in 1982, Art's career went downhill.
Sure, he played four seasons for the Colts, had a stint with the Ottawa Rough Riders and also played in the AFL. But this once promising quarterback's career ended in 1990 due to legal problems stemming from gambling addiction.
In his own words, Schlichter has committed over 20 felonies, gambled his entire NFL salary, conned his friends and stole more than $1.5M. 
#5: Terrence Kiel
Terrence Kiel is yet another case of a former NFL player who ruined his life by having too many off the field problems. Drafted by the Chargers in 2003, Kiel spent just four years in the league before his untimely death in 2008.
So, what really happened to Kiel? While at the Texas A&M University, Kiel was an outstanding footballer. He started in all junior year games. And in his second year, he received all-big 12 honorable mentions.
The former safety's problems began in the NFL. As a rookie in 2003, Kiel was the victim of an attempted carjacking. He recovered from the incident. In 2006, he got involved with a drug trafficking problem and had to pay bond worth $1.55M to get out of jail.
In 2007, Kiel's problems intensified after he was arrested for trafficking the purple drank drug. He cited gambling addiction as the reason for his crimes. But that didn't help his career—the Chargers dropped him immediately after the case. A year later, Kiel died in a car crash while getting back home from a party.
#6: Lamont Jordan
It's always great when a former footballer with off the field issues turns his life around. That's the case for former New York Jets running back Lamont Jordan. Drafted in 2001, Jordan spent four years in NY before he signed for the Raiders, the Patriots and the Broncos.
Lamont retired from football in 2010. But for several years, he's appeared on the news for his mischief. Notably, the Mirage Casino sued him in 2009 for writing a bad check worth $20,000. Surprisingly, Jordan could afford the money, noting he received a $500,000 signing bonus from the Bronco a few months earlier.
#7: Josh Shaw
Josh Shaw appears in this list solely for his 2019 football betting incident. Being an active player at the time, the Cardinals defensive back should have known better. It didn't matter if he was injured or not. He was an active player for an NFL franchise. 
The NFL suspended Shaw for 21 months in 2019 for betting on football games. However, the league noted it found no evidence that Shaw used inside information to wager on sports. What's more, the NFL stated it found no evidence the cornerback gambled on sports with the full knowledge of his fellow players, coaches or the team administration.