Hello everyone! The NBA postseason is coming to a close, but not quite yet! We're back with another round of NBA DFS picks, this time for Game Two of the NBA Finals. Game One saw the Suns close the door on a Milwaukee comeback, and the Bucks are looking to even the series tonight. There's a lot of angles to look at when making a showdown lineup for a contest such as this one. Let's take a look at a lineup that I really like for tonight's slate.

NBA DFS Picks (MIL/PHO Showdown) July 8
Although there are many angles that can be played, Deandre Ayton at the captain feels the safest. He was an absolute menace in Game One, going for 22 points and 19 rebounds on his way to 49.25 fantasy points. Ayton is in much better shape and has a huge speed advantage over Brook Lopez, who is normally guarding him. Ayton has topped the 40 fantasy points mark in four of his last six games, and there's a high chance that he does so once again. He may be somewhat chalky, but Ayton is the most solid captain choice.
It's hard to ignore Khris Middleton again Thursday. His shooting percentages haven't been exactly efficient lately, but he's still producing at a high level nonetheless. Middleton is a volume play who is worth playing nine times out of ten. He's shot at least 10 threes in two straight and he regularly has 20+ shot attempts. Middleton is going to get tons of looks, and I believe he will knock more down than he will miss. If you're playing one of the two top guys from Milwaukee, Middleton feels like the safer play given the cheaper price.
If Milwaukee is going to have a chance at winning this series, Jrue Holiday is going to have to play much better than he did in Game One. He does draw a tough matchup across from him in the form of Chris Paul, but I believe he is due for a bounce-back game. Holiday shot only 4-14 from the floor last game. It's unusual that he has very many back-to-back bad shooting nights. Holiday was solid in every other aspect besides his shooting last game, and a bounce-back with an efficient shooting night will put us in the money with Holiday in our lineup.
This play feels like somewhat of a question mark, but I do like Mikal Bridges as a nice option in your NBA DFS picks. Although he plays a small role for the Suns, his role is vital. He isn't asked to score a bunch, but the court seems to open up for him sometimes. Bridges had 13 shot attempts last game and I believe there's a good chance this will be the case once again in Game Two. Bridges is often the forgotten man on the court for Phoenix, and this leads to shot attempts. I like Bridges to get us a solid 25-30 fantasy points in this contest.
You won't find a more solid cheap option from Phoenix than Cameron Johnson. He's another role-player who only sees around 20 minutes or so on the court. However, Johnson is extremely efficient with his time on the court. He averages 17.8 FPPG, and he's good for a solid 20 fantasy points most nights. Johnson is one guy who I believe will be overlooked on this slate as well. I wouldn't be surprised if his ownership is under 25%. All that said, I look for Johnson to have a solid DFS outing once again on Thursday.
It's insane how much P.J. Tucker plays despite barely scoring. However, his defense and rebounding abilities make him worth a look. This is especially true when the price is so cheap. Tucker is going to grab rebounds and he can add a few assists as well. The only thing holding him back from being a great DFS option is the shot attempts. I do believe Tucker is due for a huge DFS game – it's only a matter of time. I expect the ownership to be heavy on Tucker, but I am going to bite the chalk and play him in my lineup as well.

Will's NBA DFS Picks MIL/PHO July 8th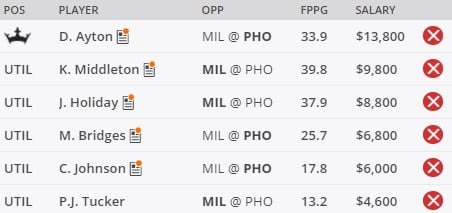 Make sure to subscribe to NBA Gambling Podcast on Apple and Spotify. Check out our NBA expert's updated against-the-spread NBA picks today and EVERY DAMN DAY for EVERY DAMN GAME at SG.PN/nbapicks