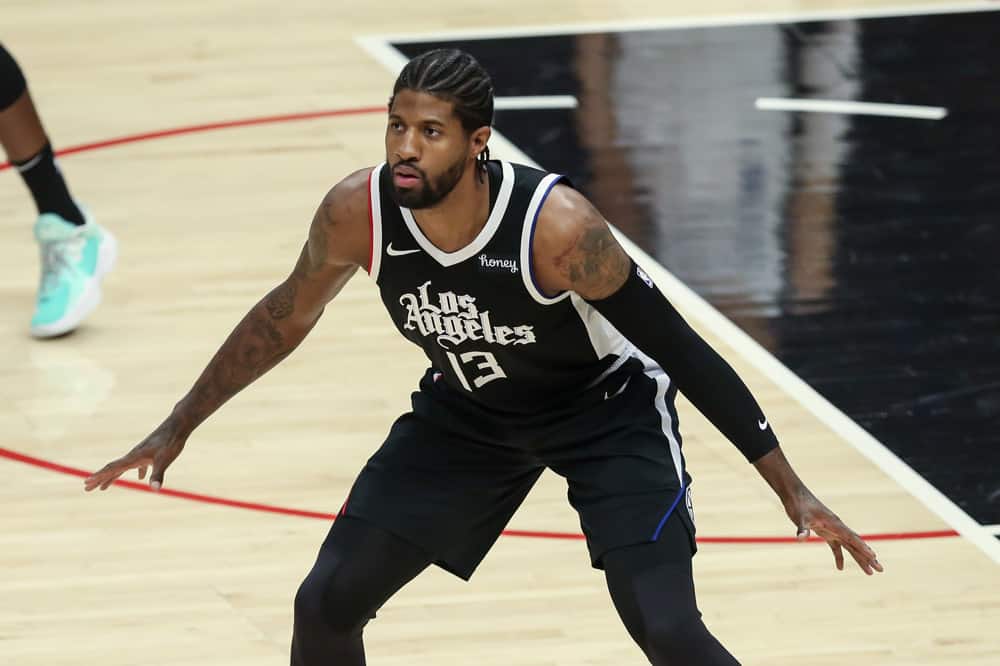 Happy Tuesday everybody! Although the NBA Playoffs are slowly winding down, we're still rolling with our NBA DFS picks. Tuesday night features an exciting Game Two of the Western Conference Finals between the Clippers and the Suns. Showdown contests have been my bread and butter over the years, and I'm excited to share my GPP lineup with you all today. Let's dive in and take a look at a solid showdown lineup I'm rolling out today!

NBA DFS Picks (Showdown) June 22nd
Captain – Paul George ($18,000) – LAC
There is a reason that Paul George is the most expensive player on today's slate. The Kawhi-less Clippers dropped Game One in this series despite a solid outing. George didn't have his best shooting night, but he still shot 10-26, including 7-15 from three, on his way to 55.5 fantasy points. George is normally a 40%+ shooter anyways, but he's been especially good against Phoenix this year. He's shot 51.1% from the floor and 55.8% from three in four games with the Suns this season. I believe we can get 100+ fantasy points from George in the captain seat if the cards fall just right.
Deandre Ayton has been outstanding all season, and this has continued in the playoffs. He's been extremely efficient with his shots and has rarely shot below 60% each game. Although his defensive output hasn't been great, this can be avoided. The Clippers don't have a dominant big man, and this is a great matchup for Ayton each game. It's been two games since Ayton notched a double-double. He fell a single rebound short last game, and I believe he can notch one this game. Ayton is capable of putting up 40+ fantasy points any night, so it's best to play him in your lineups to be safe.
Frequent readers of my NBA DFS picks, especially since the beginning of the playoffs, should be accustomed to seeing Nicolas Batum in my picks. He's been a solid DFS play all playoffs, and I see no reason this doesn't continue today. Kawhi remains out for the Clippers, which increases both Batum's playing time and his usage. He's been good for around 25+ fantasy points just about every game during the postseason due to his secondary stats. I believe this continues on Tuesday, as he will score a few points and add some assists and rebounds on his way to another 25 or so fantasy points game.
Speaking of consistent DFS players, Jae Crowder is another regular for my NBA DFS picks. I love his style of play, and he's about as consistent as they come. Crowder averages 22.9 FPPG, and he's good for that plus some most nights. He is a solid shooter who will add 10-15 points and rack up on rebounds, assists, and other secondary stats as well. I don't expect a high ownership of Crowder on today's slate, and I believe he is one of the most solid mid-tier priced players available. I love playing Crowder in as many lineups today as you can because he will get you around 25+ fantasy points each game.
With CP3 still out for Phoenix, I am going to continue to play Cameron Payne. He was outstanding in Game One, dropping 11 points, nine assists, and three rebounds on his way to 32.25 fantasy points despite battling foul trouble. Payne has seen an increased role every time Chris Paul is out of the lineup. This will continue to be the case on Tuesday. He's a solid cheap option, and his pricing is surprising to me. I expect high ownership on Payne today, but the winning lineup will more than likely feature him in a utility slot, as he is a hard player to ignore for our showdown lineups.
It's time to get ourselves a little low-ownership GPP separation in Luke Kennard. Figuring out Tyronn Lue's rotation, especially for the playoffs, will give you a headache. His rotation has changed each game, so there's really no telling how much time Kennard will see. However, he is a deadly shooter who's shown time and time again how effective he can be when given playing time. A little foul trouble is all we'll need to get him out there. If we can get decent playing time from Kennard, then we have the value play of the day right here. I like taking a gamble on Kennard to separate ourselves from the field.

Will's NBA DFS Picks LAC/PHO June 22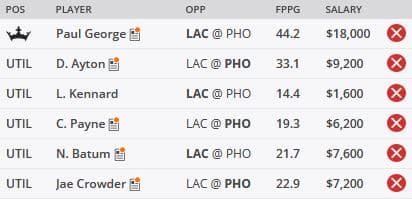 Make sure to subscribe to NBA Gambling Podcast on Apple and Spotify. Check out our NBA expert's updated against-the-spread NBA picks today and EVERY DAMN DAY for EVERY DAMN GAME at SG.PN/nbapicks