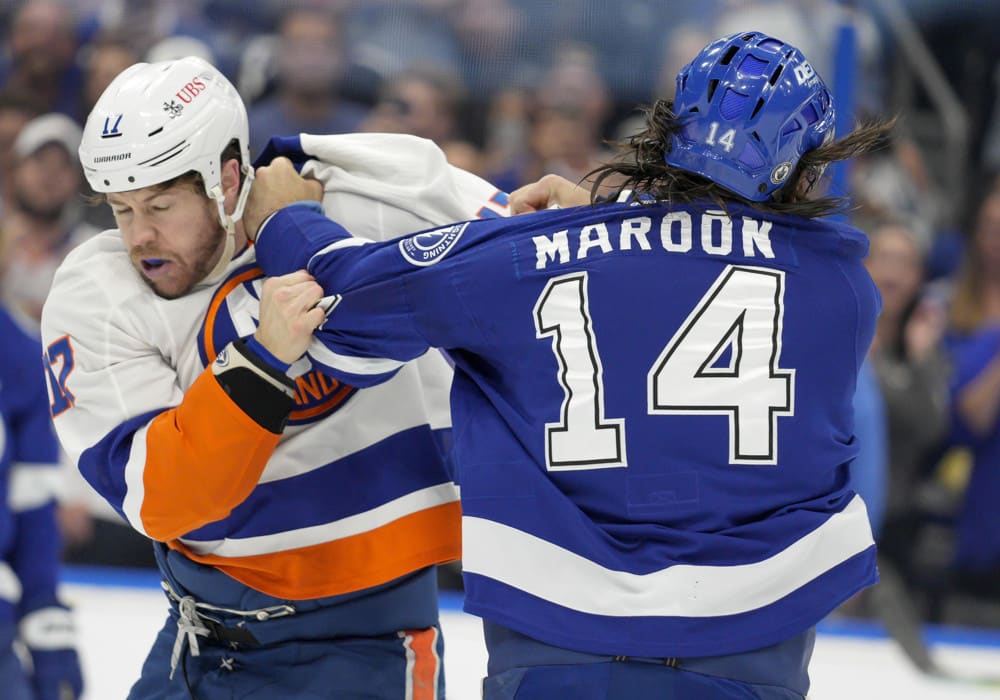 The NHL playoffs have been intense. The two Stanley Cup Semifinal series, in particular, have been a lot closer than people expected and both series are at a 2-2 tie after four games.
Tonight, the Tampa Bay Lightning look to take control against the New York Islanders in Game 5.
Make sure to bookmark our daily NHL Picks page to get the best bets for every single game!
Here are the odds, best bets, and predictions for tonight's game.
NHL Playoffs: Islanders at Lightning, Game 4
The Tampa Bay Lightning came into the series as heavy favorites and lost Game 1 right out of the gate. They then won Games 2 and 3 to take a 2-1 series lead. However, the Islanders battled back and evened the series thanks to a last-second save by Ryan Pulock on Saturday night.
All four games in the series have had six goals or less scored, with three of the four games decided by just one goal.
Islanders at Lightning Game 4: Money Line
Tampa Bay Lightning -180 vs. New York Islanders +155
The Lightning had all the momentum in the third period and likely would've won in overtime were it not for Pulock's last-second heroics. Ryan McDonagh nearly scored an all-time great goal on the spin-o-rama, only to be denied by an even better save in the final seconds.
Tampa Bay has home-ice advantage in this series for the first time all playoffs and I expect them to take advantage. They may have lost Game 1 2-1, but their 4-2 win in Game 2 (while outshooting the Islanders 33-26) was more like it.
I'm taking the Lightning to win and take control of the series here.
Think you know who's going to win it all? Check out the latest Stanley Cup odds.
Islanders at Lightning Game 4: Total
Over 5 goals (-135)
This series has been hard to handicap with the total. Game 2 is the only game with more than five goals, but last game had exactly five goals. If the Lightning converted on their late chances, it would've had seven goals with a 4-3 final in overtime.
I'm seeing the Lightning continuing their third-period momentum from last game with the home-ice advantage here. They'll get at least three or four goals. It'll be up to the Islanders to get the other two.
Islanders at Lightning Game 4: Puck line
New York Islanders +1.5 Goals (-175)
The Islanders have played really tight hockey all playoffs long. The playoffs bring out the best in teams and this has been no different.
I could very well see this game going into overtime which would be perfect for the +1.5 puck line. The Islanders have only lost six games through 16 playoff games. Four of their six losses were by one goal. Take the Isles +1.5 here.
NHL Playoffs: Islanders at Lightning Game 4: Bonus Parlay
This isn't your traditional parlay going for a huge payout. Instead, it's something that should hit a high percentage of the time and has been successful in these playoffs.
Islanders +2.5 Goals AND Under 6.5 Goals (-143)
This covers any 1-0, 2-1, 3-1, 3-2, or 4-2 games. That has been the case in all four games of this series thus far.
If the -143 is too much juice for you…
Islanders +1.5 Goals AND Under 5.5 Goals (+133)
This covers any 1-0, 2-1, and 3-2 games, with a 3-1 Islanders win cashing as well.
This parlay would've hit in three of the four games this series (2-1 NYI, 4-2 TBL, 2-1 TBL, 3-2 NYI).
---
Follow along with me throughout the playoffs on Twitter (@RGilbertSOP) or in the Sports Gambling Podcast Slack chat.