Hello everyone! Although the NBA Playoffs continue to wind down, we're still rolling with our NBA DFS picks. Sunday features a two-game slate with an all-important Game Seven as well as Game One of the Western Conference Finals. I feel good about today's lineup, and I'm excited to share it with you! Let's not delay things further. Let's dive right in, shall we?

NBA DFS Picks (GPP) June 20th
PG – Trae Young ($10,100) – ATL
Let's kick things off with a little chalk and Trae Young. I'm sure he will be owned in over 50% of the lineups, but with good cause. He's officially listed as questionable for Sunday. However, I have a hard time picturing him missing this important contest. Trae averages 47 FPPG, but he's been better than that in the playoffs. He's also dropped at least 56.75 fantasy points in three straight. Atlanta has a shot at winning this game Sunday, and much of that is going to rely on the play of their superstar and future HOFer Young.
Seth Curry continues to be underpriced on DraftKings, and I will continue to play him. His 23 FPPG average is misleading to some. Curry has been electric in this series with Philadelphia. He's averaging 33.2 FPPG this series and has shown flashes of superstardom. Curry has been outstanding offensively, especially from downtown. I have no issues paying $5,800 for a player who has been knocking down threes at an impressive rate all series. He will likely be heavily owned, but this is another player who is worth biting the chalk on.
This is arguably our biggest gamble in this lineup, but it can really pay off. Kevin Huerter has been about as spotty as they come all year, and this has continued in the playoffs. However, he's one of those players who is really good when he is feeling it. Huerter dropped 17 points and 11 rebounds on his way to 43.25 fantasy points last game. While I don't necessarily think he will repeat this output, I do believe he will have a good game. The Hawks are in a win-or-go-home scenario, and Huerter will need his best stuff on Sunday.
Frequent readers of my NBA DFS picks are no stranger to this guy. Jae Crowder has been one of the best DFS value plays all season long and today is no exception. He does only average 22.8 FPPG. However, Crowder is one of the most consistent cheaper players on this slate. The majority of his shots come from beyond the arc, and the Clippers have been beatable from three-point range. I believe Crowder will be good for around 25 or so fantasy points, and I love the $5,000 price tag that he comes with for this slate.

Let's dive into the second of our Phoenix triple stack here. It's easy to want to play Embiid, but we're saving $4,400 worth of cap space and getting a solid player here. Deandre Ayton is a very solid center, and the pricing is lovely. He averaged 15.7 PPG and 33.6 FPPG against the Clippers this year in three games. The Suns will also be without Chris Paul, which opens more opportunities for Ayton. He averages 33.1 FPPG this year, and I have a strong feeling that Ayton will give us around this number, if not 40+ fantasy points on Sunday.
We are wrapping up our Suns triple stack with Cameron Payne at the guard position. He's seen a consistent 20ish minutes per game this postseason, and that role will probably increase with CP3 out. Payne does only average 19.1 FPPG, but he's been very efficient with his limited time on the court. It's a safe bet that he will be one of the overlooked players on this slate. If the cards fall right and a few shots drop for him, then you're looking at the DFS value player of the day right here in Payne as the Suns look to take Game One.
No Kawhi Leonard for the Clippers means I will jump on Marcus Morris Sr. here. He's about as spotty of a player as they come, but he does have a nice upside to him. Morris averages 22.6 FPPG, and you're either going to get 30+ fantasy points from him or under 20. That being said, I feel like a matchup with Phoenix could benefit him nicely. Morris plays better in games that are more physical, and the Suns love to play physical basketball. If Morris can piece together a solid outing, then he will be a steal for this cheap of a price.
It's now or never for the 76ers, and I feel as though this especially applies to Ben Simmons. He's catching a lot of criticism, and rightfully so. His free throw shooting has been horrendous, to say the least. However, Simmons makes for a good addition to your NBA DFS picks for his other qualities. He does grab rebounds and rack up assists quite nicely. Simmons only has 10 shot attempts the past two games and will probably shoot more this game as well. I don't expect a ton of people to be on him, but I will be one of the few that takes Simmons on Sunday.
Will's NBA DFS Picks June 20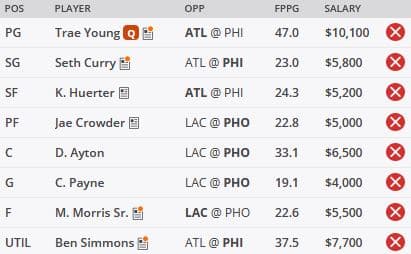 Make sure to subscribe to NBA Gambling Podcast on Apple and Spotify. Check out Munaf, Dan, and Ryan's updated against-the-spread NBA picks today and EVERY DAMN DAY for EVERY DAMN GAME at SG.PN/nbapicks