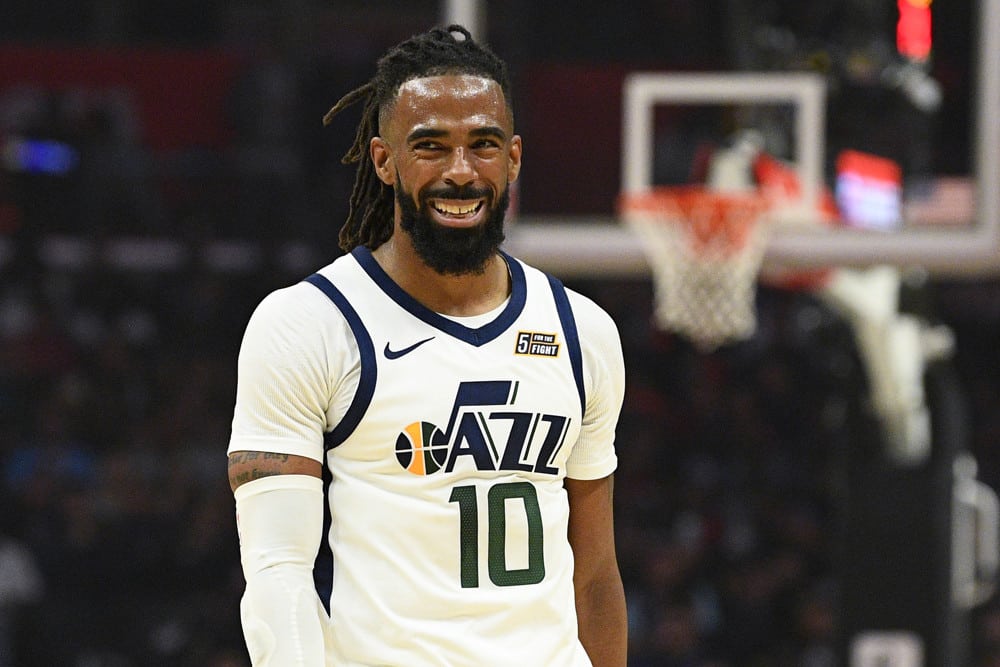 Hello, my friends! The NBA Playoffs continue to roll on, and so do our NBA DFS picks. This could be our last four-game slate, so let's enjoy things while we can! After a bumpy season, we finally got a little traction with a cashing lineup a few days ago. Let's keep the ball rolling with this beautiful lineup I'm rolling out today!

NBA DFS Picks June 2nd
Whatever hopes Memphis had of tackling the top seed have since diminished. Utah's past three wins have come behind the heels of a few players, Mike Conley being one. The veteran point guard had an outstanding regular season, and he's continued this solid play throughout the first round.
Although Conley took a step back last game and let others handle the scoring, he's still averaging a very nice 45.1 FPPG this series. Conley is an extremely efficient shooter who is a great ball-handler and playmaker as well. We're getting massive value for the pricing here on Conley, and I'm not going to miss out on a bargain.
You can't mention NBA DFS value plays without mentioning Dillon Brooks. DB has been absolutely electric this series, and he's been a major reason that Memphis has been so competitive. Despite battling foul trouble, Brooks is still averaging 25.5 PPG and 37.3 FPPG this series.
The Grizzlies now find themselves in a win-or-go-home scenario. I believe they will be competitive once again, and it's a safe bet that DB will be at the forefront of the charge. He is good for around 30+ fantasy points even when he is in foul trouble, and I'll gladly pay $6,600 for some guaranteed points.
Stop me if you've seen this name before in many of my NBA DFS picks. Tim Hardaway Jr. started off this series hot with an outstanding 17-27 shooting and 11-17 from deep. However, in the past few games, he's gone cold. He's only shot 5-22 from the floor and 4-10 from downtown.
The old saying goes that good shooters will figure things out sooner rather than later. I believe this will be the case with Hardaway Jr. He shot 44.7% from the floor this year and 39.9% from three. His last two games don't reflect how good of a player he is, and I am expecting a big bounce-back game from Hardaway Jr. today.
Rui Hachimura is a risky play, but I believe it could be worth it. He does only average 24.4 FPPG. However, he's fresh off a 20 points and 13 rebounds game and could very well keep that momentum going. He should see another extended run if he can avoid foul trouble with Davis Bertans essentially done for the season.
Hachimura consistently scores in double figures, and he has the range to knock down some threes as well. If he can piece together another efficient outing, then he will be the steal of the night. I'll take a stab here on a risky player with the potential to be the big boom of the night if the cards happen to fall right for him.

This is the most solid cheap option you will find at the center position. The only thing stopping Daniel Gafford from putting up 30+ fantasy points a game is his playing time. He's been very consistent this series, and he's averaging 26.1 FPPG against a tough and physical 76ers squad.
A nice draw about Gafford is the price. He's almost guaranteed to top the 20 fantasy points mark. Mix that with his cheap price and you have a recipe for success. Only paying $4,700 for our center leaves us with plenty of cap space to build around him. There's a chance Gafford is a chalky play, but he is worth playing.
Atlanta leads the Knicks in this series 3-1, and the main reason has been the play of Trae Young. He averaged 46.1 FPPG this year, and he hasn't missed a beat in the playoffs. Young is averaging 46.9 FPPG this series, and there's no reason he won't continue this high level of output in Game Five.
The Hawks have a chance to close out the series today, and Young will once again lead the charge. He's scored at least 21 points in each game this series, and I expect he will do the same once again. The ownership level will be high on Trae. There is a good chance that the first place lineup will have him in it though.
We need some low ownership players to separate ourselves and take down the prize solo. Alec Burks is a player that fits that bill. The majority of his NBA DFS output comes from shooting and rebounds. He's been grabbing boards this series, but his shooting has been off the past three games.
Burks shot 41.9% from the floor and 40.8% from deep this year. He had a 9-13 shooting night in Game One with 3-5 from three. The Knicks need a solid team effort to stay alive, and Burks could be the x-factor. If he can find his stroke from the field, then Burks will be the steal of the day at this cheap price.
After a rocky start to the season, Bogdan Bogdanovic found his form and has continued to play at a high level. He averaged 30.1 FPPG this year, and he's averaging 33.8 FPPG against the Knicks this series. Bogdan has been flirting with a double-double the past few games, and this could be the game he finds one.
Bogdanovic is a very good shooter, and he's about as consistent as you'll find. He shoots 46.8% from the floor and 43.2% from deep. The Knicks are a tough defensive team, but Bogdan seems to have the answers to beat them. He has all the tools needed, and he will be in my NBA DFS picks until he goes cold.
Will's NBA DFS Lineup 6/2
Make sure to subscribe to NBA Gambling Podcast on Apple and Spotify. Check out Munaf, Dan, and Ryan's updated against-the-spread NBA picks today and EVERY DAMN DAY for EVERY DAMN GAME at SG.PN/nbapicks