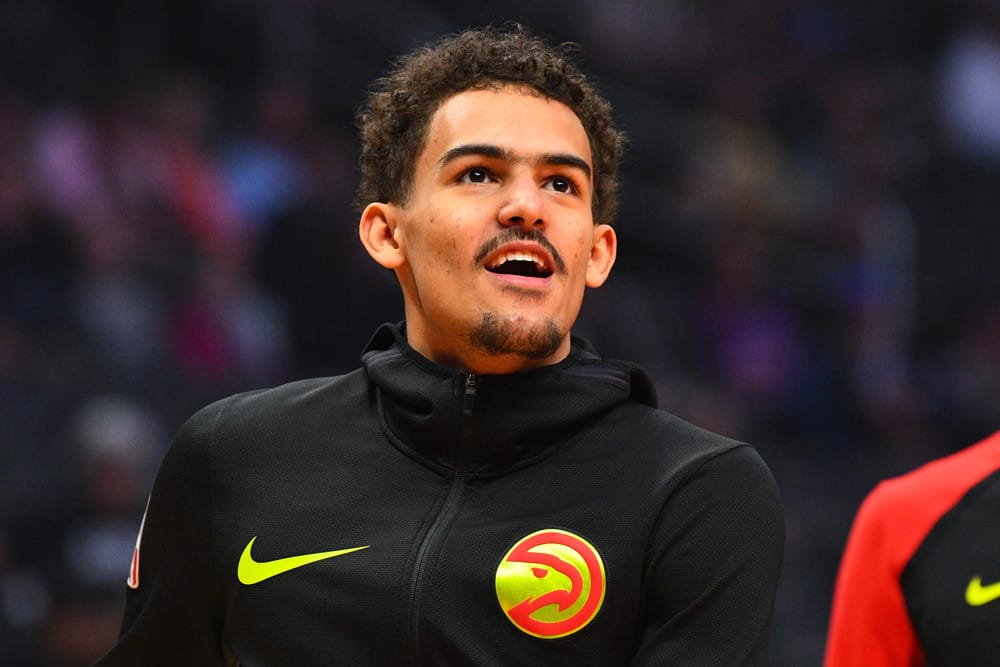 Happy Sunday everybody! First round action continues, and so does NBA DFS for the time being. Our four-game slate days are numbered, and so are our chances to cash a big one. I'm excited about today's lineup, so let's dive right in shall we?

NBA DFS GPP Picks May 30th
Atlanta and Trae Young have made a believer out of many people, myself included. There weren't many people that were giving them a chance in this series. Now they have a chance to take a 3-1 series lead. It has been a team effort for the Hawks, but Young has been leading the charge with at least 21 points in each game this series.
Young averages a solid 46.1 FPPG, and he's averaging 47.6 FPPG this series. He already has two double-doubles this series and I wouldn't be shocked if he registers another here. He will surely be heavily owned and he's a little pricey, but I'm going to play it safe. Young's production is about as sure of a thing as you'll find on this slate.
The Knicks have struggled mightily on offense this series. However, one player who has brought his A-game has been Derrick Rose. He's been giving us flashes of old D-Rose, and he's been about the only thing giving the Knicks hope this series. Rose averages 27.4 FPPG, but he's averaging 39.3 FPPG this series.
We are getting a ton of value at this price for a player who's been absolutely electric lately. He's played at least 38 minutes in each game this series and will probably see around that once again. This is another safe play I feel. I believe D-Rose will have another field day against a Hawks defense that has shown its holes.
I am going to complete the "hold-your-eyes" stack of the Knicks with RJ Barrett. He has struggled offensively all series, and he has only topped 30 fantasy points once. However, I believe that he is due for a good day. Barrett is normally a good shooter, as he averaged 43.7% from the floor and 39.4% from deep this year.
He's shot a poor 4-16 from three this series and 13-38 from the floor in three games. These aren't promising numbers, but a good shooter typically figures things out sooner rather than later. Time is running out for New York. I feel that Barrett is due for a solid game, and I like that he's at his cheapest price in quite some time.
This is another example of a player who I feel is due for a bounce-back game. Kristaps Porzingis had a good Game Two after a poor Game One. However, he followed this good showing with a poor nine points, four assists, and three rebounds effort in Game Three. Porzingis hasn't been flashy this year, but he's gotten the job done.
His average cost all season has been $8,271, so I feel like this is a great value play. Only eight games ago he was priced $9,000 and now he's this cheap. The Clippers aren't a terrible matchup for Dallas, and I believe Porzingis won't string together two poor performances. I like the price, and I expect a solid showing from the Mavericks big man.

You aren't going to find a better play at the center position than Deandre Ayton. Although the Lakers lead the series 2-1, Ayton has brought his A-game. He's put up at least 21 points in each game and he's gotten a double-double in each game this series as well. He averaging 40.8 FPPG, 7.2 FPPG up from his season average.
They always say the best game plan in NBA DFS is to ride the hot hand. That's exactly what I am doing here. Ayton has been solid all year, but he has seemingly turned things up a notch in the playoffs. This is the most solid play on this slate I feel, as you're getting what should be 40+ fantasy points from a guy under $7,000.
The Clippers were in need of an offensive boost, and Reggie Jackson has filled that role the past two games. He's now scored 15 followed by 16 points, and he's played at least 30 minutes in the last two. He averages 20.6 FPPG, but when he is getting his shots to fall there's a chance he tops the 30 fantasy points mark.
The Clippers are down 2-1 in this series and on the road in Dallas. They probably won't tweak the rotation that worked last game, and that means Jackson should see plenty of work. He's shot 11-24 the last two games and I believe he will continue this effort. For what we're paying, I believe this will be the value player of the night.
It's time for the final value play on this slate. De'Andre Hunter completes a solid and fairly cheap Atlanta stack. Although he is hit and miss, there are a few things I like about Hunter. He's played at least 32 minutes the past two games. He's also scored in double figures in both of those contests as well.
Hunter averages 25.8 FPPG, and he's had his fair share of 30+ fantasy point games. He was working back from an injury, but if the past two games are any indication then he is healthy. Hunter has seen at least ten shot attempts in the last two games. I believe he will see a similar workload here and we're getting him for a great price.
Stop me if you've seen this name in my NBA DFS pieces before. Tim Hardaway Jr. has been one of my favorite DFS plays for a while. I am going to continue to ride the veteran here as well. He took a step back offensively last game, and I have a funky feeling he will bounce back in a big way on Sunday.
There are three things I like about Hardaway Jr. He averages 25.8 FPPG, but when he is on he is really on. There's always that odd chance that he tops 40 or even 50 fantasy points. The final thing I like about Hardaway Jr. is the price we are getting him at. I'll take a little bit of a gamble on a player of his caliber at this cheap price.
Will's NBA DFS GPP Picks 5/30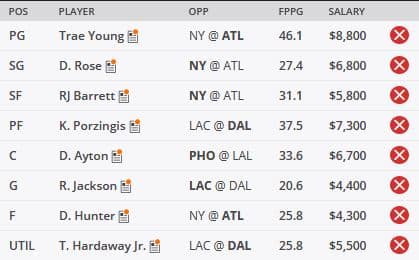 Make sure to subscribe to NBA Gambling Podcast on Apple and Spotify. Check out Munaf, Dan, and Ryan's updated against-the-spread NBA picks today and EVERY DAMN DAY for EVERY DAMN GAME at SG.PN/nbapicks