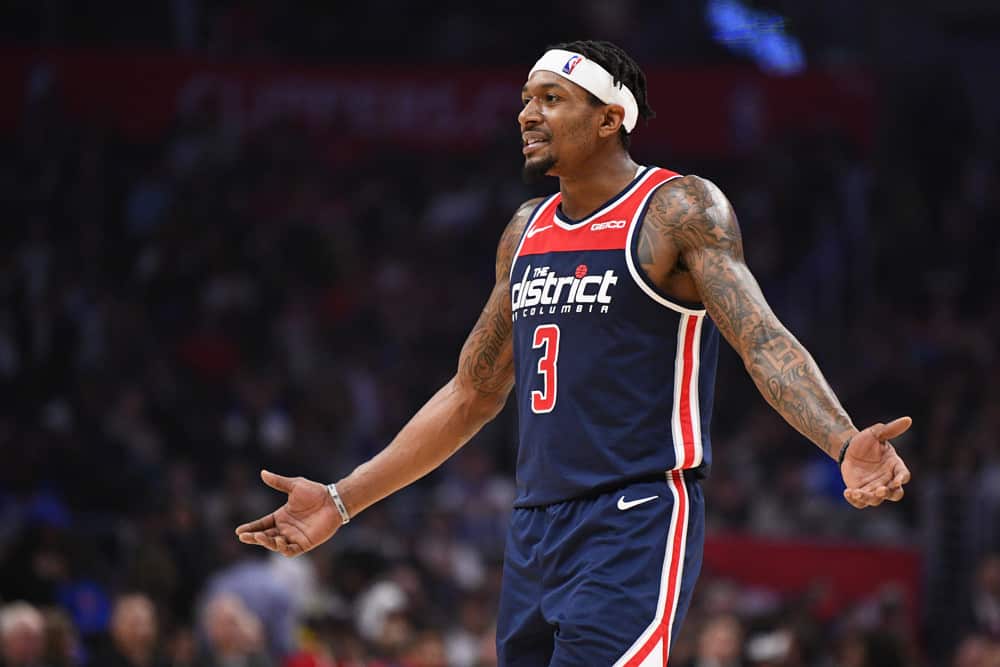 Happy Saturday everyone! Our NBA DFS days are numbered. However, there's still money to be made before the end of the playoffs! I'm super excited about this lineup, so let's not wait any longer. Best of luck to everyone, and let's cash us something big!

NBA DFS Picks Saturday May 29th
PG – Ja Morant ($8,300) – MEM
You shouldn't need too many reasons to play Ja Morant in all of your DFS lineups. The Grizz have been surprisingly competitive against the Jazz in a series that most counted them out in. This charge has been led by a few players, mainly Morant. He's fresh off a career-high 47 point game, and now the games are headed to Memphis.
Morant has played at least 41 minutes in three of Memphis's last four games. He's scored at least 20 points in all four of those games as well. The Grizzlies will surely be competitive in the late game, and you can predict who will lead the charge. Don't miss out on Morant because he is going to continue to roll.
This will be a chalky play, but there are a million reasons to play Bradley Beal. The Wizards are down 2-0, and they are at home and in a must-win situation. Beal has scored at least 33 points for at least 44.5 fantasy points in both games. What's pretty impressive is that he did this despite shooting 2-12 from three.
Westbrook looked pretty banged up when he left last game, and I believe there's a chance he misses Game Three. This only increases value in Beal if Westbrook does sit. Beal averages 46.5 FPPG, and he's good for that plus more every single game. Ride the chalk and make sure you pay up for Beal on this slate.
Milwaukee has a chance to be the first team to punch a ticket to the conference semifinals. They are back in action Saturday and are looking for the sweep of Miami. Khris Middleton is at his lowest price in eight games. I am jumping all over that, as many people probably will.
Middleton did have a relatively bad Game Two, but all-in-all he's having a good series. He's been very efficient with his shots and he's stepped up in times where Giannis Antetokounmpo would struggle. You can about bet Middleton will be a chalky play, but it's with reason. I am willing to bet the winning lineup has Middleton in it somewhere.
Diving back into the Grizzlies here with Kyle Anderson. He's been about as consistent of a player as you can find all year for Memphis, and the playoffs have been no different. He averages 29.4 FPPG, and he's put up at least 30.5 fantasy points in each of his postseason games, including the play-in match.
Anderson is by no means a flashy player. However, he fills the stats sheet and gets you fantasy points. He's averaged 32.4 fantasy points in five games against Utah this year, and he's due to continue this solid run. I'm not a huge fan of the pricing, but I'll pay $6,100 for a player who is going to give us exactly what we expect.

There are quite a few reasons I'm on Bam Adebayo here. The first is simply the "value" here given he's the sixth most expensive center on this slate. I don't want to break the bank or dip down in the reserves, so I'll take the cheaper workhorse here. Miami is down 3-0, and it's officially now or never for the Heat.
Adebayo isn't completely to blame for Miami's struggles, but he certainly hasn't helped much. Adebayo has only averaged 32.3 FPPG this series. This is a drop from his 41.5 FPPG average during the season. With their backs against the wall, I believe Adebayo is due for a good 40+ fantasy point game.
It's time to start saving money here, so I'm taking Bryn Forbes and completing the Milwaukee stack. You will not find a better value play today than Forbes. Donte DiVincenzo is out, and there's a good chance Forbes slides into the starting lineup. He's already seeing around 20 minutes a game coming into this contest.
There's a good chance he plays 25+ and maybe even 30+ if he can get hot from the field. Forbes has shot 47.7% from the floor and 45.3% from deep this year, so I have faith that he will find his stroke. He did have a few 30+ fantasy points games recently as well, so that's not out of the question either.
I'm dipping back into the Grizz pool one more time for Grayson Allen. This play is going to be a huge gamble, but it could be worth it if the cards fall right. Grayson has struggled massively on offense this series. However, maybe this is where that changes now that Memphis is playing back at home.
Allen averages 19.9 FPPG this year, and he's the definition of a hit-or-miss player. He will almost certainly either give you 20+ fantasy points or single digits. However, Grayson has shot about 4% better from three at home. Who knows? If he gets his rhythm offensively, he will be one hell of a value play.
Daniel Gafford is a cheap player, but I guarantee he will have a high ownership percentage. I believe this will be with good reason as well. He's a safe value play that's almost locked in to get you at least 20 fantasy points. There's also that chance he replicates his efforts from three games ago where he notched 43.8 fantasy points.
He's been leading the Washington trio of centers in playing time. His recent performance should lead him to even more playing time as well since the Wizards are behind in the series and need a boost. I like how Gafford has been playing lately, and I believe he will be a safe cheap play for those who play him in their NBA DFS lineups today.
Will's NBA DFS GPP Lineup 5/29
Make sure to subscribe to NBA Gambling Podcast on Apple and Spotify. Check out Munaf, Dan, and Ryan's updated against-the-spread NBA picks today and EVERY DAMN DAY for EVERY DAMN GAME at SG.PN/nbapicks