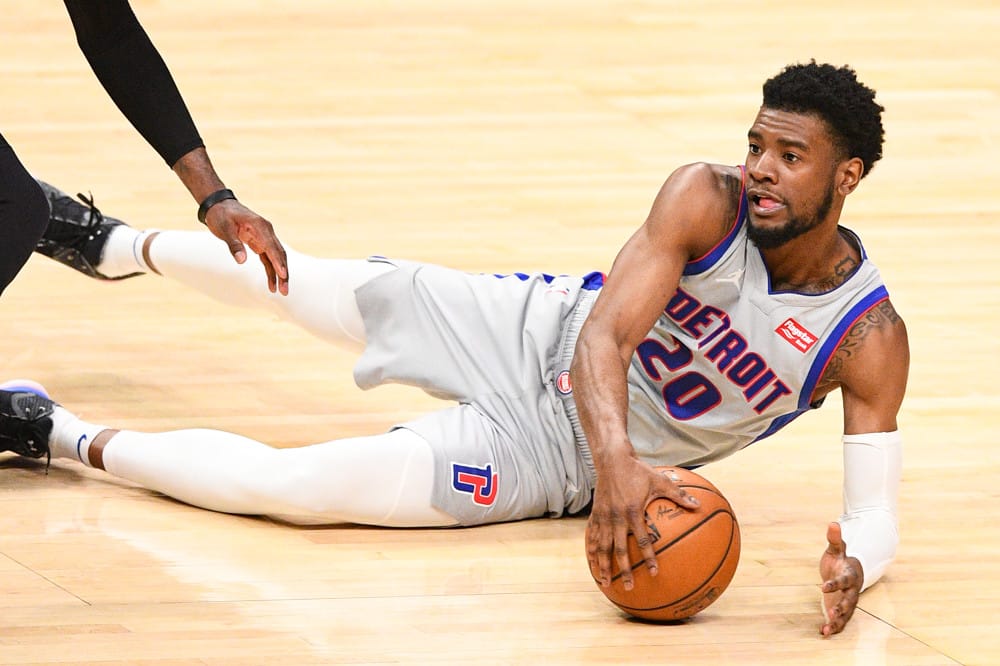 Hello everyone! Although Sunday is the final day of the regular season, NBA DFS will continue to truck on throughout the playoffs. Slates such as Sunday's can be tricky with teams sitting players, trying to win or lose, etc. Lucky for you, I have a great GPP lineup that I have a great feeling about. Without further adieu, let's dive right in!
NBA DFS Picks Sunday May 16th
There isn't a ton of players I'm willing to pay up for on this slate, but Kyrie Irving is one of them. Brooklyn just needs to win to lock up the 2nd seed, and they have a pretty easy game ahead in Cleveland. Irving is second only to KD in usage percentage for the Nets, and he's been a trusty DFS option all season.
Irving is averaging a healthy 46.5 FPPG this year, and he's topped the 60 fantasy points mark plenty of times this season. The Cavs have no reason to really want to win this one, and it's safe to say Brooklyn will cruise. Irving typically leads the charge, and I expect him to lead the Nets to a win as they will lock up the 2nd seed.
I am on Josh Jackson today for a couple of reasons. The first and most obvious reason is that he has been in the rotation all season, and he will have plenty of scoring opportunities in this one. He's fresh off a double-double with 11 points and 10 rebounds with seven assists for 43.5 fantasy points.
The other reason I like Jackson so much today is that his Pistons are taking on Miami. The only opportunity the Heat have to move up a seed is a loss from the Knicks, who should beat Boston earlier in the day. I believe there's a good chance Miami rests some starters which will leave a good matchup for Jackson to have a great DFS night.
I am going to complete a low ownership Pistons stack with Hamidou Diallo here. I am on him mainly for the same reasons that I like his teammate. Miami most likely won't be able to change their playoff seeding. I have a hard time imagining the Heat playing their starters and risking injury.
Diallo has been seeing a ton of playing time lately also. He's played at least 35 minutes in his last two games. He's also added at least 45 fantasy points in both of those games. It's a safe bet to assume that Diallo will once again lead the charge for Detroit in this contest. He might be overlooked as well with his cheap price tag.
Bobby Portis is going to be one of the best steals of the day. Milwaukee's only shot at the 2nd seed is a loss from the Nets, and Brooklyn plays two hours before them. The Bucks will have a good idea if they have a shot at moving up or not, and I don't expect Brooklyn to lose today.
I'd say there's a decent chance Milwaukee pulls their starters early, if not sit them from the start. Portis has reminded us time and time again how productive he can be. This production is increased even more when he gets more playing time. I believe this will be the case on Sunday, and I am loving the price tag on Portis as well.

For the center position, I'm taking the walking double-double Rudy Gobert. If Phoenix wins during the afternoon (and they should), then Gobert will be a lock for the winning lineup. The Suns hold the tiebreaker against Utah, and the Jazz will need to win to lock up the 1 seed if Phoenix beats the Spurs.
Gobert averages a solid 39.8 FPPG, and he's good for at least that number any given night. He has a ton of double-doubles this year, and he could easily grab one more against a weak Sacramento squad. You can bet Gobert will be heavily owned, but it will be worth it as he is about as solid of an NBA DFS option as you can find.
Reggie Jackson is a safe value play that could really boom if the cards fall right. The Clippers need a loss from Denver to take the 3rd seed, and the Nuggets could potentially beat Portland. Jackson has seen solid playing time all season, and he will see his share of time on the court regardless Sunday.
If the Nuggets have a decent lead on Portland at the half, there's a decent chance the Clippers will pull their starters and not risk any injuries for the playoffs. This would mean Jackson could see an extended run. I'll take a cheap player who is usually good for a decent NBA DFS output with a chance to be a huge steal.
I'm going to dip back into the well with Tim Hardaway Jr. one last time this season. He's been trusty all season as a cheaper source of points, mainly from threes. Dallas could drop a seed with a loss and a Portland win, so they will be going all out in this matchup with Minnesota.
The Timberwolves have been horrendous at defending the three all year. Hardaway Jr. is the type of player to make them pay for this. Minnesota ranks dead last in opponent three-point shooting percentage and Hardaway Jr. primarily shoots threes. I expect him to have a field day in this one, and he has a juicy price as well.
There are two reasons that I like Terence Davis today regardless of who they play. The first being that Sacramento is sitting a ton of players, and he will see around 30 minutes in this contest. The other reason that I love Davis is he's fresh off a 2-18 shooting night and he's due for a bounce back.
Davis has topped 35 fantasy points in four of his last five games. I believe he will get back to this output in the season finale. His nine rebounds helped offset his horrid shooting last game as he still registered 22.25 fantasy points. Look for Davis to have a great fantasy game as he looks to close the season on a high note.
Will's NBA DFS GPP Lineup 5/16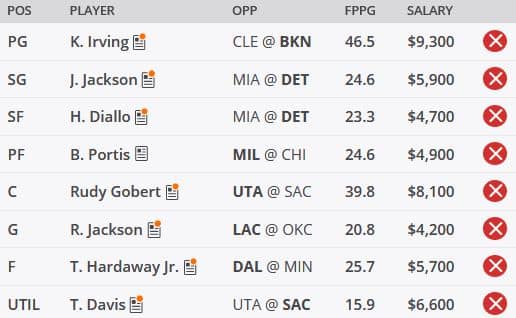 Make sure to subscribe to NBA Gambling Podcast on Apple and Spotify. Check out Munaf, Dan, and Ryan's updated against-the-spread NBA picks today and EVERY DAMN DAY for EVERY DAMN GAME at SG.PN/nbapicks