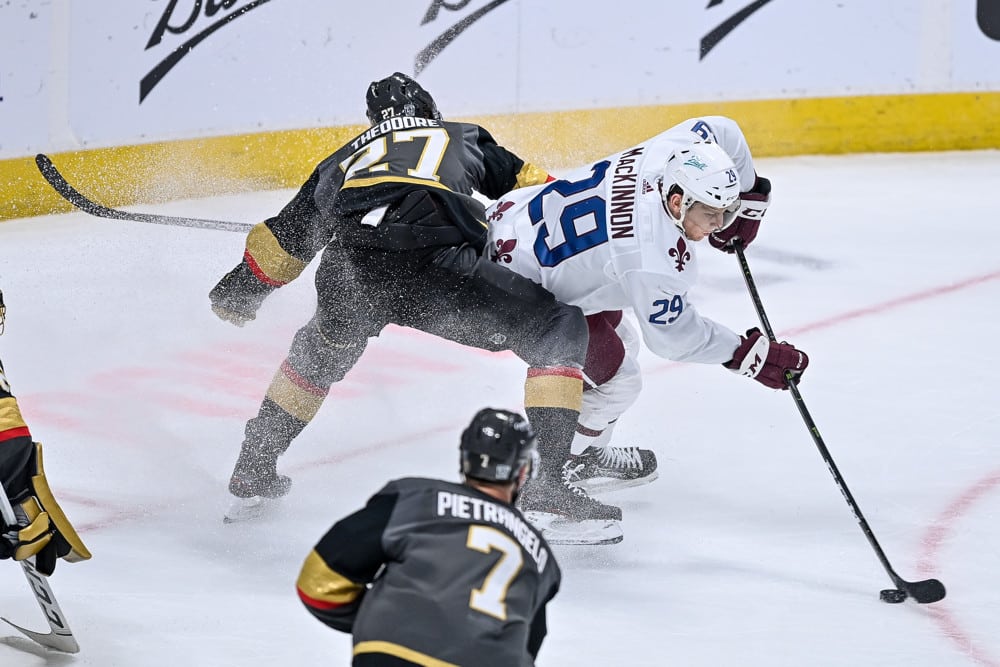 It's time for Wednesday Night Hockey with two games on NBCSN. It's a pair of matchups with playoff implications as the season is coming to a close in just a few weeks.
Make sure to bookmark our daily NHL Picks page to get the best bets for every single game!
Along with picks for those two games, I have another bonus pick for tonight's slate as well.
As always, odds are provided by PointsBet. If you're not signed up already with our great PointsBet promos, what are you waiting for?

St. Louis Blues at Minnesota Wild – 7 p.m. ET
We head to Minnesota for the first game of the night on NBCSN as the Wild host the Blues.
The Wild are winners of their last seven games and eight of their last 10 games, but those two losses came at the hands of the Blues.
St. Louis, on the other hand, lost three straight before beating the Colorado Avalanche twice at home since their last meeting with the Wild.
NHL Picks – Lock: Minnesota Wild -145 / -1.5 (+170)
Yes, the Blues swept the last two-game set, but those games were in St. Louis. We now shift to Minnesota, where the Wild have been dominant.
The Wild are 17-4-0 at home this season and three of those four losses came in January. At home, the Wild have outscored teams 74-44 in 21 games. On the road, they've been outscored 78-76. That's quite the difference.
While the Wild are dominant at home, the Blues struggle on the road.
St. Louis is 12-8-2 on the road this season and has lost five straight away from home. Their only road wins against playoff teams were in January (4-1 @ COL on 1/13, 5-4 SO @ VGK on 1/26). Since then, all of their 10 road wins came against teams that are under .500.
The Blues are also a bit beat up with Vince Dunn out until May and Colton Parayko questionable with an upper-body injury.
The Wild are back at home and have a pretty favorable line. They've surprised a lot of people this season and their play at home has been a big reason for that.
Think you know who's going to win it all? Check out the latest Stanley Cup odds.
---
Edmonton Oilers at Winnipeg Jets – 9 p.m. ET
We have a game for our Canadian friends to split up the two NBCSN broadcasts. The Jets host the Oilers at 9 p.m. ET.
NHL Picks – Lock: Edmonton Oilers -115 / -1.5 (+195)
The Oilers are playing some pretty good hockey right now with Connor McDavid leading the way. The Jets, on the other hand, are in a bit of a tailspin. Edmonton should take advantage tonight.
Edmonton returned from a four-day break for their first of a two-game set in Winnipeg. They dominated on Monday night to the tune of a 6-1 final score. That has been a common theme this season as the Oilers have won five straight against the Jets while outscoring them 18-6 in the process.
The Jets have lost four straight games, all at home, and they haven't really been close. They've been outscored 18-5 with all losses coming by multiple goals. They are also now without Nikolaj Ehlers and Adam Lowry is questionable.
The Oilers are going to take advantage of a spiraling Jets team and put up another crooked number on the board. Bet on the money line and puck line in this one. The line is a lot shorter than it should be, and +195 on the puck line is a gift. If the Oilers win, they'll more than likely win by 2+ goals.
---
Colorado Avalanche at Vegas Golden Knights – 9:30 p.m. ET
The late game on NBCSN is between two of the best teams in the league. Period. The Avalanche travel to Vegas to take on the Golden Knights.
NHL Picks – Lock: Vegas Golden Knights -125 / -1.5 (+185)
This is going to be an exciting game, but the Golden Knights have the edge on home ice. They are 18-4-2 at home on the season while the Avalanche are 13-7-2 on the road.
On top of that, the Golden Knights are on a nine-game winning streak with a goal differential of 40-15. Yes, 40-15. Only two of those wins were by one goal and only one came after regulation.
Colorado just lost the last two of a four-game set in St. Louis and now finish off their road trip in Vegas. It's going to be a tough task for a team with injuries piling up a bit.
Like the Wild, this line just seems too low for the Golden Knights. They are great at home and have won nine games in a row. If you're looking for some value, go for the +185 puck line or +120 to win in regulation.