Happy Friday everybody! There is a nice looking seven-game slate ahead, and that can only mean it's time to talk NBA DFS. With a lot of injuries around the league, there are a ton of low-priced players who are worth a look today. I'm excited about this lineup, so let's hop right in!

NBA DFS Picks Friday April 23rd
It's expensive, but I'm on Kyrie Irving today for several reasons. The first and most obvious reason is that he's a trusty DFS player. Irving comes into this contest averaging a healthy 47 FPPG. The second reason is that James Harden remains out and his usage shoots through the roof when Harden is out of the lineup.
My last and main reason I'm paying up for Irving is that his Nets are set to take on Boston. Although I'm sure there isn't much bad blood between Irving and the Celtics management, there is still a revenge factor and I'm sure Irving wants to remind them what they're missing. He regularly tops the 50 fantasy points mark, and he could easily top this number again in this game.
This is a perfect example of a great value play today. Kenrich Williams isn't a guy that's going to blow you away in any specific category. However, he's an extremely useful player who can do a little bit of everything. Whether it's handle the ball or post someone up, Williams can handle it all.
He is also experiencing a massive uptick in usage with Shai Gilgeous-Alexander out of the lineup for OKC. Breakout star Luguentz Dort is also in danger of missing this contest Friday which boosts his usage even more. Williams has scored in double figures in three straight games, and you're going to get some very valuable points for a cheap price from him here.
It's time for my lone (and pretty much only) somewhat dart throw. Kent Bazemore is about as inconsistent of a player as you will find. However, he is now locked into some very solid playing time. Damion Lee is held up in the league COVID protocols, and Bazemore will surely be the first man off the bench.
Although he is spotty, we have seen how good Bazemore can be when he is feeling it. This is evident by his last game where he shot 7-12 from the floor and 4-6 from deep for 19 points with nine rebounds. For only $4,100, I'll conserve some much-needed salary and take a stab at a player who is almost guaranteed to see at least 30 minutes on the court Friday.
Here we have a perfect example of a vastly underpriced player on today's slate. Davis Bertans has seen his playing time slightly increasing with the injury to Rui Hachimura. Now, he will be solidly locked into 30+ minutes for the near future as Deni Avdija fractured his ankle last game.
Although Bertans is only averaging 19.7 FPPG this year, this number is misleading. He's now registered back-to-back games with 30+ fantasy points due to this recent uptick in minutes. Bertans is a little volatile because he almost exclusively shoots threes. However, I'll take a shot and pray he can get some threes to fall at this cheap of a price.
Although Jusuf Nurkic hasn't topped 30 minutes in a single game since returning from an injury, I'm still playing him here. He picked up right where he left off, and he continues to be consistent from an NBA DFS standpoint. Nurkic averages 26.6 FPPG, and he's been right around this mark each game.
His Trail Blazers are set to face Memphis on Friday. Normally this wouldn't be a good matchup for Nurkic. However, Jonas Valanciunas is still under concussion protocols for the Grizz and this means that Portland's big men are catching a break. This could be a game where Nurkic has a field day, so for only $5,200 I will gladly take him here.
There aren't many reasons to not play the veteran point guard Lou Williams on Friday. Trae Young sprained his ankle last game, and it's already been announced that he will miss at least Friday's game and the next one. This only leaves primarily Williams and Bogdan Bogdanovic to run the point.
It's feasible to believe that Atlanta will use Williams at the point more than anyone else in this contest against Miami. Although Williams hasn't played over 30 minutes in quite some time, this could very well be a time where he does. I'm not expecting a 50 fantasy points outing or anything from Williams, but he could easily top 30 fantasy points here.
Want to talk about value? We are getting what should clearly be the Clippers' second option on offense for an extremely cheap price. Kawhi Leonard is out for the foreseeable future, and this is good news for those that are invested in Marcus Morris, whether it be NBA DFS or season-long fantasy.
Another thing about Morris that draws me to him is that he's been on a roll lately. He's now topped the 30 fantasy points mark in four of his last six games. He's also scored in double-digits in each of his last six. We're getting a steady hand here with Morris, and there's an appealing price tag that comes along with it.
Although he's the most expensive player on the slate and I have a personal vendetta with him, I'm not going to overlook Russell Westbrook. He's making a name for himself as a walking triple-double. Westbrook has registered a triple-double in 27 games this year, as well as 13 of his last 15 games.
Westbrook is carrying a healthy 56.3 FPPG average into his one, and he regularly tops the 60 fantasy points mark. His Wizards take on OKC on Friday, and this is one game I am sure he's looking forward to. Westbrook is expensive, but it's become better to bite the chalk and play him. Otherwise, you may miss out on yet another triple-double bonus.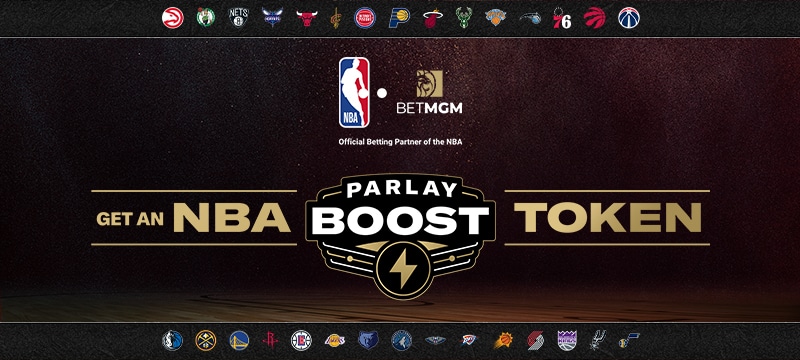 Two Team Parlay: Thunder +9 & Grizzles/Clippers Over 227
Will's NBA DFS GPP Lineup 4/23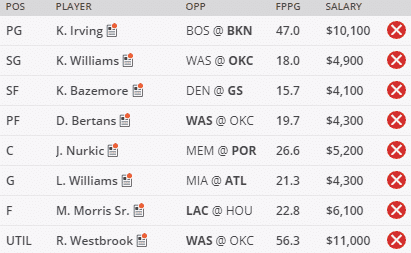 Make sure to subscribe to NBA Gambling Podcast on Apple and Spotify. Check Zach, Munaf, Dan, and Ryan's updated against-the-spread NBA picks today and EVERY DAMN DAY for EVERY DAMN GAME at SG.PN/nbapicks