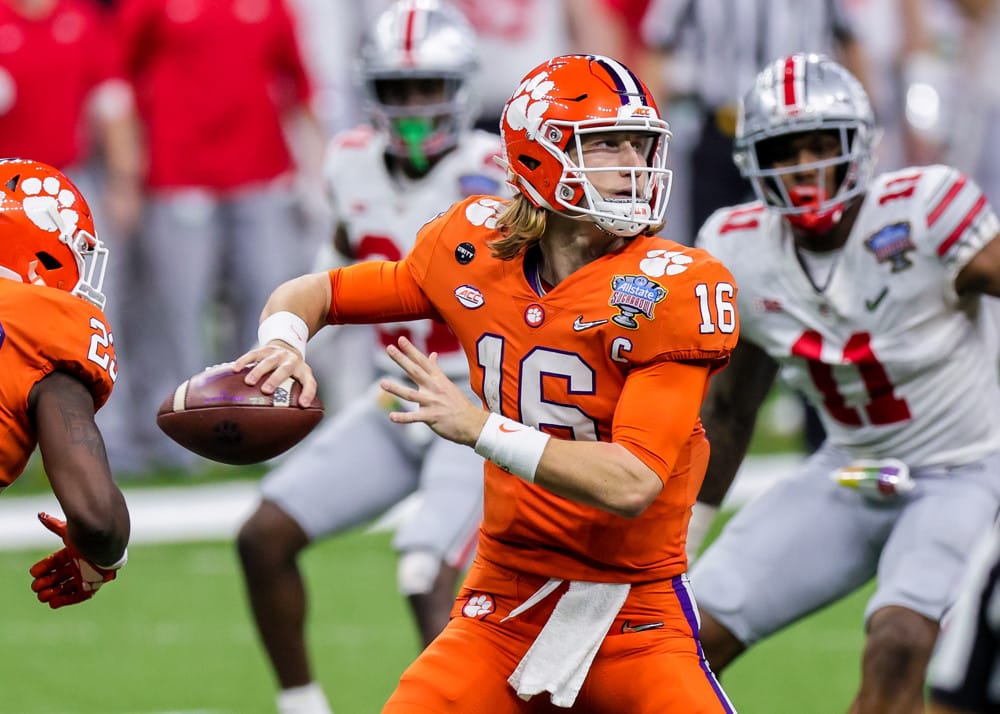 SGPN NFL Mock Draft Podcast
The guys (@GamblingPodcast) host the first annual SGPN NFL mock draft podcast, going through every first round pick in the NFL Draft as selected by SGPN contributors and friends. What will Ryan Kramer and the New York Giants do? Can Sean Green and the Eagles get an offensive weapon or do they go defense. Hear where SGPN crew predicts big name prospects like DeVonta Smith, Jaylen Waddle, Justin Fields and Ja'Marr Chase.
#
Team
Pick
Pos
College
1


Jaguars

Trevor Lawrence
QB
Clemson
Gardner Minshew spent much of the offseason perfecting his mullet. Mission accomplished. But - you can't win on looks alone. The J-E-T-S JOKES JOKES JOKES won one too many games - giving us, the Jacksonville Jaguars, a no brainer pick. This is like circling 'C' without reading the question - it's a lock. He has the deep ball accuracy, a quick release, and a head of hair that makes Samson look like a lil b*tch. With the first overall pick in the 2021 NFL Draft, the Jacksonville Jaguars select the 6′ 6″, 3x ACC champ, one-time national champion & mvp, the pretty boy himself out of Clemson University - Trevor Lawrence!
2


Jets

Zach Wilson
QB
BYU
Wilson is next in a long lineage of great BYU quarterbacks. The Jets dealt another USC bust QB to the Panthers in Sam Darnold and this pick is a no brainer for the New York Football Jets. Now can the Jets avoid their bad luck of early round QBs like Darnold, Sanchez, & Browning Nagle.
3


49ers
via MIA

Justin Fields
QB
Ohio State
Justin Fields will give San Francisco a quarterback on par with the more successful quarterbacks in the league today. He'll have a young receiving corps around him to grow with as well as a team that is not far removed from a Super Bowl appearance. This is not a rebuild situation, it's an upgrade situation.
4


Falcons

Kyle Pitts
TE/b>
Florida
A 6'6, 245 pounds weapon is an opposing GM's worst nightmare. This is a Day 1 starter and a Draft Day layup.
5


Bengals

Penei Sewell
OT
Oregon
The Bengals SHOULD select Sewell with this pick but I'm starting to think the band might be getting back together after the Moss signing last week and Chase will still be on the board. We might be the LSU Bengals with no offensive line
6


Dolphins
via PHI

Ja'Marr Chase
WR
LSU
Miami will pick best player available with their 6th pick to upgrade the receiving core that was injury-riddled from last season. They do need some shiny weapons for their investment in Tua. Miami is all in for Tua and will address the offense lacking explosiveness and splash plays, and Chase could turn a 5 yard out into 6 points. Give me Jamar Chase as the first recover taken off the draft board for your Miami Dolphins #FinsUp🐬
7


Lions

DeVonta Smith
WR
Alabama
The Lions are simply going to do "Lions things". Any Lions fan would agree. Although, I think this will be a great pick. It will be great for not only Jared Goff - because it will open up the field - but it will be good for the Lions as a whole. Hopefully, Devonta will bring a "bite your knees off" mentality to their offense who needs help at the WR position after Kenny Golladay went to Kramer's Giants (I do have an inside scoop on why Daniel Jones sucks). Let's cross our fingers, and hope Jared Goff doesn't fuck this up for all Lions fans.
8


Panthers

Rashawn Slater
OT
Northwestern
With the acquisition of Sam Darnold, they want to give him the best opportunity to succeed and with the top two wideouts gone--this makes this easy. Rashawn Slater is not as talked about, but regarded as just a strong tackle as Penei Sewell and has experience at both tackles. After franchise tagging RT Taylor Moton, the Panthers get their more long term option here.
9


Broncos

Trey Lance
QB
North Dakota State
I'm really torn with this pick because I still believe Drew Lock has a ton of upside going into the 2021 season with a healthy Courtland Sutton but Trey Lance is a guy you just can't pass on if he falls to Denver.
10


Cowboys

Patrick Surtain II
CB
Alabama
The Cowboys have a desperate glaring need in their horrific defensive backfield. Jerry Jones will be fiending to get an offensive playmaker here at the number eleven pick. Cowboys fans have talked themselves into believing that Dak's injury was the only thing holding them back last year, unless he's playing CB they're going to struggle to cover like last year.
11


Giants

Alijah Vera-Tucker
OT
USC
This pick is between Vera-Tucker & Waddle with Smith & Slater off the board. THIS HAS TO BE THE MOVE, highest floor in the draft can start and multiple positions meaning he will start week 1. Most importantly he OPTED IN to 2020 and showed everyone he can play tackle at the next level. Dont fuck this up Gettleman, #AllRise
12


Eagles
via MIA via SF

Jaylen Waddle
WR
Alabama
As much as I like to kill Howie if the Eagles are able to score Jaylen Waddle with the 12th pick overall Roseman will certainly deserve some credit. A master move by the Eagles gaining an extra first round pick, securing a high level skill player from the SEC all while also getting a good evaluation of Nate Sudfeld. I seriously considered taking Jaycee Horn hear as well, but the idea of having three Jalens starting on offense is too funny to pass up.
13


Chargers

Caleb Farley
CB
Virginia Tech
It was only 2 years ago that the Chargers appeared to have one of the top secondaries in the NFL. Now that Pro-Bowl CB Casey Hayward has been released, the Chargers suddenly need depth at the position. With the emergence of Michael Davis and the return of Derwin James, this defense can be the best in the AFC West if they get lucky on an a guy like Farley. He's a big and talented corner who should not drop too far in the draft even though he sat out 2020.
14


Vikings

Christian Darrisaw
OT
Virginia Tech
The Vikings are in a strong need of an Offensive Line to protect that precious quarterback, Kirk Cousins. After seeing Riley Reiff leave due to free agency; there's a glaring hole needed to be filled. Christian Darrisaw will be an instant impact stepping into the left tackle position for the Vikings.
15


Patriots

Mac Jones
QB
Alabama
We all know this is a futile exercise because Bill is going to select some special teamer who should go in the third round. So he'll either do that or trade it for 4 3rd rounders that will turn into bums. I don't even like Mac Jones but at this point I'm on team anyone but Cam, so a man can dream
16


Cardinals

Jaycee Horn
CB
South Carolina
The Cards lost their 10-year stalwart Patrick Peterson to free agency. And other than new signee Malcolm Butler … it's tumbleweeds at the cornerback spot. A top CB is huge priority and I'm very happy with Jaycee Horn falling here. Three year starter at South Carolina. 4.39 40-yard dash. 41.5 vertical jump. Great size. Plays physical. Ain't scared. BDE.
17


Raiders


Micah Parsons
LB
Penn State
Raiders lost players to free agency/cut from the team on all three levels of the defense, as much as they need to address their O-Line issues, defense is a pressing need also. Parsons gives the Raiders the speed they need at the linebacker position and have an immediate impact on the defense.
18


Dolphins


Kwity Paye
DE
Michigan
After going offense, the Dolphins go to the other side of the ball. Dolphins were tied for 10th with 41 sacks in 2020. After losing 25% of those sacks in the off-season, the Dolphins pick the top pass rusher in this year's draft class to fill the void. I think the Dolphins will target the highest pass rusher on their draft list unless Parsons or one of the two top offensive tackles fall.
19


Washington

Jeremiah Owusu-Koramoah
LB
Notre Dame
Somehow over the last couple of years, WFT has put together a formidable roster. With the addition of Curtis Samuel via free agency, one could argue that there aren't any glaring and obvious needs. With that said, WR, OT, LB, and DB seem to be the team's thinner positions. With the 19th pick we're all over Jeremiah Owusu-Koramoah LB, ND. Speed and top notch coverage skills will have this guy as a 3 down LB and a new cornerstone of an already dominant D.
20


Bears

Liam Eichenberg
OT
Notre Dame
Notre Dame tackle Liam Eichenberg will be a great fit for the Chicago Bears. What he lacks in weight, trench aggression and anchoring, he more than makes up for with incredible athleticism and his ability to move well in space. If the Bears ever get a QB on the roster, Liam will be a cornerstone of the offensive line.
21


Colts

Teven Jenkins
OT
Oklahoma State
It's time to cash in on the Wentz insurance plan and the Colts landed one of the best remaining tackles on the board. With All-Pro LT Anthony Castonzo retiring, Jenkins fills a major void in the Colts offensive line while also protecting Carson Wentz's blindside. He'll have to make the switch from RT, but with his size (6'5, 317 lbs) and elite athleticism, he won't have any trouble fitting into the Colts dominant zone blocking scheme.
22


Titans

Greg Newsome II
CB
Northwestern
The Titans need to revamp a pass defense that was 29th in the league last season. Adding a corner with the size and speed of Greg Newsome would be a big step in the right direction. He has experience playing zone and man coverage and is a solid against the run. Newsome is an all-around quality player who was well coached at the college level and has the size and speed to make an impact at the next level.
23


Jets
via SEA

Jayson Oweh
DE
Penn State
The Jets always draft defense in the first round. Even when they don't need defense. This year they need defense. The Jets have drafted 15 defensive players in the first round since 2002. They've only selected 6 offensive players in that time. The Jets need help on the edge and in coverage so a edge rusher or a corner make sense here.
24


Steelers

Najee Harris
RB
Alabama
The Steelers were once synonymous with Power Running. Since the NFL merger in 1970 thru 2010 the Steelers' average league rushing ranking was 8.8. In the last decade (2011-2020) they've slipped to 22.1. To make matters worse, the Steelers' rushing game has bottomed out over the past 3 years, finishing 31, 29, and 32 (dead last) over the past three years, while the hated division rival Baltimore Ravens have finished 2, 1, and 1 in the league over the last three years. Insert Najee Harris - the 6'2, 229 lb specimen clocked a speedy 4.45 40-time at his Pro Day, and had several jaw-dropping highlights in Alabama's National Championship run. Fans are drooling over him, and the Steelers would be wise to satiate their appetite for Power Running as Franchise Quarterback Ben Roethlisberger nears retirement.
25


Jaguars
via LAR

Trevon Moehrig
CB
TCE
Using a first rounder we obtained from sending Jalen Ramsey to LA, what better way than to spend it solidifying the secondary with a true stud. This will now allow the Jags to turn its attention to the offense in the second round.
26


Bowns

Azeez Ojulari
DE
Georgia
Ojulari is one of the best pass rushers in this class. 8.5 sacks, 31 stops and 4 forced fumbles in 10 starts as a redshirt sophomore....the man can do it all. He'll be a great threat on the edge for when Jadeveon Clowney gets tired...and will be the long term answer when Clowey leaves.
27


Ravens

Jaelan Phillips
DE
Miami
Ojulari is one of the best pass rushers in this class. 8.5 sacks, 31 stops and 4 forced fumbles in 10 starts as a redshirt sophomore....the man can do it all. He'll be a great threat on the edge for when Jadeveon Clowney gets tired...and will be the long term answer when Clowney leaves.
28


Saints

Terrace Marshall Jr.
WR
LSU
60% of the 2020 Saints' end zone targets are no longer on the team and Marshall fills that need for a big target to throw at. Marshall Jr is one of the bigger framed wide receivers left on the board; he can play outside, but has the versatility to play the slot. Decent hands, runs a great route tree, and great for yards after the catch. He is comfortable with being 2nd WR on the team, he did so for Justin Jefferson and Ja'Marr Chase in his college career. When both were moved on, he was a weapon in his own right, producing over 100+ yards a game and got at least one touchdown a game (with worse QBs than Jefferson and Chase).
29


Packers


Rashod Bateman
WR
Minnesota
Lining up Bateman across from Davante Adams will be a nightmare for cornerback tandems around the league. Packers need a physical receiver, and more importantly Rodgers needs to toss a couple passes to a first round picks before his career is over!
30


Bills

Gregory Rousseau
DE
Miami
The Bills get an absolute monster off the edge. Not just saying this because I have had several delicious Coors Light seltzers. Rousseau has the beast-like size and speed to be a game wrecker. Pair him with the existing defensive line and talent and he will be an absolute beast his speed and athleticism will be a major asset to the Bills
31


Chiefs

Stone Forsythe
OT
Florida
Left tackle is the chiefs biggest need and finding one at 31 can be tough. Additionally, Andy Reid has strict size requirements for tackle. He likes 34" arms and never drafts below 33". In this year of the short armed tackles Stone comes in at 6'8 with 34 3/8" arms, transitions well into passing sets, can drift very deep, which Patrick often does, and can lock up an edge rusher.
32


Buccaneers

Joe Tryon
DE
Washington
Tryon fills a need at Edge rusher depth. The Bucs gave Shaq Barrett over $40 mil guaranteed on a long term deal this off season and he's clearly going to be the right defensive edge rusher for years to come. However, veteran Jason Pierre-Paul on the left side played at a Pro Bowl level in the Super Bowl winning 2020, but is in the final year of his deal and more importantly, is 32 years old. Time for the Bucs to get younger with depth and the 6'5, 260 lb. Tryon fits the bill. While Tryon opted out of the Washington/Pac 12 season when they initially didn't play the first two months, he did have 8 sacks and 12.5 tackles for loss in 2019. Also, the Bucs drafted Huskies massive defensive tackle Vita Vea in the first round in 2018. So, they have familiarity with the program.
Podcast Video
Podcast Transcription