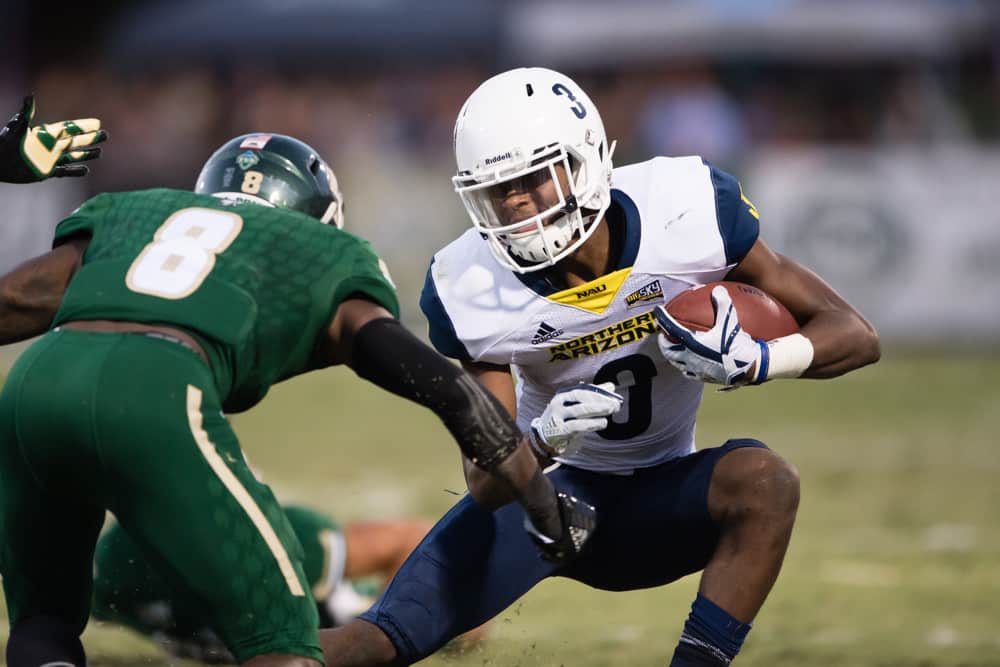 Welcome to another week of college football and your Week 9 FCS Football Best Bets. I'm a sucker for the little guy. The one who is given little to no chance to compete, let alone to win. It's because of this that I have scouted picks for you centered around that theme. It's usually easy to bet on the favorite. It takes skill and guts to bet on the dogs. Plus, it always feels better to win those bets in the end.
Here are some underdog picks that should have you happily cashing when the dust settles. Lines are provided thanks to our friends at PointsBet. If you want more betting action on top of these games make sure you check out PointsBet. There you can find the rest of the FCS games and much more. Plus, like we always do, we've got the hook up with a sweet deal. To find out what that is, you'll just have to click. Good luck and happy betting!

Week 9 FCS Football Best Bets: Top Underdog Picks
Who: Kennesaw State Owls (4-0) at Monmouth Hawks (2-0)
When: Saturday, April 10th 10AM PDT ESPN+
The Overview
Two undefeated programs will lock talons this weekend in New Jersey. Kennesaw State boasts a perfect 4 wins and no losses while Monmouth has won their only two games this season. The Hawks got a late start to their short Spring schedule. In late March they kicked off with a 35-17 home win against Charleston Southern. As for the Owls, they pitched a shutout last week against Robert Morris in a 35-0 rout. Kennesaw State is playing it's final game of the regular season. Monmouth will play one more after this week. Historically, the Owls have a firm lock on the series winning four of the five head to head matchups. The Hawks lone win came last season with Monmouth topping Kennesaw State 45-21 at home.
The Matchup
Kennesaw State runs the triple option and has done it exceedingly well so far this season. Ball carriers as a unit have amassed more than 1,200 yards total over only four games. Six different players fit into this mix with over 100 yards apiece this year. This includes quarterback Tommy Bryant who gained 162 yards on 48 carries before suffering an injury three weeks ago against Dixie State. His replacement, Xavier Shepherd led all rushers last week against the Colonials gaining 93 yards on 19 carries. Senior running back Kyle Glover's 278 total yards leads the team in overall rushing.
The throw 👌, The Footwork 👀
Not bad for their first game together @TonyMuskett ➡️ @lonn2_ pic.twitter.com/luXaXFnFy8

— Monmouth Football (@MUHawksFB) April 3, 2021
Monmouth enters the week with a more balanced offense, but with an almost equally impressive rushing game as their opponent. In their two games, the Hawks have accumulated 425 total rushing yards. Redshirt sophomore running back Juwon Farri has posted back to back games with over 120 yards rushing and has an unreal seven touchdowns. Freshman quarterback Tony Muskett heads the offense and enjoyed a strong opening game against Charleston Southern. Muskett threw for 297yards and two touchdowns against the Buccaneers. He was hardly needed last week against Gardner-Webb as Farri and the rushing attack did most of the heavy lifting. In that game, he only needed 155 yards and two touchdowns for the win.
The Hawks are at home and have shown enough to not be instantly counted out in this game. The Owls will no doubt look to dominate the line of scrimmage. That said, Monmouth has enough firepower to keep this game close and even win again at home. Load this up as one of your Week 9 FCS Football underdog specials this week.
The Pick: Monmouth +6.5
---
Who: Alabama A&M Bulldogs (2-0) at Jackson State Tigers (3-2)
When: Saturday, April 10th 12PM PDT ESPN
The Overview
Coach Deion Sanders hopes to turn around his Tigers' two game losing skid this weekend as they host the Bulldogs. Alabama A&M may be 2-0 on paper, but they have only played one actual game this season. Their week one matchup against Alcorn State was considered a forfeit after the Braves pulled out of the Spring season. The Bulldogs only on field win came at the expense of another set of Bulldogs from South Carolina State. Jackson State started the season hot, but has fallen off the last two weeks prompting a change at quarterback. They have lost back to back games against Alabama State and Southern.
The Matchup
This week, freshman quarterback Quincy Casey will get his first start of the season. He'll be replacing sophomore Jalon Jones who lost the faith of his head coach over the last two weeks. Casey has seen limited action this year mostly in mop up duty. He's completed 13 of 21 passes for 142 yards and has both a rushing and a passing touchdown so far. He'll look to his junior receiver Daylen Baldwin who has six touchdown receptions to help him acclimate to the offense. Casey may be asked to carry the ball as he assumes a position in which his predecessor accounted for five touchdowns and 248 of 865 total rushing yards.
It's the #truth #IBelieve pic.twitter.com/Zcyk0Tn2G5

— Jackson State Football (@GoJSUTigersFB) April 4, 2021
The Bulldogs looked impressive in their only game so far handling South Carolina State 31-7 on the road. Senior signal caller Ageel Glass threw four touchdown passes and 272 yards in that game. He also tossed a troubling three interceptions. Running back Gary Quarles will look to exploit a Jackson State rushing defense that has allowed 984 yards on the season. Quarles carried the ball 21 times for 92 yards against the Bulldogs.
As impressive as Alabama A&M looked in their only win, Jackson State has a lot to prove coming into the week. Coach Sanders will not want to be embarrassed on national television for three straight weeks. He'll do enough to fire up his team and get a home win to right the ship. In the process, they'll cash this Week 9 FCS Football bet.
The Pick: Jackson State +3.5
---
Who: East Tennessee State Buccaneers at Mercer Bears
When: Saturday, April 10th 3PM PDT ESPN+
The Overview
In what could end up being one of the top contests of the weekend, the 4-1 Buccaneers collide with the 4-5 Bears. Don't let Mercer's loss column fool you though. Three of those losses came in the fall portion of their schedule. The Bears are 4-2 since the turn of the calendar and coming off back to back wins against ranked opponents. East Tennessee is a week removed from an impressive win over previously undefeated VMI.
The Matchup
Last week, Mercer enjoyed a massive effort from their freshman quarterback Carter Peevy. He completed 21 of his 36 passes for 402 yards and two touchdowns. So far this season, he's passed for 1,091 yards and seven touchdowns. His favorite target, fellow freshman Ty James paces all pass catchers with 422 yards. He also has three touchdowns. Their defense will need to stiffen up tough if they want to win this game.
We see you @ethandirrim! @PeevyCarter finds Dirrim for a TD!

Mercer 26, #17 Furman 14#RaiseTheBar | #RoarTogether pic.twitter.com/XJ1aJg5xwY

— Mercer Football (@MercerFootball) April 3, 2021
East Tennessee is on a three game winning streak heading into Macon. On top of their win last week against the Keydets, they also toppled The Citadel as well as Western Carolina. The Buccaneers have managed to stay in games despite not putting up big numbers. Not to mention the switch at quarterback from Tyler Riddell to Brock Landis. They will hope that their stalwart running back Quay Holmes can keep the roll going. Holmes has eight touchdowns this season racking up 551 yards in the process.
Mercer at home will be a test for East Tennessee and one they may not win. The Bears were 10.5 point underdogs at home against Furman last week. They held serve against the Paladins and will do it again against the Buccaneers in this Week 9 FCS Football bet.
The Pick: Mecer +3
---
Who: Northern Arizona Lumberjacks at Southern Utah Thunderbirds
When: Saturday, April 10th 5PM PDT
The Overview
These two struggling programs will meet for the second time as bookends for the Spring season for Southern Utah. Their last meeting was in week one where only a single point scored on a walk-off touchdown decided the winner which was Northern Arizona. Since then, the Lumberjacks have lost their last two games, both against ranked opponents. The Thunderbirds tasted victory against Cal Poly but have also lost their last two contests. Both teams have been competitive this season, but haven't been able to dig deep enough for the win.
The Matchup
In their week one matchup, Thunderbirds quarterback Justin Miller had an impressive game in spite of the loss. He threw for 288 yards and five touchdowns against the Lumberjacks. Although his one mistake was a big one as he tossed a pick-6 in the second quarter. Miller has since gone on to start every game and 1,371 yards passing and 13 touchdowns. He does also have eight interceptions to go along with that. The young team has no real ground game as their leading rusher is freshman running back Dayne Christiansen. He only has 194 rushing yards and two touchdowns all season.
https://twitter.com/NAU_Football/status/1366512331019091970
Northern Arizona lacks heavily on offense as well. Keondre Wudtee has struggled most of the season. So far, he's only amassed 541 passing yards and two touchdowns. Draycen Hall leads their running attack with 191 yards on the ground and a single touchdown on the season. The defense came through in the first game against Southern Utah scoring on the interception while also registering a safety. They may need to do it again to win the rematch.
Already chalking up a win against a team is an advantage in such a short season. That said, the Lumberjacks should find a way to pull off the road victory this week to end the Thunderbirds season.
The Pick: Northern Arizona +3.5
---
Week 9 FCS Football Related Posts
FCS College Football Picks ATS Week Nine (Ep. 987)
College Football Picks