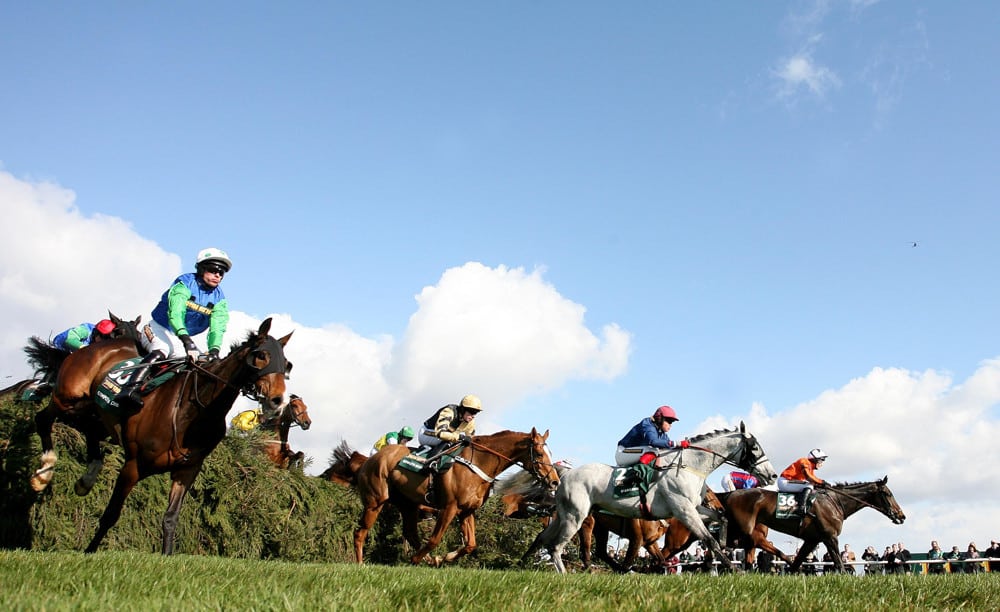 I defy you to find a more spectacular sporting event than the Grand National. Forty runners charge towards the first fence in the Liverpool sunshine, over four miles and 30 obstacles in front of them. It's blood and thunder, thud and blunder. And anything can win. It would take me too long to tell you about, and you too long to read about, all 40 of this years entries, but let's see how we get on.
The Race
First run in 1839 this race is a major feature of the British calendar. Everybody has a bet and the nation watches. Four miles two furlongs is the absurd trip (a friend once told me it was his first ever three cigarette horse race.) Forty runners is the absurd field size. The obstacles are huge and unique. Oh, and it's a handicap, so the idea is that they all finish at the same time. Run at Aintree Racecourse in Liverpool, the Grand National track is big and left handed. The torturous run-in has seen some of the most epic sport you can imagine.
Famous Races
The race has a history of throwing up some amazing scenes. Royal horse Devon Loch jumping a shadow when about to win in 1956.
Foinavon taking advantage of a 25 horse pile-up in 1967.
Red Rum completing a hat-trick of wins in 1977.
Red Marauder leading home only four finishers in the mud in 2001.
If you haven't seen these I urge you to take a look and whet your appetite for this year's race.
Lots of bookies give good National offers so shop around, extra places are something to look for, try and get paid out if your horse can finish anywhere in the first eight.

Grand National Analysis and Picks
Cloth Cap 4/1 – Fully deserves to be favorite but there's no way I can take a 4/1 shot in a 40 runner field. Big chance, but no thanks.
Burrows Saint 9/1 – Irish Grand National winner which is a good signpost for this. Form in prep races hasn't sparkled, but it's a distinct possibility that the trainer Willie Mullins is plotting for today.
Minella Times 12/1 – Raechel Blackmore takes the ride here after dominating at the Cheltenham Festival. The horse is a feature in these big handicaps and will run well.
Any Second Now 10/1 – Well connected but unsure if the rough and tumble nature of the race will suit. Economical jumper. Impressed last time but that was over two miles.
Kimberlite Candy 12/1 – Thorough stayer and proven over the fences. Looks moderately handicapped to me and others preferred.
Secret Reprieve 14/1 – Welsh Grand National winner who really does fit the bill here. He's actually third reserve at the moment so check the field nearer the day. If he's in, this improving seven-year-old will give you a good run.
Magic of Light 16/1 – Ran well here two years ago but is trying to become the first mare since 1951 to win this. Weight of history says no.
Discorama 18/1 – As a hold up horse this will need luck in running. If he doesn't get too far behind, he can finish with a rattle. Price is diminishing. Like.
The Storyteller 20/1 – A grand servant but has had a busy season, and as a result I'm struggling to see him spark here.
Farclas 20/1 – Irish-trained seven-year-old who has ran with credit this season in good races without winning. The horse needs to prove his stamina, however he has a feather-weight to carry here and that will help him get home.
Bristol de Mai 25/1 – Classy horse that would be the fairytale winner. However, he's carrying a lot of weight and as a result I think that could anchor him.
Potters Corner 25/1 – Another Welsh  Grand National winner but others preferred.
Canelo 25/1 – Tough handicapper who doesn't know how to run a bad race. Whether or not he has the class to win this remains to be seen.
Milan Native 28/1 – Coming into form at the right time, ground and trip will suit. Good chance of running into the places.
Anibale Fly 33/1 – Tumbled down the weights in the face of poor form, but has ran well here, and horses for courses is a real thing.
Mister Malarky 33/1 – Won at Ascot in December and the yard is in good form. Stamina is an unknown but this is a live threat.
Takingrisks 40/1 – Twelve-year-old who has won a Scottish Grand National. Should stay but would need to improve.
Vieux Lion Rouge 40/1 – Will run well for a long way but struggles to get home. Place chances.
Definitely Red 40/1 – Classy but old, will get some name-recognition supporters but won't win.
Hogans Height 50/1 – Has won over these fences which counts for something. He's been tried in cross-country races recently but switches back here.
That takes you through 20 0f the 40 runners. Under no circumstances let me put you off taking a flyer on some of the fancy prices that we haven't mentioned. The Grand National is a race to shoot your shot.
Selections
I'm gambling on young horses showing improvement and horses getting some luck in running here. Discorama will arrive on the scene late. There has been shrewd money down on him this week and that's enough to peak my interest. Farclas will look to take advantage of a low-weight and reel in tiring horses on the run-in. Anibale Fly is a horse that is rejuvenated when setting his eyes on this course and hopefully that works again this year. Cloth Cap is the fly in the ointment, I can't take it to win but it would be folly to leave it out of my front four.
1st – Discorama 18/1
2nd Farclas 20/1
3rd Anibale Fly 33/1
4th Cloth Cap 4/1
Saturday, April 10th: Time zones 5:15 BST, 12:15 EST, 9:15 PDT