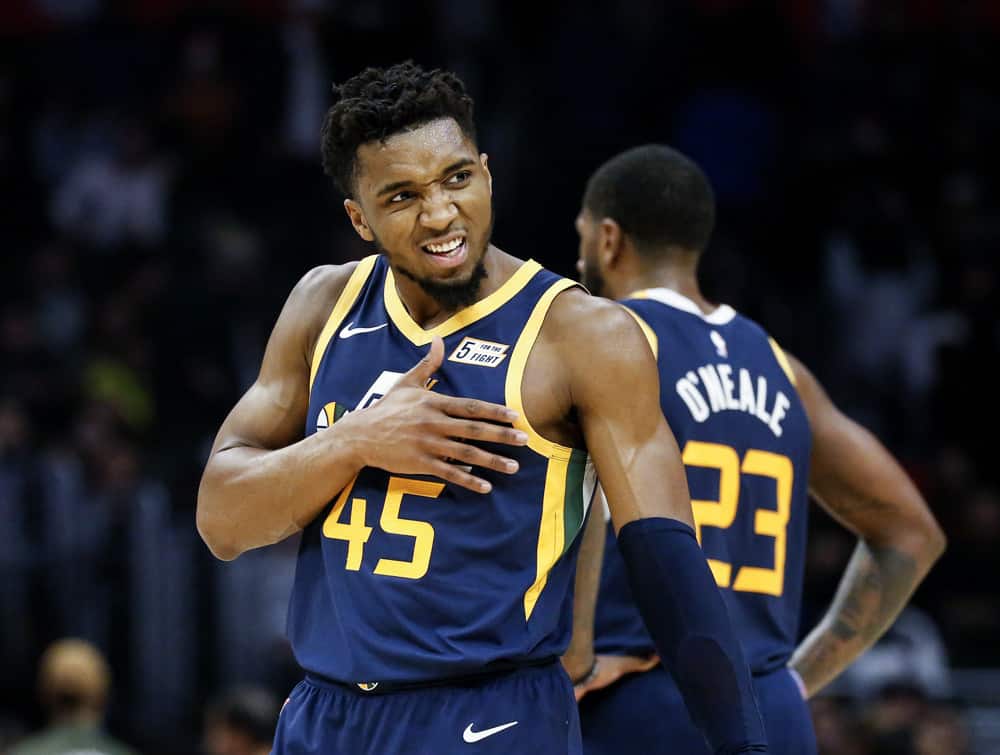 Greetings everyone! The NBA regular season rolls on, and that can only mean that we are here to talk NBA DFS! Saturday features a nice eight-game slate, and someone will end the night $100K richer (hopefully you or I)! Without further delay, let's dive right into my DraftKings GPP lineup for Saturday.
NBA DFS Picks Saturday April 3
Don't look now, but it appears as though Derrick White is finally finding some consistency this year. It was a rocky start to the season for him, but he's now scored double digits in seven straight and he's topped the 30 fantasy points mark in three of his last four.
White has shown us in the past just how good he can be when he is feeling it. Now that he's gotten his legs under him, I am all over playing him. The minutes and the shot attempts are there for White, and he carries a cheap enough price that I'll gladly roster him on Saturday.
SG – Svi Mykhailiuk ($5,500) – OKC
Although the injury to SGA spells trouble for Oklahoma City's season, it's a blessing for us playing NBA DFS. We're getting a golden opportunity to play some of the lesser-known players with a now higher usage rate from the Thunder at a cheap price, with Svi Mykhailiuk being one of them.
He's seeing an expanded role with his new team, and that role gets even bigger when SGA is out. Mykhailiuk is going to see around 25-30 minutes a game for the time being. He's also getting his shots to fall, as he's scored in double figures in four of his last six. For only $5,500, I'll take a stab at a low ownership player who should see plenty of run.
This is about the best value play you'll find on this slate. Alec Burks is seeing plenty of playing time, and he's getting the shot attempts as well. He's scored at least 20 points in six of his last eight games, and he's shooting right around 50% during this stretch. Now, his Knicks are set to take on the Pistons, which is a good matchup for New York.
One of the things that really attracts me to playing Burks on Saturday is that I feel he will be overlooked. With a price tag of $5,600, I believe a lot of people will overlook Burks, although this could be a bad mistake. You're not going to get a better bang for your buck on this slate, and it's reasonable to believe that Burks can top the 30 fantasy points mark in this one.

Speaking of value plays, I'm playing Dorian Finney-Smith at the power forward position. Granted, his scoring is spotty at best. However, he's seeing starter minutes as he's averaging 31.5 minutes per game. The numbers don't lie either that the Mavericks are a better defensive team with him on the floor.
Finney-Smith only averages 20.2 FPPG. However, he rarely shoots over eight shot attempts and he's a great defensive asset. If Finney-Smith can get some offense going, then he will be the play of the day. Either way, I'll gladly play a player who regularly sees over 30 minutes a game for a cheap price of $4,300 on the odd chance that he can get things going.
Myles Turner continues to be undervalued in NBA DFS, and I'll continue to ride him. Although he's been inconsistent this year, Turner still carries an average of 31.2 FPPG into this contest. He's now had two less-than-spectacular outings in a row, and he rarely has three bad games in a row.
Turner's Pacers squad is set to battle with San Antonio on Saturday. This is a matchup that I feel Turner should flourish in. The Spurs rank towards the bottom of the league in points allowed in the paint, and their big men aren't the strongest defensively. I believe that this is a contest that Turner could flirt with the 40 fantasy points mark in, and for only $5,900 I'm all over him.
Rookie guard Anthony Edwards has been electric lately, and I'm going to ride the hot hand. Edwards has now topped the 40 fantasy points mark in three straight contests, and he's only dipped below 30 fantasy points in two of his last ten. He's scored over 20 points in four straight games as well.
His Timberwolves will battle with the 76ers on Saturday. Although this isn't exactly the best matchup for them as a team, I don't see any reason that Edwards couldn't continue this hot streak. He's had no problems against any other top teams lately, and there's little reason that he won't flirt with 40 fantasy points once again in this matchup Saturday.
Harrison Barnes has been the personification of consistency this season, and his 31.2 FPPG average reflects just this. Although Barnes isn't going to impress anyone in any specific category, it's his all-around game that makes him such a viable DFS option. Whether it's scoring, rebounds, or anything else, he knows how to fill a stat sheet.
The Kings are set to face off with Milwaukee on Saturday. Although the Bucks are a good team, they certainly aren't perfect. If you look at Barnes's game log, then you'll see that he flourishes in games against teams who are composed similarly to the Bucks. It won't be pretty, but you can about guarantee that Barnes will be good for 30+ fantasy points.
The NBA-leading Jazz are in action on Saturday, and I want a piece of their offense. What better of a player to look at than their offensive leader, Donovan Mitchell. He's carrying an average of 42.4 FPPG into this one, and his Utah squad will play against a weakened Orlando team.
Mitchell regularly flirts with the 50 fantasy points mark, and he's been known to top the 60 fantasy points mark as well. He also carries a high usage rate of 31.9% into this contest, a usage rate that leads the Jazz. I need a good, solid anchor to carry this lineup to paydirt. I believe that Mitchell could very well be the guy to do that.
Will's NBA DFS GPP Lineup 4/3
Make sure to subscribe to NBA Gambling Podcast on Apple and Spotify. Check Zach, Munaf, and Ryan's updated against-the-spread NBA picks today and EVERY DAMN DAY for EVERY DAMN GAME at SG.PN/nbapicks