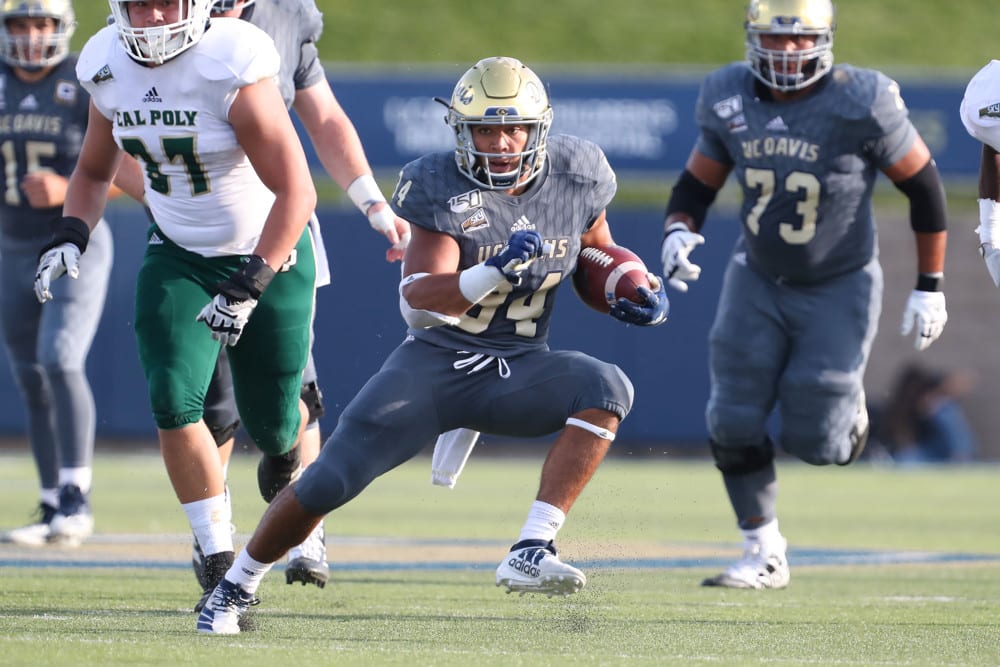 Welcome to another week of college football and your Week 8 FCS Football Best Bets. I'm a sucker for the little guy. The one who is given little to no chance to compete, let alone to win. It's because of this that I have scouted picks for you centered around that theme. It's usually easy to bet on the favorite. It takes skill and guts to bet on the dogs. Plus, it always feels better to win those bets in the end.
Here are some underdog picks that should have you happily cashing when the dust settles. Lines are provided thanks to our friends at PointsBet. If you want more betting action on top of these games make sure you check out PointsBet. There you can find the rest of the FCS games and much more. Plus, like we always do, we've got the hook up with a sweet deal. To find out what that is, you'll just have to click. Good luck and happy betting!

Week 8 FCS Football Best Bets: Top Underdog Picks
Who: Villanova Wildcats at Maine Black Bears
When: Saturday, April 3rd 9AM PDT
The Overview
The Wildcats will take the field at Harold Alfond Sports Stadium ranked 16th in the polls with a 1-1 record on the year. Maine enters the contest winners of their last two games and a 2-1 overall record. Both of Villanova's games this season have been decided by three points. One was a 16-13 win against Stony Brook, the other a 40-37 loss against Rhode Island.
The Black Bears were shut out during their season opener by Delaware suffering a 37-0 loss. They have since bounced back to win their next two matchups including a 38-34 victory against 13th ranked Albany. Historically, Villanova owns the series and are winners of five of the last six matchups between these programs.
The Matchup
For Maine to compete, they will look to their sophomore quarterback Joe Fagano. After a lackluster start to the Spring, Fagano kept pace with Albany throwing for 249 yards and 4 touchdowns. He followed that up with another four touchdown game against Stony Brook. He is also the only Black Bear player to rush for a touchdown this season. Fagano has two rushing scores. Defensively, Maine will need to lean on their third ranked pass defense to keep the Villanova offense in check. The squad is allowing only 133.7 passing yards per game thus far.
That Villanova offense leads the league in passing with just over 210 yards per game as well as 210 rushing yards per game. These numbers are also coming from a two game season, so take them with a grain of salt. Senior quarterback Daniel Smith leads this unit and has had mixed results in the process. In his team's win against Delaware, he threw for 242 yards and a touchdown. In their loss to Rhode Island, he compiled only 116 passing yards and an interception. He did rush for a score, but did little damage past that.
With the spread this close, look for Maine to at least cover with a better than average shot for the outright win at home. This Week 8 FCS Football bet could also be a great tease if you wanted a little more cushion.
The Pick: Maine +3.5
---
Who: Furman Paladins at Mercer Bears
When: Saturday, April 3rd 12:30PM PDT
The Overview
If this game was being played in 2020, this matchup would not make this article. Mercer did not win a single game in three tries last calendar year. Spring of 2021 has treated the Bears much better as they enter the week with three wins in their last five games. This includes two in a row and a 35-28 win against #9 Chattanooga. The Paladins are currently ranked #17 and come to Georgia with a 3-2 record as well in the Spring season. Furman was idle last week, but fell to Chattanooga 20-18 in their last outing. These programs have met six times with Furman having won four of them.
The Matchup
The Bears are an unquestionably run heavy offense. Running their plays from the "wing-t," setup, Mercer has already accumulated just shy of 1,500 yards on the ground. Conversely, the passing attack has yet to reach 1,100 yards. Eight different Mercer ball carriers have registered at least one touchdown. Their defense boasts a unit that leads the Southern Conference in sacks with 21 on the season. All told, 11 defensive players have sacked the opposing quarterback this year. They also have held home opponents to less than 100 yards in both instances this Spring.
Furman's sophomore quarterback Hamp Sisson will attempt to be the first quarterback to break that streak this week. That might be tough as he is coming off of back to back games under 122 yards passing. He reached only 120 yards against East Tennessee State then followed with a 121 yard outing against Chattanooga. The Paladin's relied on the legs of senior running back Devin Wynn in their win against East Tennessee and may have to do it again this week if they hope to beat Mercer. They will also lean on a defense giving up only 3.3 yards per carry and a league best 100 yards a game.
Mercer's been dominant at home this Spring and Furman has had weak showings against their last two opponents. This line is perfect to jump on and ride for a win in your Week 8 FCS Football bets.
The Pick: Mecer +10.5
---
Who: Eastern Washington Eagles as UC Davis Aggies
When: Saturday, April 3rd 1:05PM PDT
The Overview
Eastern Washington will head to California riding a three-game winning streak. After suffering a week one loss to Idaho, the Eagles have beaten North Arizona, Idaho State, and Cal Poly. Last week's win was a 62-10 thrashing of the Mustangs. The Eagles soared with over 680 total yards of offense in the game. UC Davis is coming off back-to-back wins logging a 73-24 win over Cal Poly to start the win streak. Last week, the Aggies came back in the fourth quarter to beat Idaho State. UC Davis has yet to beat the Eagles in the six game history between the two programs.
The Matchup
Redshirt Senior quarterback Eric Barriere leads the Eagles offense. He already has 1,623 passing yards and 15 touchdowns on the season. His arm has done most of the damage for Eastern Washington this season as neither of their top two rushing threats have individually amassed more than 283 yards. The Eagles' signal caller has two games over 400 passing yards while accounting for a 339 performance along the way. It's been a feast of famine type season for the Eastern Washington defense. The unit held Cal Poly to under 100 passing yards and under 250 yards of total offense. On the flip side, in the shootout against Idaho State three weeks ago, they allowed over 500 offensive yards overall.
The Aggies turn to local Rocklin junior Hunter Rodrigues to lead their offense in the team's final Spring game. He's passed for 815 yards and seven touchdowns in the four games for UC Davis this season. He has also rushed for two scores as well. Despite a decent amount of points scored by the Aggies this season, Rodrigues has yet to post a game with more than 265 passing yards. That game was the 73 point offensive outburst against Cal Poly. Defensively, they have been tough against the run holding their opponents to under 600 yards collectively. While that squad brings 15 sacks on the season, 9 of them were collected in the win over the Mustangs.
Leaning on the Eagle's momentum and their win streak against the Aggies, the two-point road dogs are the play here. Eastern Washington will continue their dominance over UC Davis and cash this Week 8 FCS Football bet.
---
Week 8 FCS Football Best Bets Related Posts
FCS Football Week 8 Preview & Picks | The College Experience (Ep. 630)
College Football Picks