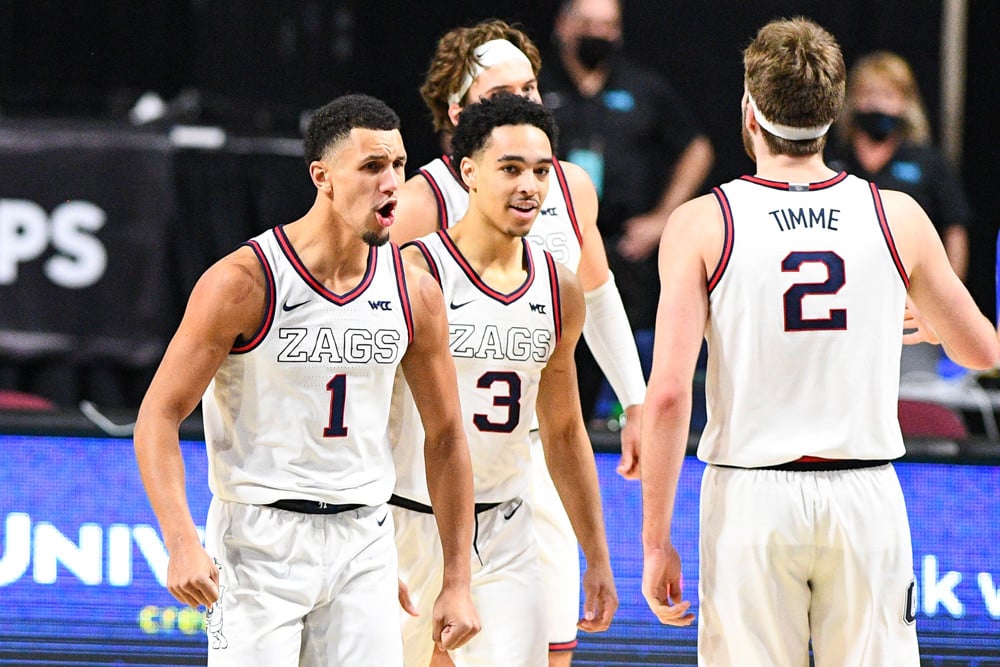 And we're off! It was a fantastic first weekend of NCAA Tourney hoops, and our SGP "Market Madness" is well underway. Market Madness is a contest through SGP and various show hosts throughout the NCAAB world. And, needless to say, proper investment – not only in top-ranked teams but upset-minded ones – is paying off.
First, our contestants began "Market Madness" with a fictional $300 to invest on teams for weekend one. By rule, they had to select at least one team from five categories of #1 seeds, #2-5 seeds, #6-9 seeds, #10-12 seeds, and #13-16 seeds.
They could invest in single or multiple shares (no more than three) of as many teams as possible provided that they stayed under the $300 cap. Teams scored two points in each win this weekend and also added points based on their margin of victory in each win.
And now, their initial value has gone up by that total amount for next weekend. You will see the new "Market Madness" values at the bottom.
Later this week, contestants will have the chance to discard teams that lost and then, re-use the original purchased price of those teams to re-invest in teams still alive. (Example: Selling a share of Illinois gives you $30 back to spend).
This, while staying under the now increased $400 cap for weekend two.
With all of that explained. Here's our leaderboard with the show/host, points, and teams in their portfolio.
Market Madness Leaderboard Through First Weekend
"Wolo and Stats" afternoon show on "Sports56 WHBQ" radio in Memphis   774 points
(Gonzaga x3, Baylor x3, Bama, FSU x2, OK St, USC, VA Tech, Ohio U x2)
Vince Ferrara, host, "99.1 FM, The Sports Animal" in Knoxville, TN    675 points
(Gonzaga x2, Illinois x2, Baylor, Bama x2, Iowa, Ark, FSU, LSU, SD St, Winthrop x2, Ohio x 2)
Steve Carney, StPete9.com and "Under the Orange Roof" podcast   654 points
(Gonzaga x2, Michigan x2, Baylor x2, Illinois x2, Ark, TX Tch, G'town, Rutgers, Iona)
Chris Dobbertean "Blogging the Bracket.com"    604 points
(Gonzaga x2, Baylor, Illinois, Tenn, Bama, Ohio St, Texas, FL, LSU, USC, Rut, Winthrop, 'Cuse, UCSB, Ohio U, N. TX)
Jason Powers "Powers on Sports" podcast   583 points
(Gonzaga x2, Illinois x2, Texas, Bama, FSU x2, Ohio St, UNC, USC, Oregon, VA Tech, Rut, Ohio U, UCSB)
T.J. Rives "3 Dog Thursday" podcast   583 points
(Gonzaga x2, Illinois x2, Bama x2, Ohio St x2, Ok St, Hou, Oregon, UNC, G'town, OR St, Liberty, Morehead St)
Colby Dant "The College Experiecne" podcast    579 points
(Baylor, Gonzaga x2, WVU, Bama, Oregon x2, UConn, TX Tech, SD St, G'town, Colgate x2, Ohio U. x3)
Thomas Bridges "The Jones Report" podcast  564 points
(Gonzaga x2, Illinois x2, Texas, FSU x2, Bama, Ohio St, UNC, USC, Rut, VA Tech, UCSB x2, Ohio)
Tyler Jones "The Jones Report" podcast   550 points
(Gonzaga, Baylor, Illinois, Bama, Texas, Kansas, OK St, Ohio St, Iowa, FSU, Oregon, LSU, SD St, OR St, G'town, Colgate)
Gary Segars "Winning Cures Everything" podcast   528 points
(Gonzaga, Baylor, Illinois, Bama, Houston, Iowa, Texas, SD St, BYU, USC, UConn, Loyola-Chi, LSU, Utah St, Winthrop, UCSB, Ohio, Colgate)
Marquis Johns "Big Fight Weekend" podcast    523 points
(Michigan x3, Baylor, Gonzaga, Illinois, Kansas, Oregon x2, Maryland, Liberty x 2)
Sean Green "Sports Gambling Podcast"     461 points
(Michigan, Illinois, Ohio St, Villanova, Texas, Houston, WVU, TX Tech, Loyola-Chi, LSU, UNC, Oregon, Mich St, 'Cuse, VA Tech, UCSB, Colgate, Iona, Oral Roberts, Mt. St Mary's, Drexel)
DeShaun Tate, "Tates Take…where basketball lives" podcast   442 points
(Gonzaga x 2, Illinois, Purdue x2, FSU, Iowa, Houston, Texas, SD St, UConn, TX Tech, Drake, G'town, Ohio x2, Iona, Liberty)
Ryan Kramer "Sports Gambling Podcast"  441 points
(Gonzaga x2, Illinois, Purdue x2, Texas, Kansas St, OK St, Oregon x2, UConn x2, VA Tech, UCSB, Oregon St, Ohio U x2, Grand Canyon x2)
New Team Values for the Sweet 16/Elite 8 
Gonzaga  $93
Baylor $71
USC $69
Michigan  $58
Houston $58
Villanova $57
Alabama $56
UCLA  $53
FSU $52
Loyola-Chi. $43
Arkansas $43
Creighton $42
Oregon St $38
Oregon $36
Syracuse $33
Oral Roberts $15
---