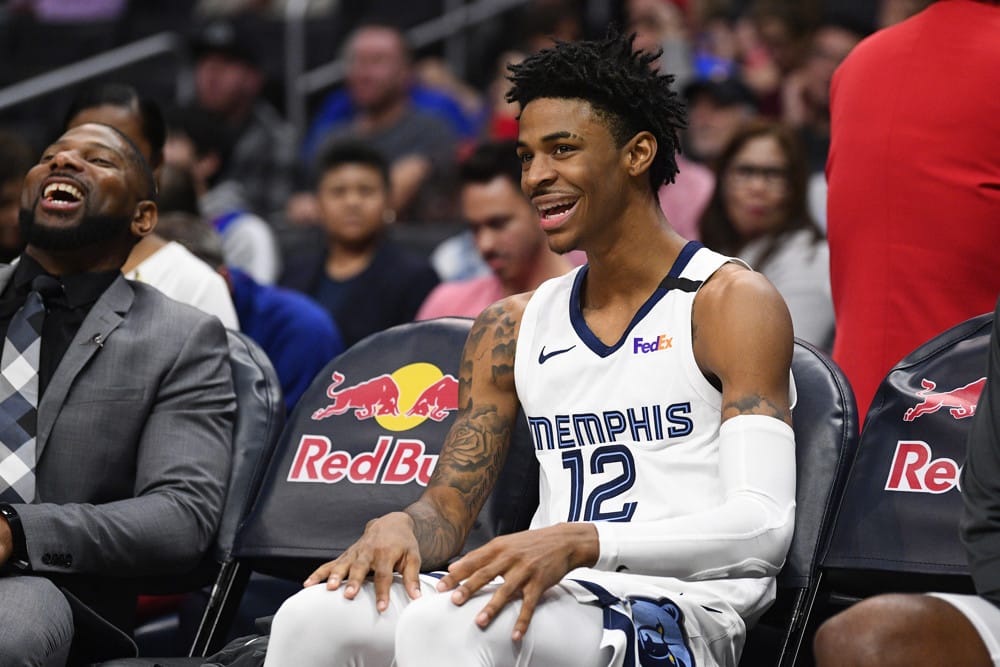 Hello my friends! It's Friday and that can only mean one thing! We're here to talk about NBA DFS. Someone's going to be $100K richer Friday night, and hopefully it's you or I, or maybe even both of us (wink, wink). This is my GPP lineup for DraftKings on Friday, and feel free to tag along with me!
NBA DFS Picks Friday March 19th
PG – Ja Morant ($7,600) – MEM
I'm kicking things off with a personal favorite player of mine in Ja Morant. His Grizzlies face the Warriors, who will most likely be without Steph Curry, at least for Friday. This means that Morant will have a world of potential with an easy matchup ahead.
It's worth noting that Morant is on a two game slump, but that doesn't really concern me. His two down games came against Miami and Phoenix, which are room for concern later in the season, but not for this game with a weakened Warriors squad. I expect big things from Ja on Friday night.
I'm going to ride a heating up hand in Collin Sexton at the shooting guard. He was riding a slump post All-Star Break, but he's now scored 20+ in two straight and he notched 45.75 fantasy points last game. His Cavs take on the Spurs on Friday, which shouldn't be the hardest matchup.
Sexton comes into this game with an average of 35.4 FPPG, and he's been known to regularly flirt with that fantasy points mark. If he can churn out a good game against a better defensive team in Boston, then I like what I am getting in him for only $7,400 in this spot on Friday night.
This is a value play, and a hell of one too. We're getting Tim Hardaway Jr. at an extremely cheap price given that he's Dallas's third leading scorer. The Mavs square away with Portland on Friday, and I expect the Trail Blazers to try and key in on Luka Doncic defensively.
This will open up the floor for other scorers, and I believe that Hardaway Jr. will be the main beneficiary. Much of his game comes from beyond the arc and Portland is letting teams shoot 37.5% from deep, which is 21st in the league. Hardaway Jr. averages 25.3 FPPG, and I believe he will top that number Friday night.
This is another value play of mine even if it's based almost solely on his minutes on the court. Saddiq Bey has been a regular in Dwayne Casey's rotation since the departure of Blake Griffin. He only averages 19.6 FPPG, but this number can be misleading.
Bey has been seeing around 30 minutes on the court per game and the shot attempts have been there most games too. He turned in 28 points and 12 boards last game on his way to 54.5 fantasy points. This shows that if he can get his shots to fall, then there's immense value here.

Completing the "hold-your-eyes" Memphis stack here with Jonas Valanciunas at the center. He's quietly been the driving force behind the Grizzlies offense more often than not this season. His Memphis squad battles Golden State on Friday, and this is a great matchup for Valanciunas.
The Warriors will be without big man James Wiseman, and Valanciunas has the size to bully Draymond Green. Valanciunas had strung together six straight double-doubles before only scoring seven points last game. There's no doubt in my mind that he will return to the usual double-double and NBA DFS machine that he is Friday night.
Tyler Herro hasn't been nearly as consistent this year as he was last, but I'll take a stab at him for this price. Although it's been a bumpy season so far for Herro, he still averages 29.6 FPPG. He's locked into a role in Miami's offense, so playing time isn't an issue.
The Heat are set to take on Indiana, who isn't very good defensively. The Pacers rank 26th in the league in three point defense, allowing teams to shoot 38.2% from deep. If Herro can find his stroke from beyond the arc, then we've found paydirt. For a cheap price and potential low ownership, I like what I have here.
This is one play that I feel like almost speaks for itself. Jerami Grant is having a career year and he's been the driving force behind Detroit's offense time and time again. He's averaging 38.1 FPPG, and he's been the steal of the year for those who drafted him in season-long fantasy.
Grant's Pistons are facing the Rockets on Friday, and this isn't a very bad matchup at all for Grant. He's topped the 20 points mark in seven of his last ten, and I believe he will have an outstanding game against a weak Houston team. You're going to get what you pay for in Grant, so be sure to pick him up in your lineups as well.
Dare I complete this lineup with a stack from a third team? I'm looking at Duncan Robinson here on this slate as a cheap source of points. He's averaging a decent 22.8 FPPG so far this season, and he consistently finishes around this mark each night.
One of the main reasons I'm targeting Robinson is for his three point shooting ability. As I mentioned earlier, the Heat face a Pacers team who is horrid when it comes to defending the arc. I'll gladly take a three point specialist for only $4,700 to round out this lineup with an almost guaranteed 25+ NBA DFS points.
Will's NBA DFS GPP Lineup 3/19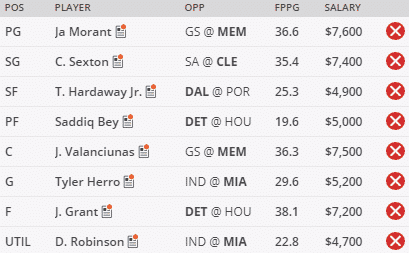 Make sure to subscribe to NBA Gambling Podcast on Apple and Spotify. Check Zach, Munaf, and Ryan's updated against-the-spread NBA picks today and EVERY DAMN DAY for EVERY DAMN GAME at SG.PN/nbapicks