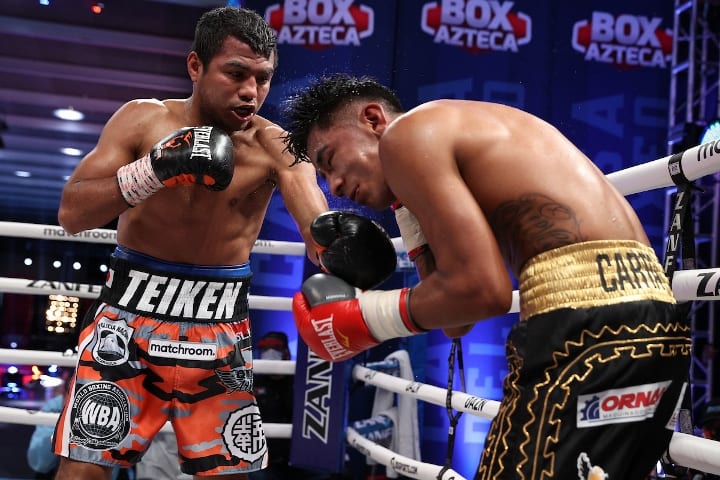 On the latest edition of our show, Host T.J. Rives is back with Marquis Johns, Sr. Writer of BigFightWeekend.com to get ready for the HUGE Unified Title showdown in the second smallest, Super Flyweight Division Saturday night in Dallas. That fight is a rematch between Roman "Chcolatito" Gonzalez (above) and Juan Francisco Estrada for the WBA/WBC 115 lb. titles.
The bout is part of a triple-header of World Championship fights from the American Airlines Center in DFW to be televised on the DAZN streaming service. This fight is a rematch from a Chocolatito win eight years ago that is part of his 50 win/4 knockout record.
Estrada is 41-3 and is -170 to win the Unified belts. Both fighters average over 1,000 punches over the course of typical 12 round bouts. So, expect tons of action in this one.
The guys are also joined by BoxingScene.com Sr. Writer/Columnist, Keith Idec, with his thoughts on that Chocolatitio-Estrada main event. Plus, they discuss the co-feature fight, which is the Women's Undisputed World Welterweight title rematch between new champ, Jessica McCaskill and former champ, Cecilia Braekhus.
McCaskill pulled a stunning upset in August when she handed Braekhus her first career loss on a 12 round decision and stopped the champ's record 25 title fight win streak.
Keith also has his takes on the upcoming Heavyweight contender rematch later this month between Russian former WBA champ, Alexander Povetkin and English contender, Dillian Wyhte. Povetkin starched Whyte with a single left uppercut in their first bout.
The rematch has been delayed by Povetkin having been previously hospitalized for Covid 19, but is now back healthy and training. They will be fighting for 12 rounds on the Isle of Gibraltar on March 27th.
Hear it all as part of "The Big Fight Weekend" Podcast and make sure to subscribe/rate and review us on Apple Podcasts, Spotify, Google Podcasts, etc.!!