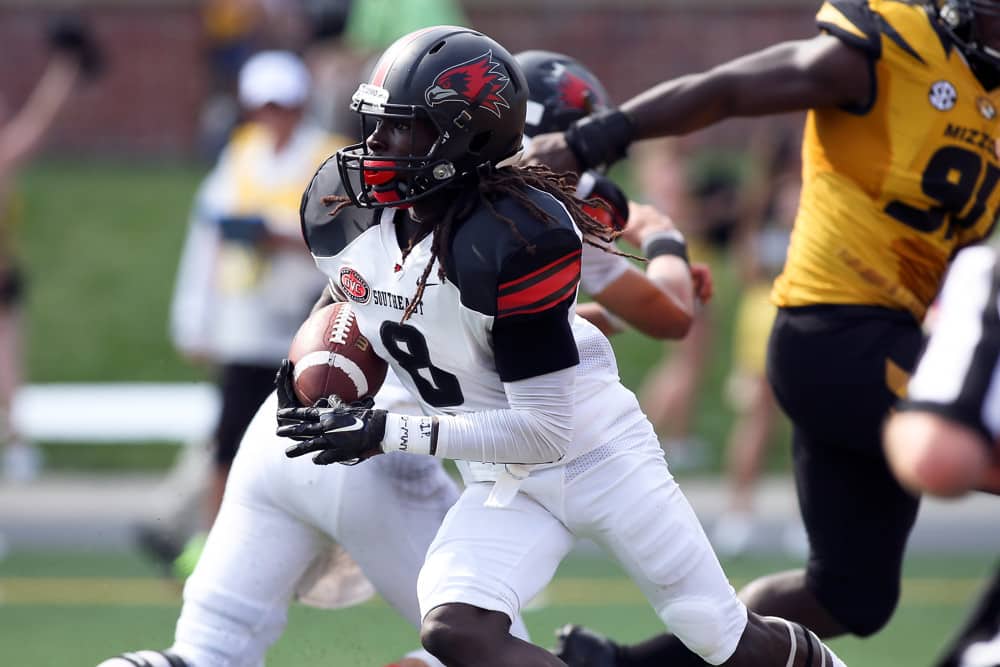 It's Week 4 in the Football Championship Series and once again it's time to set up your bets with these Week 4 FCS Football Picks. There will be a full slate on Saturday again this week, with a somewhat lighter Sunday slate to follow. Lines seem to have tightened up for the most part this week so picking games with them should be more fun.
That said, here are breakdowns for four games that cover both the Saturday and Sunday slates. This article will take a look at two choice bets per day. If you want more betting action on top of these four games make sure you check out PointsBet. There you can find the rest of the FCS games for the weekend and much more. Plus, like we always do, we've got the hook up with a sweet deal. To find out what that is, you'll just have to click. Now, on to the football. Good luck and happy betting!

Week 4 FCS Football Picks: Best Bets For Saturday
Who: Maine Black Bears vs. Delaware Blue Hens
When: Saturday, March 6th, 9 AM PST ESPN+
The Pick: Maine +2.5
The Black Bears and the Blue Hens will both be starting their Spring seasons this Saturday. Lucky enough for both teams, they will not be facing another squad with a three-week head start. That will mean that as we saw at the start of the FCS football season proper, emotions will be running high as players finally get to compete against someone other than their teammates. We can expect some sloppy play from both sides as each team attempts to regain their sea legs after an extra-long extended absence.
This matchup is not a long and storied rivalry. In fact, these two programs have not faced off against each other since the 2017 season. That game saw the Blue Hens snap a four-game Black Bears series winning streak. It was a decisive home victory by Delaware handing Maine the 31-17 loss.
While both teams didn't enjoy immense success in the 2019 season, Maine posted a slightly better record. The Black Bears ended with an even 6-6 record on the year. On the other hand, the Blue Hens trudged through a rough 5-7 season. In the home versus away splits, Maine went 3-4 on the road while Delaware amassed a 4-3 mark on their home field.
https://twitter.com/BlackBearsFB/status/1363145569108041734
What is ultimately driving the process behind choosing to back the away team here is two-fold. First, the Blue Hens have had several adjustments made to their lineup over the last few days. It may not make much of a difference seeing as the season hasn't officially started. Even still inconsistency heading into the first week is not a solid foundation for a game.
Both teams will be featuring many young players on both the offensive and defensive sides of the ball. Not to mention the best option at quarterback for Delaware, redshirt junior Nolan Henderson, only threw for 933 yards in split duties last season. Although, he did toss for nine touchdowns, so there's that. For Maine, they will be led by a young – but seasoned – sophomore in Joe Fagano. Last season he enjoyed several rookie honor weeks on his way to throwing for 1,835 yards and 17 touchdowns. He will lead his team to a win on the road and cash this Week 4 FCS Football Picks suggestion.
Week 4 FCS Football Picks: Best Bets For Saturday
Who: Villanova Wildcats vs. Stony Brook Seawolves
When: Saturday, March 6th, 9 AM PST ESPN+
The Pick: Stony Brook +9.5
The vote for this home underdog might raise some eyebrows. People will look at the 5-7 record Stony Brook posted last season. They'll also pay attention to how opponents outscored the Seawolves 328-292 over the 2019 campaign. Another focal point will be the 62-7 upending by Utah State as a part of that dismal season. But all of that can be tossed out when you look at their track record against Villanova. For some reason, there is something about this matchup that brings out the best in Stony Brook.
Overall, they own three wins in the four-game history of the series. Of those wins, two were within two points while the third was decided by ten points. The last two, played in 2018 and 2019, were the closest contests of the bunch. Both required tremendous second-half efforts from the Seawolves.
Dropping it in the bucket‼️@TyquellFields➡️@ZayyGivens #HOWL | #BelieveInTheSeawolves pic.twitter.com/ZuGHiaRRR5

— Stony Brook Football (@StonyBrookFB) March 3, 2021
There's good news for Stony Brook in that the winning quarterback along with his top running back for the 2019 victory will suit up this Saturday for the rematch. Tyquell Fields completed 21 of 37 passes for 320 yards, one touchdown, and one interception on his way to the win. He also rushed for two touchdowns. It was his best game of the season.
Redshirt sophomore running back Ty Son Lawton contributed greatly to the win by way of his 25 carries for 121 yards. The last yard he gained helped along the come from behind bid. He crossed the goal line with 1:32 in the game to pull the Seawolves within two points. The defense did its job by forcing a three and out to help set up the winning field goal.
The Wildcats will welcome back senior quarterback Daniel Smith. Smith hit 17 of his 29 passes for 249 yards along with a touchdown and an interception in his last meeting against Stony Brook. He also caught a touchdown from Jaaron Hayek who will also be returning this season. Both pivotal running backs from last season will take the field this Saturday for Villanova as well. Defenses for both teams will be without some key players which is a major weakness heading into the game. That will be enough of a reason to jump on this Week 4 FCS Football Picks suggestion.
Week 4 FCS Football Picks: Best Bets For Sunday
Who: Bryant University Bulldogs vs. Long Island University Sharks
When: Sunday, March 7th, 10 AM PST
The Pick: Bryant University -3.5
Chances are you have never heard of either of these programs. But, that's the glory of a Spring FCS season right? Getting a chance to follow along with teams that you would normally overlook is an exciting prospect of this extra college football action. To that end here is a matchup between two teams from the Northeast Conference set to play their first games of the season. Each come in hoping to turn around a 2019 season both would like to forget.
Straight to the point, Long Island failed to win a single game in 2019, their first season in the FCS. Not only that, but they scored more than 17 points just once all season. Ironically, that was their 27-22 loss to these Bryant Bulldogs. They were rode hard and put away wet for the better part of the year. Now, add to this full year without football. The Sharks have a steeper hill in front of them this Spring and it will be hard to get that going game one.
The works been put in… pic.twitter.com/XbMQqxd0Z9

— LIU Football #PostBoyz (@LIUSharksFB) March 2, 2021
Bryant at least registered four wins last season, including the win against LIU. Unfortunately, they suffered eight losses. They started the season losing five straight before winning a pair to break up the slide. After a four-game losing streak that followed, they ended the season with back-to-back wins.
The nod here goes to the team with more experience in the Championship series and the better overall record heading into their four-game season. The Bulldogs will take care of business again and will more than cover this spread.
Week 4 FCS Football Picks: Best Bets For Sunday
Who: Murray State Racers vs. Southeast Missouri State Redhawks
When: Sunday, March 7th, 12 PM Pacific ESPN+
The Pick: Murray State +12
Last week, SEMO went off against Eastern Illinois handing the Panthers a 47-7 loss. The Redhawks rebounded after a lackluster performance against Southern Illinois in week one. Southeast Missouri quarterback Andrew Bunch topped 300 passing yards with a touchdown thrown to Johnny King. King caught a total of seven passes that night for 115 yards. The SEMO defense came in clutch with three interceptions on two different Panthers quarterbacks. They are coming in riding the momentum of that outing.
The only problem is, this week, they will be facing a Murray State program that historically owns this series. Of the 54 total games between these two teams, the Racers have won 40 of them. Although, it's been SEMO with the better record of late winning four of the last five meetings.
Rice comes up with TD and the Racer D now has the Skyhawks on their own 1 yd line!

MSU 14, UTM 3 3:40 4Q pic.twitter.com/eF8KALyx7l

— Murray State Football (@racersfootball) March 1, 2021
Here though, we don't need Murray State to win, we just need them not to lose by more than 12 points. They have managed to do that over the last three losses to SEMO. Even though the Redhawks enjoyed a high-scoring outing last week, expect them to come back to Earth some here. Especially against a Racers defense that held UT Martin to only 213 total offensive yards. You can place you bet and actually enjoy this Week 4 FCS Football Picks suggestion on ESPN+.
---
Week 4 FCS Football Picks Related Posts
College Football Picks
College Basketball & FCS Football Week 3 Weekend Recap | The College Experience (Ep. 572)