Hello everyone! Today brings the last NBA DFS slate until next Wednesday as the NBA takes its All-Star Break. At least the league was nice enough to give us a fat nine game slate to tide us over. Since this is our last slate for a few days, that means we need to make this one count! Without further adieu, let's dive right in!
NBA DFS GPP Picks March 4th
PG – Monte Morris ($4,900) – DEN
I'm starting off this lineup with a low ownership leverage player in Monte Morris. He's locked into a consistent role in Denver, as he averages 27 minutes per game. It's worth noting that he isn't normally going to light up the scoreboard.
However, I believe there is some upside here. The minutes will be there, all Morris needs is to knock down a few shots and he will top his 20.8 FPPG average relatively easy. There are better options, but none that I like for the value/low ownership here.
SG – Buddy Hield ($6,300) – SAC
For my shooting guard position, Buddy Hield feels like an easy play. Tyrese Haliburton will remain out for Sacramento for this contest with Portland. This leaves plenty of minutes up for grabs, which should benefit Hield nicely.
He does only averages 30.2 FPPG. However, Hield has topped this mark in four straight games and he's seeing consistently over 30+ minutes on the court. It's no secret that the Trail Blazers struggle defensively, and I expect Hield to have a great game going into the break.
SF – Luguentz Dort ($5,200) – OKC
Oklahoma City will be shorthanded with George Hill and Hamidou Diallo out, so I'm playing Luguentz Dort on Thursday. He's far from consistent on the offensive end, however, he does have games where his shots are falling and maybe this will be one of those.
The Thunder battle with San Antonio on Thursday, and the Spurs aren't exactly the best defensive team. Dort's had games recently where he's topped 30 fantasy points. Although he only averages 21.1 FPPG, I believe this will be one of Dort's good offensive nights and he could be the steal of the night.
PF – Jae Crowder ($4,600) – PHO
This is far from a pretty play, but it could prove to be a very good one. Jae Crowder sees consistent minutes in Phoenix's rotation, but what he will do with those minutes is inconsistent at best. He does average 22.4 FPPG, which is a positive sign.
It's been a few weeks, but there was a three game stretch where Crowder topped the 30 fantasy points mark. The Suns will take on Golden State, a game in which they shouldn't have any issues. Crowder's defensive abilities give him upside, and if his shots are falling then you'll love playing him for his price tag.
C – Chris Boucher ($6,600) – TOR
With Pascal Siakam out for Toronto, I can't pass up the chance to play Chris Boucher for only $6,600. Although Boucher hasn't seen a huge boost with Siakam out, this isn't reason to panic. He's fresh off a 18 point game with 34.5 fantasy points.
One key to taking down a NBA DFS GPP contest is looking for low ownership players with the chance to really provide value. Although the Raptors take on Boston, this isn't going to be a super tough matchup for Boucher. If he can repeat his efforts last game, then we're getting what we're paying for plus some.

G – Goran Dragic ($5,900) – MIA
If you were wondering who the guy is in the cover photo, well you found him. At the guard position, I'm looking towards the veteran Goran Dragic. One word that can be used to describe Dragic is consistent. He isn't flashy, but he is a great source of points.
For someone who regularly plays 30+ minutes and can drop 30+ fantasy points on any given night, $5,900 seems cheap. Dragic's Heat are set to face off with New Orleans, and this isn't a hard matchup. I don't expect a 60 fantasy points night from Dragic or anything, but he could very well top the 30 fantasy points mark.
F – RJ Barrett ($6,000) – NY
I've eaten my words many times when saying this, but I like RJ Barrett in this final contest before the All-Star Break. His Knicks take on Detroit, and the Pistons have been struggling. Barrett averages 29.8 FPPG, and this is around what you'll get from him any given night.
Barrett has topped the 30 fantasy points mark in four of his last eight contests, and he tends to rebound after an average game. Last contest, he only scored 15 points and put up 20 fantasy points. I expect a bounce-back from Barrett where he should score 35+ fantasy points.
UTIL – Russell Westbrook ($10,400) – WAS
I've got some money left to play with, so we might as well take a guaranteed fantasy points scorer in Russell Westbrook. He's seemingly returned to his all-star form since his trade to Washington, as he's notched 10 triple-doubles so far this season.
Westbrook averages 50.1 FPPG, and he is going to consistently give you around this, if not more. It's been two games since Russ notched a triple-double, and I believe he may grab one here against the Clippers. I guarantee the first place lineup for Thursday's slate will contain Westbrook somewhere in the lineup.
Will's NBA DFS GPP Lineup 3/4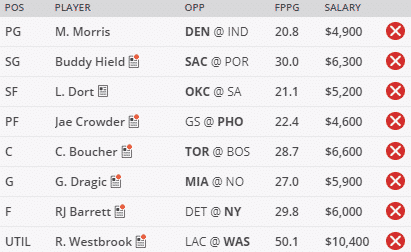 Make sure to subscribe to NBA Gambling Podcast on Apple and Spotify. Check Zach, Munaf, and Ryan's updated against-the-spread NBA picks today and EVERY DAMN DAY for EVERY DAMN GAME at SG.PN/nbapicks