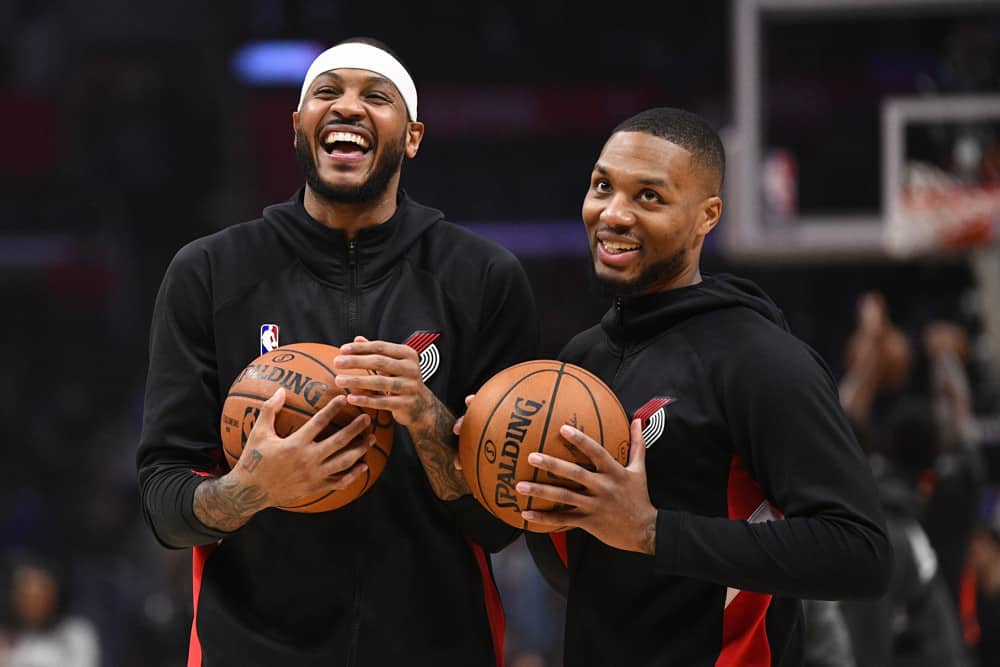 Greetings gang! Friday has come once again, and that can only mean that we're talking NBA DFS today! There's a nice nine game slate ahead of us, and someone will take home a whooping $100,000 from DraftKings' $15 GPP contest. Without further adieu, let's dive into Friday's lineup.
NBA DFS GPP Picks February 26th
PG – Damian Lillard ($10,100) – POR
Let's start things off with a bang. Portland takes on the Lakers, and who else would we pull from the Blazers besides Dame himself? His price tag speaks for itself as you're going to have to come out of your pocket to place Damian Lillard in your lineups.
Lillard leads all players available on this slate with a usage rate of 31.7%. This number is arguably higher now that CJ McCollum is out with an injury. Dame averages 50.4 FPPG, which is second only to LeBron on this slate. There's cheaper options, but you're going to want to pay up for Dame.
SG – Malik Monk ($5,200) – CHA
Moving along to the shooting guard position, I'm eyeing Malik Monk here. He's the driving force behind Charlotte's second unit, although he can be hit and miss. However, he's now topped 20 points in three of his last four and he appears to be feeling it.
Monk holds a usage rate of 20.5% which isn't eye-popping, but it's solid for a second unit player. He's been the type of player in the past to go on runs, and I believe he's found one recently. The old saying goes ride the wave until it crashes, so I'll take a stab at Monk for only $5,200.
SF – Talen Horton-Tucker ($3,600) – LAL
Mark my words, this will be the value play of the day. Although Talen Horton-Tucker's role's been inconsistent, he's shown us that he can produce when given the minutes. He's fresh off a pedestrian effort of 21.25 fantasy points, but he played 30 minutes in that game.
As I mentioned, the Lakers take on Portland Friday and this could very well become a one-sided game. This means that Horton-Tucker would be in line for an increased workload if that's the case. For a player this cheap, I'll gladly take someone who's regularly playing 20ish minutes most nights.
PF – Danilo Gallinari ($5,000) – ATL
Although Danilo Gallinari hasn't been all he was expected to be in Atlanta, things may be looking up. He was feeling himself against Boston last game, and lit them up for 38 points in a 55.5 fantasy points night. Maybe he can keep things going for this contest with the Thunder.
I would assume that if there was any game that Gallinari would show up for, it would be his return to play in Oklahoma City. His shooting has been inconsistent this year to say the least. However, for only $5,000 I'll take a shot at a player who just torched a pretty tough Boston defense in a much-easier matchup.
C – Thaddeus Young ($6,000) – CHI
Please stop me if this feels familiar. Thaddeus Young has been one of my favorite players in NBA DFS for a while, and I'll keep riding the train. He's about as consistent as you will find, as he averages 28.6 FPPG and stays around this number each game.
His Bulls are set to square away with Phoenix, which on paper isn't the best matchup for Chicago. However, I believe that Young is one of those players who will get his no matter who their opponent is. With Lauri Markkanen out, Young is set to continue his role of 25ish minutes and we can expect another 25+ DFS effort from him.
G – Shai Gilgeous-Alexander ($8,800) – OKC
I want to get a piece of this Oklahoma City offense, and where else would I look but Shai Gilgeous-Alexander. SGA is putting together a career year and he's well in line for a big pay raise soon. He averages 42.3 FPPG, and we know he's worth paying for.
Gilgeous-Alexander is fresh off shattering his career-high in points with a 42 point effort last game. His Thunder take on the Hawks, which is going to be a great matchup for them. With Atlanta's defense being as porous as it is, I've got a funky feeling that SGA has another one of his 50+ fantasy points games in line.
F – Josh Jackson ($6,400) – DET
I believe that there will be some NBA DFS value in Detroit on Friday, so I will take Josh Jackson at the forward position. He's another player that's putting together a career year. He's averaging 25 FPPG over 24.7 minutes per game and he's locked into a role with the Pistons.
This may come as a surprise to some, but Jackson is a close second to Jerami Grant in terms of usage rate. Grant's usage rate is 26.1% while Jackson's is 24.5%, and this is important to note. He probably won't put up 50+ fantasy points, but a nice 30+ could very well occur in this contest against Sacramento.
UTIL – Carmelo Anthony ($4,800) – POR
You've finally found the other player in our featured image. I'm wrapping things up by taking Carmelo Anthony at the utility position. He's certainly not prime Melo any more, as he only averages 23.1 FPPG. However, this is a game that I feel he will play well in.
His Trail Blazers take on the Lakers who are without AD. Melo's been a streaky player this year, as a few weeks ago he had a stretch of three games with over 20 points each game. He's fresh off scoring 24 points last game for 34 fantasy points. If we can get a repeat from Melo, then we're getting more than we're paying for.
Will's NBA DFS GPP Lineup 2/26
Make sure to subscribe to NBA Gambling Podcast on Apple and Spotify. Ryan, Zach and Munaf continue picking every NBA game against-the-spread and posting right here: sg.pn/nbapicks