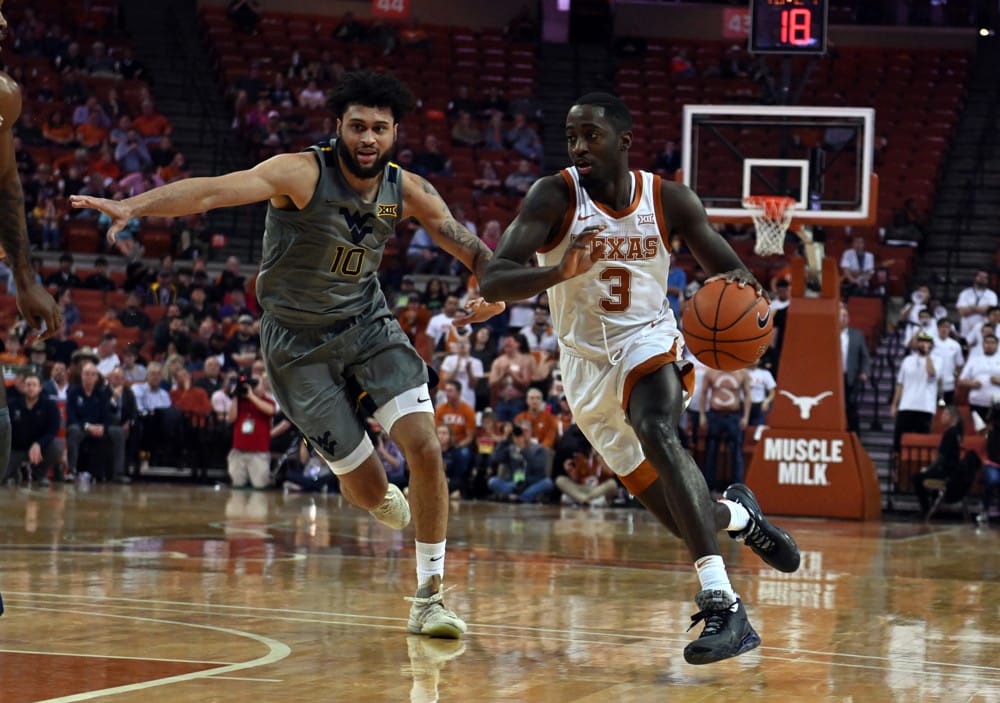 Welcome back Fantasy College Basketball fans. While it may be Super Bowl weekend, don't forget about DraftKings College Basketball. The season is picking up steam as we enter the final full month of the regular season before all that madness happens in March.
Related: College Basketball Weekend Preview 2/4 | The College Experience (Ep. 555)
We're going to switch things up a little bit and provide you with a full weekend primer for the DraftKings College Basketball slate. For both Saturday and Sunday, we'll look at what matchups might be best from a fantasy perspective. It's generally simple: high-scoring, fast-tempo games usually equate to more fantasy points. That doesn't mean there aren't valuable players in every game on a slate, but these are the matchups to pay closer attention to.
Of course, we'll also highlights some individual players from the Saturday DraftKings slate that I'm targeting.  Reach out to me on Twitter or Slack for thoughts on Sunday's games when the slate becomes available.
Let's do this!
Saturday DraftKings College Basketball:
Plus Matchups:
Florida at LSU: These two teams have already played once with Florida winning 83-79.
| | | | |
| --- | --- | --- | --- |
| Matchup: | Adj O | Adj D | Adj Tempo |
| Florida | 20 | 50 | 110 |
| LSU | 9 | 158 | 73 |
This game has since been postponed due to COVID-19, but keep these stats in mind for Florida and LSU the rest of the season.
Alabama at Missouri: Missouri will try to slow down the pace of this game but Alabama's offense is deserving of being in this category regardless of their opponent.
| | | | |
| --- | --- | --- | --- |
| Matchup: | Adj O | Adj D | Adj Tempo |
| Alabama | 23 | 3 | 9 |
| Missouri | 32 | 43 | 107 |
Minus Matchups:
Louisville at UVA: as one might expect, the tempo of this game will be painstakingly slow.
| | | | |
| --- | --- | --- | --- |
| Matchup: | Adj O | Adj D | Adj Tempo |
| Louisville | 53 | 30 | 285 |
| UVA | 11 | 19 | 357 |
Tennessee at Kentucky: two top 15 defenses, bad offense, and a slow pace.
| | | | |
| --- | --- | --- | --- |
| Matchup: | Adj O | Adj D | Adj Tempo |
| Tennessee | 70 | 1 | 307 |
| Kentucky | 105 | 13 | 265 |
Targeted Players:
G – AJ Lawson, South Carolina – $7.4K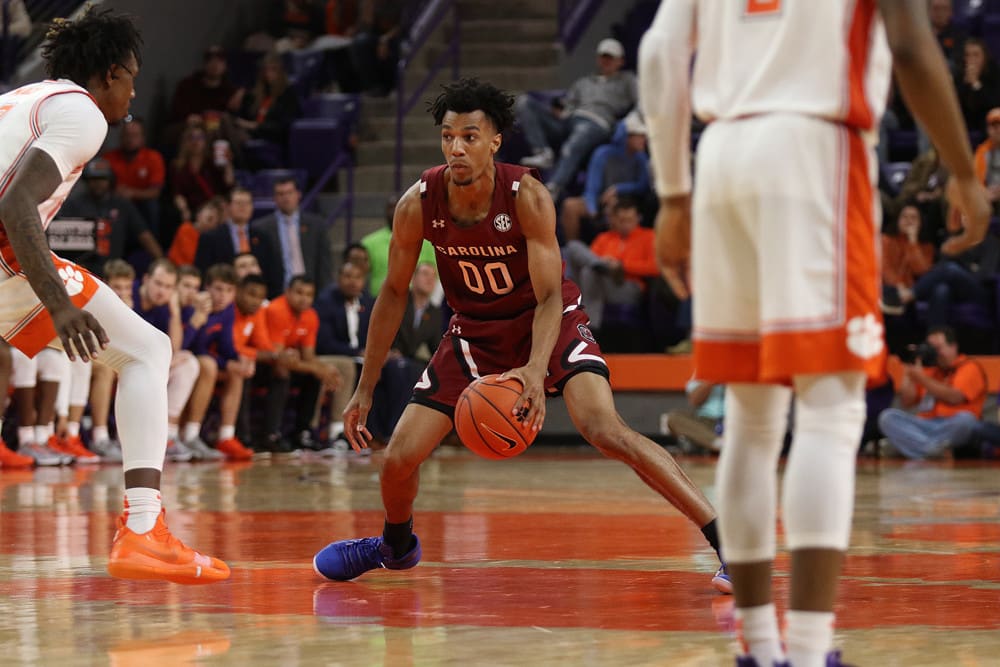 While he may only be the ninth-most expensive guard on the DraftKings College Basketball Saturday slate, AJ Lawson has been crushing it for the South Carolina this year. The junior from Canada comes in as SC's leading scorer at 17.6 points per game. He's been over 20 points in five out of seven SEC games this year and faces a Miss St defense that's outside of the top 50 nationally.
Additionally, South Carolina plays at the 17th-fastest pace in the country and will force the tempo on the Bulldogs. Lawson averages almost 30 fantasy points a game. He'll clear that bar this weekend.
G – Courtney Ramey, Texas – $6.7K
In Texas's last game vs Baylor, Ramey returned from injury and logged 38 minutes while getting back into the swing of things. Even in what could be considered a down game, the 6'3" Junior still totaled 27 fantasy points by turning in the all-around game we expect from this guy. Not only is he Texas's second-leading scorer, but he also leads the Longhorns in assists. While he doesn't have the highest ceiling in the world, he's guaranteed production at a mid-level price.
G/F – Taz Sherman, West Virginia – $4.8K
While most guys below $5K aren't all that attractive, rostering one or two is almost a requisite if you plan on spending up on an elite player in DraftKings College Basketball. Taz Sherman is by far and away my favorite guy on the slate below $5K.
After a slow start to the year, Sherman has bumped up his minutes, points, and fantasy production per game over the last seven games. Within this timeframe, the senior is averaging over 27 minutes per game and 15 points per game. He's also accumulated greater than 20 fantasy points in five of the seven games. He's a steal at $4.8K
F – Keve Aluma, Virginia Tech – $9.2K
Back-to-back games over 50 fantasy points. There's probably only a handful of college basketball guys this year that has accomplished that and Aluma has done so in his last two games. While that means you have to pay up for the Hokie, he's still worth it.
It's been a long and winding road to Blacksburg, but the Wofford transfer has put it all together this year. Aluma has three straight double-doubles and leads VT in scoring, rebounds, and blocks. The U won't have an answer.
F – Tyrese Martin, Connecticut – $6.8K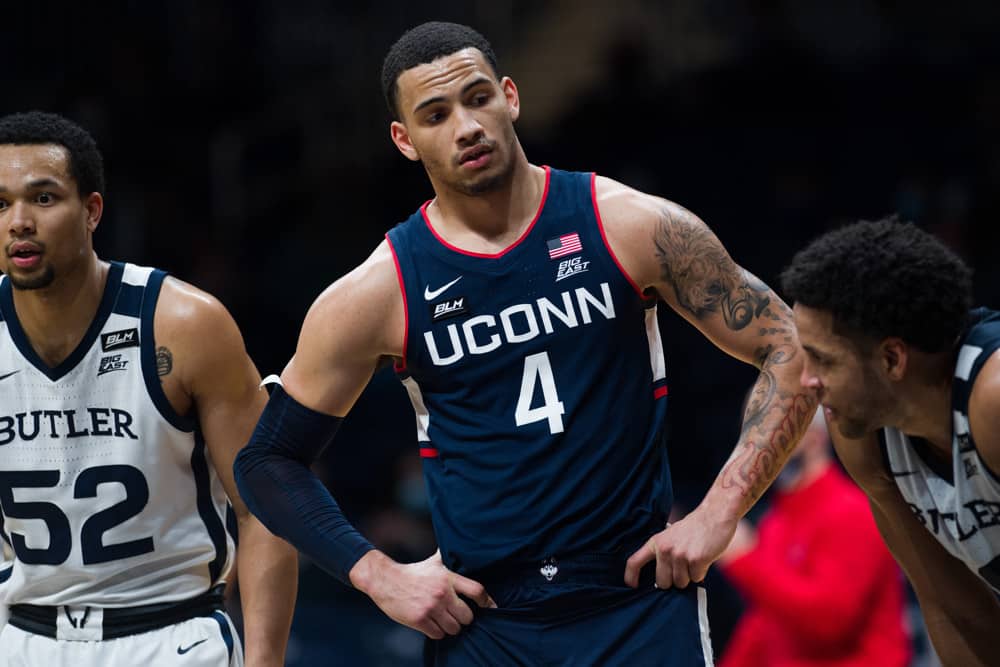 I've mentioned Martin in a previous article and I'm still all over the 6'6" Uconn Guard. Over the last five games, Martin has gone north of 30 fantasy points in all but one. When James Bouknight went down with an injury, more minutes came Martin's way and he has made the most with them. He scores the rock, he pulls down boards, he dishes out dimes, and he'll pick your pocket. Sign me up again.
F – Greg Brown, Texas – $5.7K
Another Longhorn on the list. It's not that I've been overly impressed with Texas's offense this year, it's just this DraftKings College Basketball slate has undervalued a couple of their guys.
I love buying low on the true freshman Greg Brown. Look, he had an awful game last time out. Baylor, and their second-best defense in the country, can have that effect on a player, especially a freshman. However, Brown still averages almost 25 fantasy points a game and his potential is off the charts. I'll gobble him up quickly at this price.
Sunday DraftKings College Basketball:
Plus Matchups:
Iowa at Indiana: Indiana beat Iowa 81-69 a couple of weeks ago. The game marked the worst offensive output by Iowa all year. Don't expect the O to struggle again.
| | | | |
| --- | --- | --- | --- |
| Matchup: | Adj O | Adj D | Adj Tempo |
| Iowa | 1 | 134 | 91 |
| Indiana | 43 | 27 | 294 |
Minus Matchups:
Cal at Stanford: Stanford has some decent fantasy options, but I'd steer clear of Cal.
| | | | |
| --- | --- | --- | --- |
| Matchup: | Adj O | Adj D | Adj Tempo |
| Cal | 146 | 156 | 318 |
| Stanford | 91 | 18 | 99 |