Happy Friday everyone! The NBA season trucks along, and with it so does NBA DFS. We have a fat 10 game slate ahead, and *spoiler alert* I like what I see today. These larger slates can be tricky, but with the proper research and a little luck we can cash big with this lineup I am going to share with you.
NBA DFS Picks Friday 1/29
PG – Kyle Lowry ($7,100) – TOR
We're starting this lineup with a usually trusty face at point guard in Kyle Lowry. He averages 37.8 FPPG so far, and he's only dipped below the 30 fantasy point mark once this season. We also get him at his lowest price point this season, which is quite surprising.
Lowry averages 12.9 shot attempts per game and he's been efficient in most games, but he isn't totally reliant on his shooting either. He's consistently picking up assists and rebounds which makes him a great DFS target. Lowry's Raptors take on an easy matchup with Sacramento. I like Lowry to top the 40 fantasy point mark once again Friday.
SG – Fred VanVleet ($7,500) – TOR
Let's move along with a classic Toronto backcourt stack with Fred VanVleet at shooting guard. The offense of the Raptors has been driven by two players, and we now have both of them in our lineup. VanVleet averages 39.8 FPPG, and he's arguably been the best player on the team.
Something I like about VanVleet is that he still holds DFS value on nights where his shots aren't falling. This is shown by his 46.75 fantasy point effort last game despite shooting 3-17 from the floor. I love the matchup that Toronto draws, and I expect VanVleet to once again piece together a solid night.
SF – DeMar DeRozan ($6,800) – SA
Playing DeMar DeRozan at the small forward could be the smartest play of the night. Although he's clearly the leader of San Antonio's offense, I don't expect high ownership of him. He's piecing together a solid season but I believe he will be overlooked on this slate.
There's only one thing that can limit DeRozan's output, and that's his playing time. There's been a few instances where he's played less than 30 minutes this season. However, I don't believe this will be the case on Friday. With an average of 39.5 FPPG and a price tag of only $6,800, there's a lot to like about DeMar DeRozan on this Friday slate.
PF – De'Andre Hunter ($6,300) – ATL
We are going to look towards De'Andre Hunter for our power forward position. His playing time has been through the roof lately, and he's arguably been the most consistent player for Atlanta. He has an average of 31.5 FPPG, and he has topped the 30 fantasy point mark in six of his 10 games.
The Hawks will face Washington on Friday, and this is a great matchup for Hunter. As long as he continues to be efficient as he has been much of the season so far, then this is going to be a steal. For a player who's played at least 36 minutes in five of his last six, $6,300 seems like a cheap price. Go here for more info on the best online sportsbook.
C – DeAndre Jordan ($5,100) – BKN
This is somewhat of a value/low ownership play, but we are going to take DeAndre Jordan at the center position. He's only averaging 19.9 FPPG and isn't nearly the offensive weapon he used to be. However, he has been extremely meticulous and efficient with his shot attempts.
Much of Jordan's value lies in his rebounding ability. Brooklyn faces Oklahoma City on Friday, and this is a dream matchup for DeAndre Jordan. He should be able to put in a decent stat line, and I expect him to be around the 25 fantasy point mark in this ballgame against a weak Thunder team.
G – Reggie Jackson ($6,700) – LAC
Playing Reggie Jackson in this lineup almost feels like a no-brainer. Kawhi Leonard and Paul George are officially listed as questionable. However, I believe that we can expect that they will not clear COVID protocols in time to play Friday.
Jackson has now played at least 37 minutes in both of their games without Leonard and George. This has boosted his NBA DFS value immensely. Throw his 16 FPPG average out the window because now is his time to shine. Playing Orlando isn't the best matchup for the Clippers, but I expect Jackson to continue his hot shooting in this contest.
F – James Johnson ($4,500) – DAL
For a cheap price of only $4,500, I am all over James Johnson in this slate. The veteran forward has been up and down this year. However, he averages 18.1 FPPG and he has notched at least 20 fantasy points in seven of his 10 appearance this season.
Dallas doesn't have a very deep rotation of big men, and Johnson has been a great asset with their second unit. The only thing holding him back is himself, as there've been a few moments where he hasn't shot much in a game. However, if Johnson can get some shots going, then this will be a great value play for the pricing.
UTIL – Mike Conley ($6,000) – UTA
You've probably been wondering where the veteran point guard in the photo above is. Well, you found him. We are going to go with Mike Conley at the utility position to wrap up this lineup. There's a good chance Donovan Mitchell doesn't clear concussion protocol in time for this game Friday, and this benefits Conley.
Much to the surprise of many, Mike Conley is quietly piecing together one of his best starts to a season ever. He averages 34 FPPG, and he continues to churn out solid NBA DFS nights consistently. With his cheapest price tag all season, I can't pass on the opportunity to throw Mike Conley into every DFS lineup that I can.
Will's NBA DFS Lineup January 29th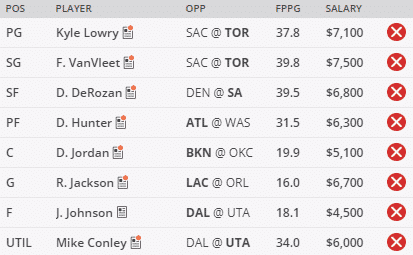 Make sure to subscribe to NBA Gambling Podcast on Apple and Spotify. Ryan and Zach continue picking every NBA game against-the-spread and posting right here: sg.pn/nbapicks