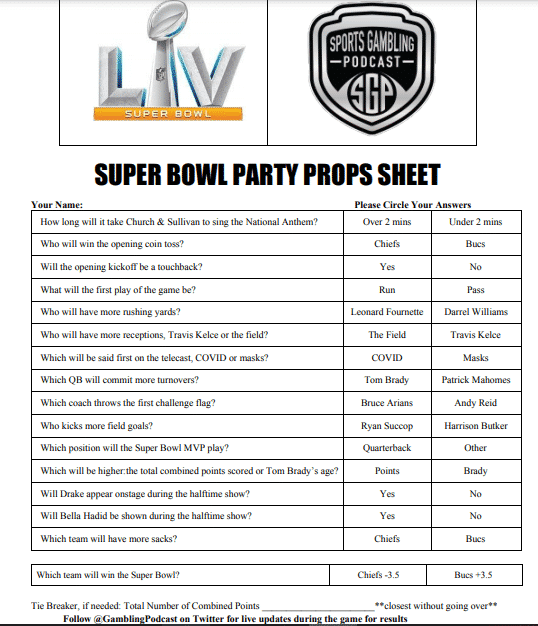 It's the most wonderful time of the year for gamblers – the Super Bowl! Are you throwing a (virtual?) Super Bowl party and looking for ways to engage even the most casual fans? Well then check out our printable Super Bowl LV Party Props Sheet!
Printable Super Bowl LV Party Props Sheet For SB 55
Download the printer-friendly PDF version here: Super Bowl LV Props Sheet _SportsGamblingPodcast
Prop bets have become everyone's favorite way to gamble on the Super Bowl. That's because you always have something to root for at every step in the game. Will Eric Church and Jazmine Sullivan hold that last note in the National Anthem to go over two minutes? Will the two teams score more points than Tom Brady's age? Will Drake crash the Weeknd's halftime show? Bet enough of these and you'll always have something to cheer for.
How to Run a Super Bowl Party Props Pool
Print out enough copies for everyone at your party to play.
Set an entry fee per submission and collect the money when you hand out the Super Bowl LV Props Sheet.
Make sure everyone understands they have to circle one choice for each answer, plus add the tiebreaker guess at the bottom.
Cut off the submissions BEFORE the National Anthem and collect all the sheets.
Follow @GamblingPodcast on Twitter for live updates during the game for results. That way, you can get drunk and not worry about paying attention to every moment of the game.
After the game ends, add up the correct answers and award the winners.