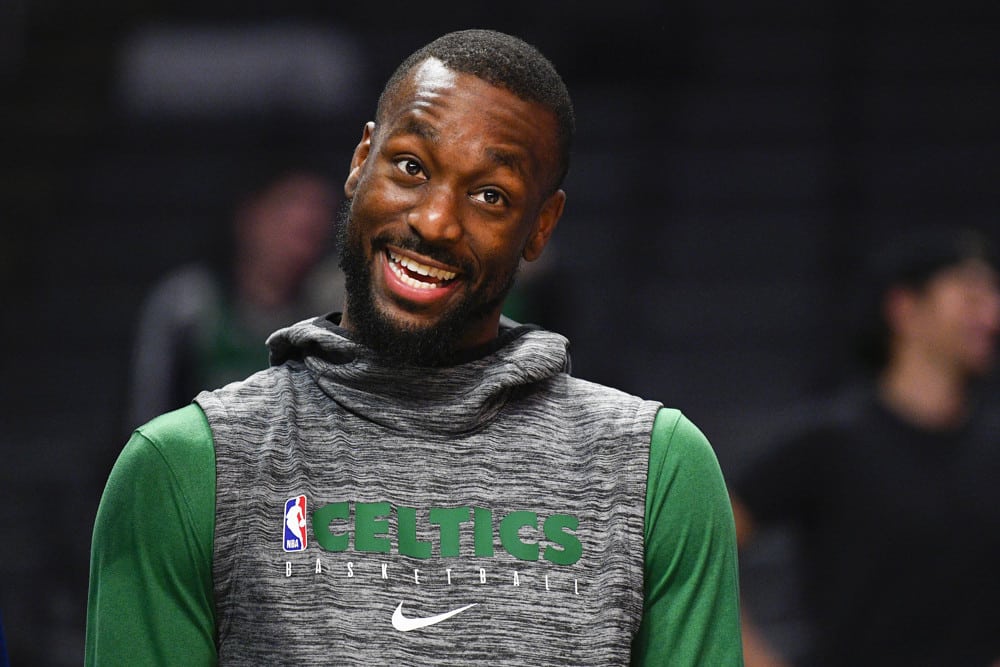 Happy Friday my fellow degens! There's a juicy 11 game slate ahead of us tonight, and this means that there is money to be made. Piecing together the perfect lineup for these big slates can be difficult. Luckily, I'm here to share my NBA DFS picks for GPP contests for this lovely Friday.
NBA DFS Picks Friday 1/22
PG – Kemba Walker ($6,500) – BOS
If you're a betting man, then you probably already knew where we were going here. We're going to kick off this lineup with the trusty veteran Kemba Walker. He hasn't been very efficient so far in his first two outings. However, his playing time will increase to 25-28 minutes this game.
Returning from a knee injury isn't easy, and it also takes some time. However, Kemba seems to be finding his groove slowly but surely. With a price tag of $6,500 and increased minutes, it's hard to find something you don't like about playing Kemba Walker in your DFS lineup on Friday.
SG – D'Angelo Russell ($8,700) – MIN
Although he's the most expensive in my lineup, I can't pass on D'Angelo Russell. With Ricky Rubio hung up in COVID protocols, there's nothing but opportunities for Russell. He's averaging 37.7 FPPG and he's already topped the 55 fantasy points mark twice this season.
As I mentioned earlier, there are going to be tons of opportunities for Russell. He's shot no less than 15 times in any game this season, and he's only played less than 30 minutes twice. Minnesota takes on the Hawks who aren't very good defensively. I smell a big game coming from D'Angelo Russell.
Looking to get down on some NBA games? Go here for latest NBA playoff odds.
SF – Tim Hardaway Jr. ($5,500) – DAL
It seems like I keep turning to Tim Hardaway Jr. over and over again, but we'll play him at the SF position. He continues to be a beneficiary of a shorthanded Dallas squad who runs a tight rotation. It's no secret that Luka Doncic and Kristaps Porzingis are the top two, but Hardaway Jr. is the clear third option.
It's been an up and down season so far for Hardaway Jr. but he's super efficient when he's on. He followed up a 0-12 shooting night with a 6-13 effort including 3-6 from deep last game. I expect Hardaway Jr. to give us around his average of 30 fantasy points, and I like the price tag as well.
PF – Isaiah Roby ($5,000) – OKC
For the PF position, I am loving Isaiah Roby. Oklahoma City will be without Al Horford, and this leaves only Roby, Mike Muscala and Moses Brown as the only active centers. Roby will remain in the starting lineup for a fourth straight game and should be in line for another nice workload.
Although he's played no more than 26 minutes in any game, Isaiah Roby has made the most of his playing time. He's scored at least 10 points in four of the team's last five. Roby has also added at least 24 fantasy points in each of his last three outings. I wouldn't expect a 50 point outing, but 30ish fantasy points is feasible.

C – Jarrett Allen ($6,600) – CLE
New home or not, Jarrett Allen is a must-play in fantasy. Andre Drummond has a history of finding himself in foul trouble, and it's clear that Allen will still play a vital role in this rotation. In fact, Allen actually played more minutes than Drummond in his Cavaliers debut.
He's averaging a nice 31.4 FPPG this season, and he's been extremely efficient with his shots. Cleveland faces Brooklyn for the second straight time, and I'm sure Allen would love to repeat his double-double effort from the first game. I'm not expecting a ton, but I definitely expect Allen to give us at least his average of around 30 fantasy points.
G – RJ Barrett ($6,800) – NY
This play feels like a no-brainer. RJ Barrett is clearly one of the leaders of the Knicks, and getting him at only $6,800 feels too easy. New York will face Sacramento on Friday, and this is a good matchup for Barrett. The Kings aren't the best defensive team, and this is a winnable game for the Knicks.
Barrett is averaging 17.1 PPG and 33.8 FPPG so far this season. He has now topped the 30 fantasy points in seven of his 10 games this season. We can reasonably expect Barrett to give us between 30-35 fantasy points, and there's a chance he tops the 40 fantasy points mark for the third straight game.
F – Mikal Bridges ($5,500) – PHO
We're going to turn to a trusty face in Mikal Bridges for our forward position. His Phoenix Suns have been as-advertised so far this season. Although it hasn't been a flashy start to the campaign, Bridges has arguably been the most consistent Suns player in NBA DFS.
Bridges is averaging a nice 28.5 FPPG so far this season. What's impressive about him is his ability to still churn out good DFS nights when his shots aren't falling. In fact, he's scored no lower than 21 fantasy points in any game this season. I expect around 25 fantasy points from Bridges, and there's always a chance he pops off for even more.
UTIL – Alec Burks ($5,100) – NY
We're going to wrap up this lineup with a low-ownership angle player and complete the Knicks stack with Alec Burks. He returned from a 12 game absence against Golden State last night, and he scored 11 points in 31 minutes of playing time.
With New York on the backend of a back-to-back, ensure that Burks is not ruled out. Evan Fournier, Shake Milton and Justin Holiday could all be worth a look here as well if Burks ultimately sits. However, Burks is averaging 31.1 FPPG and he's definitely worth the play for the price if he indeed is available.
Will's NBA DFS Lineup January 22nd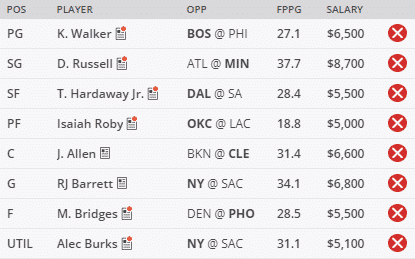 Make sure to subscribe to NBA Gambling Podcast on Apple and Spotify. Ryan and Zach continue picking every NBA game against-the-spread and posting right here: sg.pn/nbapicks