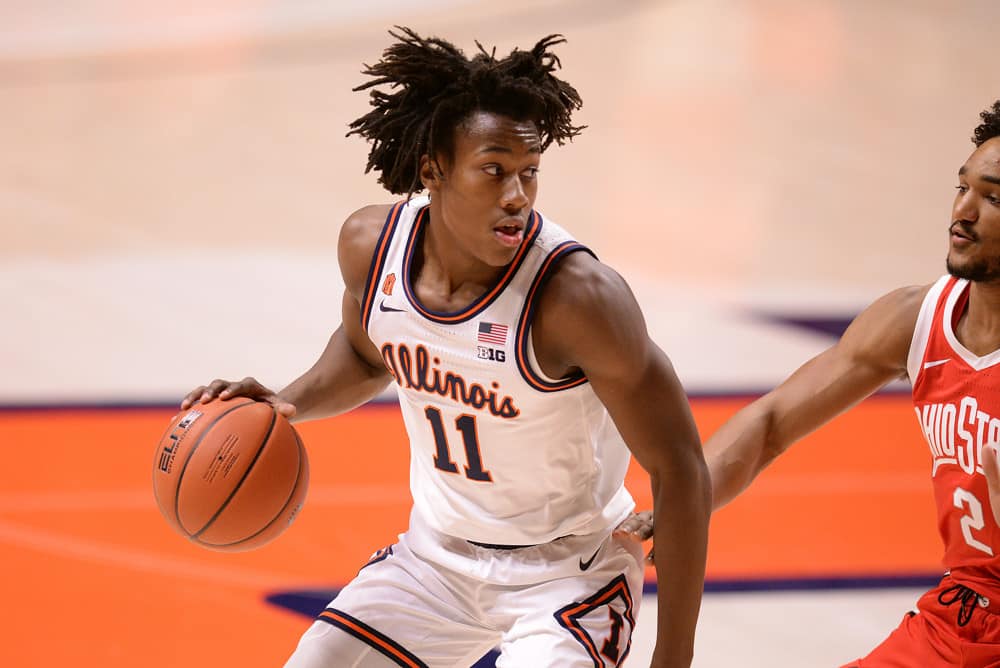 Welcome back College Basketball Daily Fantasy fans. With the NFL playoffs overshadowing everything else in the sports world, we took a break from the Saturday column in order to provide one for a monster slate of games this Tuesday. I'm not sure if ESPN uses the moniker "Super Tuesday" anymore, but with these games on the schedule, they really should.
The DraftKings slate consists of nine mega matchups so we'll get right to it. Let's do this!!
College Basketball Daily Fantasy Picks: Guards
Big Money Men:
Ayo Dosunmu, Illinois – $8.8K
For starters, these two schools played back on December 23rd and Dosunmu posted 30 points, six rebounds, and five assists. In total, he put up over 50 fantasy points. If you rostered him in the first game vs PSU, you ponied up a handsome $9.5K. For some reason, he's $700 less expensive this go-around.
At this price, A.D is a bargain. He'll be a cornerstone of my lineup. Set it and forget it.
Au'Diese Toney, Pitt – $7.4K
I've mentioned all year that Duke has been really struggling on defense this season. Pitt is back on the hardwood after a couple COVID cancellations and have the Blue Devils coming to town. The big three for the Panthers (Champagnie, Toney, and Xavier Johnson) all have a chance to put up serious production on Tuesday. I'll take the least expensive of the three and roster Au'Diese Toney.
Toney is a 6'6" Junior who is averaging almost 30 fantasy points a game. In a loss to Duke last year, he scored 27 points. All three Pitt options are attractive, but there's a chance Toney has the best day of them all, and he's the cheapest.
Myreon Jones, Penn St – $6.6K
Fantasy points were in abundance in the first meeting between these schools this year. In addition to the 50+ put up by Dosunmu, Myreon Jones was also north of 30. In fact, the junior guard now has three straight games over that fantasy point threshold. In PSU's most recent game vs Purdue, Jones attempted 13 three-pointers. Yea, the green light is always on for the Nittany Lions leading scorer.
Bargain Bin:
Jeremy Roach, Duke – $5.8K
While DJ Steward ($7K) may be the better of the freshman guards for the Blue Devils, Jeremy Roach is $1.2K less expensive and has been improving each game. Roach has five straight games scoring double figures and has averaged over 23 fantasy points per contest during this stretch. He's Duke's starting PG, plays over 30 minutes a game and has a solid matchup vs Pitt. Sign me up.
Joshua Primo, Alabama – $5.7K
This is a situation to monitor. Joshua Primo was lighting the scoreboard up while Jahvon Quinerly missed games over the last couple of weeks. With Quinerly now slowly being brought back into the fold, Primo has seen his minutes decrease over the last three games.
Still, here's a guy who put up 22 points, five rebounds and three assists a week ago vs Auburn. He's got the talent and Bama is up against a weak LSU defense only ranked 106th in the country. He just needs the minutes.

College Basketball Daily Fantasy Picks: F's
Big Money Men:
Jeremiah Robinson-Earl, Villanova – $8K
Due to all kinds of COVID issues, Villanova hasn't played a game since before Christmas. On Tuesday they'll remind the nation why they are a legitimate final four contender and their big man with the hyphenated last name is their top player.
Robinson-Earl was having a monster sophomore campaign and is ready to pick up where he left off. In his second season, the KC native is putting it all together. He can score down low, hit threes from deep, and is almost a lock for nearly 10 boards each time out. A double-double this week vs Seton Hall would not surprise me.
Donta Scott, Maryland – $7K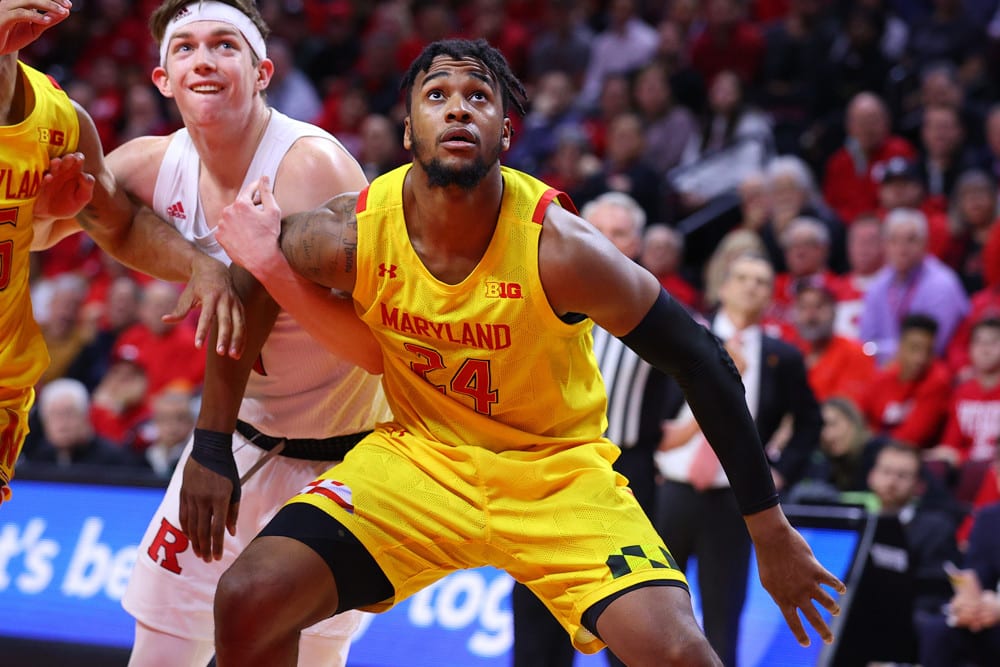 In Donta Scott we have another guy playing an opponent (Michigan) for the second time this season. In the first game, Scott put up over 30 fantasy points. There's no guarantee a player will have the same success against a team the second go-around, but you can't deny the potential.
Even though Michigan lost their first game of the season over the weekend, they have been playing lights out and their freshman big man Hunter Dickenson is a big reason why. Be that as it may, the Wolverines have still been prone to giving up big games against opposing big men. In addition to Scott's previous success, Minnesota's Liam Robbins also just went for 22 and 9 in that victory over Michigan.
Justin Minaya, South Carolina – $6.4K
Speaking of double-doubles, Justin Minaya has recorded two in his last three games. His most recent against LSU  came in a game where he played all 40 minutes. While the pace of the South Carolina and Missouri game is worrisome, Minaya doesn't need to score the ball to register fantasy points. He's a solid play with a very safe floor.
Bargain Bin:
Mwani Wilkinson, LSU – $4.7K / Tyrese Samuel, Seton Hall – 4.1K
With so many attractive high-priced options in this slate, chances are you will need to roster at least one guy below $5K. If that's the case, I got a couple here that might be worth the roll of the dice.
Mwani Wilkinson is a freshman big man for the LSU Tigers who has shown glimpses of the player he'll be in a year or two. While coming off the bench and only averaging about 20 mins game, Wilkinson has still been able to produce double digit fantasy points in six straight games.
Tyrese Samuel is also only averaging close to 20 minutes a game but his production fluctuates more than Wilkinson's. Samuel has registered more than 20 fantasy points in three games this season, but also has three games with less than 10. In his last game vs DePaul, the Seton Hall Pirate put up a season high 22.8 fantasy points. Wilkinson has a higher floor, but Samuel has the higher ceiling.
Listen to this:

Colorado State vs Utah State Preview | The College Experience (Ep. 534)