Welcome back Fantasy College Basketball fans. While it may be Super Wildcard Weekend in the NFL, don't forgot about a huge slate of CBB games on Saturday and some big time matchups on Sunday. It should be a wonderful sports weekend.  Why not play a little Daily Fantasy College Basketball and add to the enjoyment?
This column will highlight players in the main Saturday slate which consists of ten marquee matchups. Be sure to follow me on Twitter (@NC_NicK) as I'll post some thoughts on the other slates when they become available on DraftKings.  Let's do this!!
College Basketball Fantasy Picks: G's
Big Money Men:
Ron Harper, Jr., Rutgers – $8.4K
If you are a novice college basketball fan or someone who starts paying attention after football is over, it may come as a surprise that Rutgers is legit. While they have several backcourt guys who can put up quality fantasy production, Ron Harper Jr is the heart and soul of this team and leads the Scarlet Knights in scoring, at 21.1 PPG.
Rutgers ran into a buzzsaw earlier in the week and lost to a desperate Michigan State team. I expect a big bounce back game against the Buckeyes and Harper Jr will be the focal point. His ankle injury should be a thing of the past and he'll be ready to get back to scoring north of twenty. Additionally, he's the second leading rebounder on the team at 6.4 RPG and chips in with 2 APG.
DJ Steward, Duke – $7.7K
Duke may be having their struggles early this season, but freshman guard DJ Steward is coming on and has a juicy matchup vs a bad Wake Forest team on deck. From a fantasy perspective, Steward has two straight games over 30 fantasy points. He has three consecutive games with double digit points and has pulled down 15 rebounds over the  last two games.
Steward's price tag isn't exactly cheap but he's primed for a breakout game. With Duke mostly playing small ball, he'll have more opportunities to grab more boards and stuff the stat sheet with more than just points.
Josiah-Jordan James, Tennessee – $6.9K
Here's a guy that may be off the radar since he's averaging less than 10 points per game. However, there's a lot more to fantasy basketball than just scoring the rock. How about 11 steals over the last four games? Or, how about a guard that pulls down 6.6 boards a game and has registered at least one block in each of his last seven games?
Triple J has been doing it all for the Vols this year. In addition to all the ancillary stats previously mentioned, in his last game vs Arkansas, James put up a career high 17 points and played 38.8 minutes. If JJJ starts scoring at this kind of clip, watch out.
Bargain Bin:
Shakeel Moore, NC State – $5.8K
Moore is a true freshman that may be flying under the national radar since he doesn't play for Duke or Kentucky. Take advantage now. At $5.8K, you can roster a guy that has put up over 20 fantasy points in four straight games.
As you would expect from an emerging player, he's finally getting more minutes. Over the first six games of the year, Moore played between 12 and 18 minutes. In the last two, he played 26 and 32 minutes. Opportunity is knocking and this youngster is answering. Here's a taste.
Keon Ellis, Alabama – $4.7K
You don't often get to roster a guy for $4.7K who put up 36 fantasy points in his last game. With starter Jahvon Quinerly out due to an undisclosed medical condition (Covid maybe?), Ellis burst onto the scene with 16 points, 8 rebounds, 2 assists, 2 steals, and a block in a blowout win over Florida.
Word has it that Quinerly will miss Saturday's matchup as well. Monitor the situation, and if that rings true, snatch up Keon Ellis on the cheap. Not only will he play big minutes but Auburn (Bama's opponent) is struggling, giving up over 70 points per game.

College Basketball Fantasy Picks: F's
Big Money Men:
Sandro Mamukelashvili, Seton Hall – $9.1K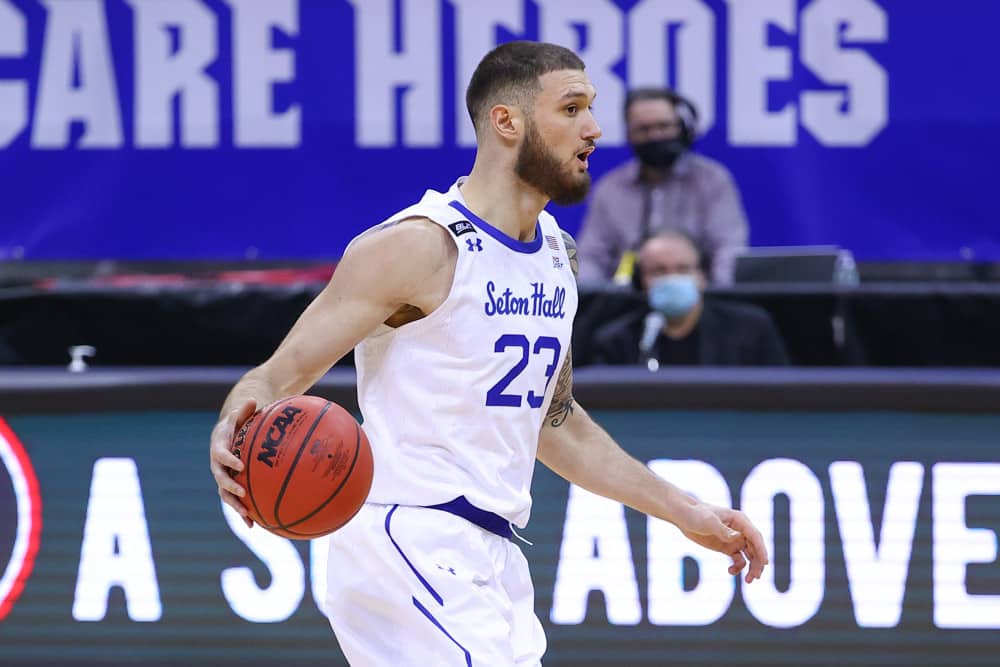 His last name is spelled just like it sounds. Hopefully I got it right. In all seriousness, Sandro's career arc is what you love to see in college basketball. His PPG has increased from 2.6 to 8.9 to 11.9 to 18.3 in his senior season. After taking a backseat to Myles Powell and others last year, he's now the man for the Seton Hall Pirates.
In addition to his scoring, the forward brings down 6.8 RPG and dishes out 3.3 APG. He averages over 35 fantasy points per game and Seton Hall plays DePaul (possibly the worst team in the Big East) on Saturday. After somewhat of a down game earlier in the week against Creighton, look for Mamu to bounce back big time.
Sam Hauser, Virginia – $7.5K
As a rule of thumb, I try to stay away from games involving UVA. They play at such a slow pace, it limits possessions and fantasy production from everyone involved. However, that hasn't been the case for Hauser over the last two games. The Marquette transfer has back-to-back double-doubles, which has resulted in two straight games over 30 fantasy points. That alone at least bears consideration.
D.J. Funderburk, NC State – $6.4K
After missing a few games with Covid, the Wolfpack's big man came back this past week and put up over 20 against BC and Clemson. DraftKings hasn't adjusted his price yet. At only $6.4K, he's too cheap. I'm jumping all over Funderburk. NC State plays Miami at home on Saturday and the Hurricanes are a perimeter-oriented team. They should provide little resistance against this big fellow.
Bargain Bin:
Isaiah Mucius, Wake Forest – $5.1K
Duke may have narrowly escaped Boston College earlier in the week, but their defense was abysmal. Coach K has been sidelined due to Covid contract tracing and apparently so has the Blue Devils defense. Meanwhile, Mucius has put up over 20 fantasy points in three straight outings including a game vs UVA's excellent defense.
Wake Forest may not be very good and they're likely headed for another defeat, but their offense should be able to have some success. Plus, their guys are dirt cheap on DK.
Jalen Bridges, West Virginia – $4K
Two games ago, Bridges got his first start of the year and responded scoring 19 points and registering over 30 fantasy points. In his second start against Oklahoma State, the true freshman got into foul trouble and struggled. Ups and downs can be expected from first year guys and while Texas (WVU's opponent) has a rock-solid defense, the price point for Bridges is appealing. If you don't have a lot of coin left, you're not going to find better options this cheap.
If you like this, listen to this:
Purdue vs Michigan State Preview | The College Experience (Ep. 519)