It's Wild Card Weekend! We somehow made it through the regular season and are looking squarely at an expanded playoff with three games on both Saturday and Sunday. It's going to be a glorious weekend. I'm stocking the beer fridge and locking myself in the man cave. Don't bother me until Monday!
Now, on to the important stuff. Like breaking down these games and picking some winners.
Here are my NFL picks for Wildcard Weekend. Let's do this!
Saturday's NFL Picks:
Indianapolis Colts @ Buffalo Bills
Line: Bills -7
Total: 52
I have a hard time getting behind Phillip Rivers in a road playoff game in Buffalo. He's almost 40 years of age and is used to playing in beautiful San Diego or inside the dome in Indy. We're looking at a high of 30 degrees in Buffalo this Saturday. Sure, Indy has a solid D and a better rushing attack than the Bills, but do you trust Old Man Rivers?
On the other hand, Buffalo has won six in a row and nine of their last ten. Over the last few weeks, opponents haven't even come close. They beat the Broncos and Patriots by 29 a piece and the Dolphins by 30. Plus, they are 7-1 at home this year and 8-0 ATS in their last eight games.
How can you pick against this Josh Allen and Stefon Diggs led offense right now? Buffalo will win by double digits. I lean towards the Over as well, as the Bills should be north of 30 points themselves. A couple INT's thrown by Rivers will provide favorable field position to help beef up Buffalo's point production.
Picks: Buffalo -7 and the Over
Los Angeles Rams @ Seattle Seahawks
Line: Seahawks -4.5
Total: 43
Our second game on Saturday pits two NFC West rivals who will battle for the third time this year. The series is split with the Rams winning 23-16 in LA and the Seahawks 20-9 in Seattle. Before this most recent Seahawk win, Seattle had lost five of six to the Rams.
Usually a road trip to the upper northwest in January would be a daunting task but the weather should be clear and near 50 degrees. Additionally, of course, there won't be any crowd noise to deal with.
One looming question heading into the game is if Jared Goff will play. At this point, it sounds unlikely. In his absence, John Wolford at least looked serviceable, throwing for 231 yards and rushing for 56 yards last week. However, an inexperienced, back-up QB playing in a road playoff game isn't usually a recipe for success.
Regardless of the QB, the question remains if the Rams are any good. For that matter, even with a 12-4 record, how good are the Seahawks? They come into this game winners of four straight but the level of competition has been subpar and they haven't looked overly impressive in doing so. What if I told you Seattle's only win over a playoff team was the week 16 victory over these Rams?
I'm not high on either team. Seattle and Russell Wilson will find a way to win but it won't be pretty. Give me the Rams to cover and the Under. In the two previous matchups this year, the total hasn't come close to 43.
Picks: Rams + 4.5 and the Under
Tampa Bay Buccaneers @ Washington Football Team
Line: Buccaneers -9
Total: 45
To be honest, I am a born and raised Washington fan. As a kid in the '80s and '90s, I have very fond memories of great Redskins teams and classic playoff victories. Then came Daniel Snyder. It's been extremely challenging to be a Washington fan and I'd be lying if I said my level of commitment hasn't waned.
Ok, off my soap box. WFT is extremely fortunate to even be in the playoffs let alone actually hosting a game (we don't need to get into all that). Their saving grace is an excellent defensive line that should generate a pass rush and make things uneasy for Tom Brady. That's it. That's the strength of the WFT. Let's not even talk about the offense. Putrid is a word that comes to mind and now Rivera is apparently contemplating rotating QB's, which is not a good sign in a playoff game to say the least.
Meanwhile, the Bucs are 11-5 and winners of their last four games. Much like the Seahawks, Tampa has only beaten one playoff team this year (the Packers back in October). Like most of the East Coast this weekend, the weather could be chilly especially with this being a primetime game. Expect temps to be in the low to mid 30's. Not ideal for a 40+ year old QB.
The Bucs are clearly the better team and Washington really has no business still playing football. However, if you think I'm going to go against the feel good stories of Ron Rivera and Alex Smith, you're crazy. Plus, did I mention they are my team? The WFT D does enough to cover. Gimme Washington and the Under.
Picks: WFT + 9 and the Under
Sunday NFL Picks: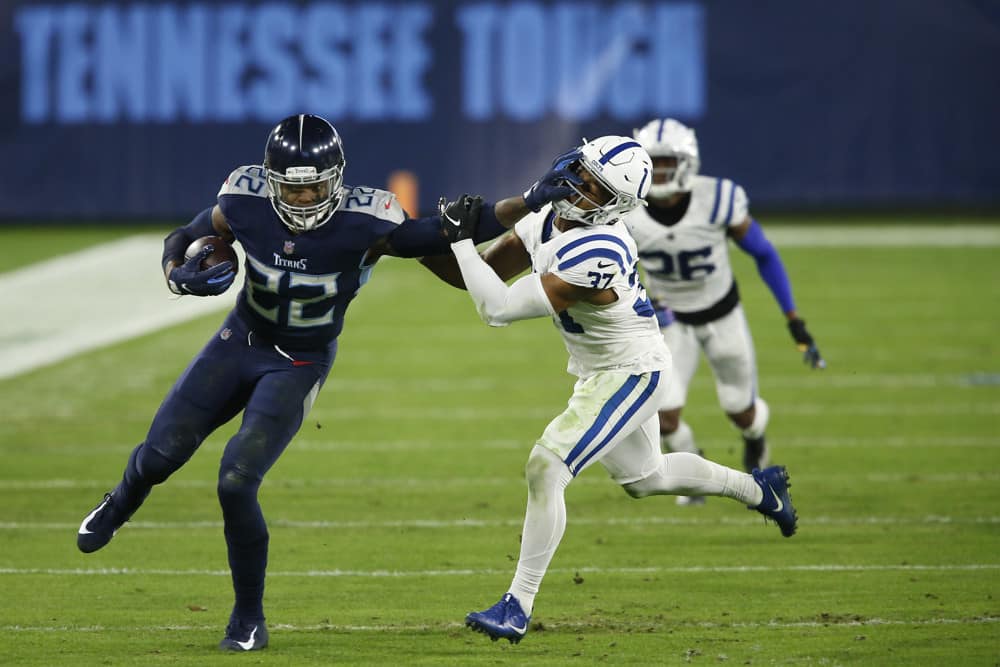 Baltimore Ravens @ Tennessee Titans
Line: Ravens -3.5
Total: 55
I guess everyone is back on the Ravens bandwagon. Lamar Jackson looks like his 2019 self and Baltimore has won five in a row. Well, allow me to throw some shade on that. Other than the Bowel Movement Bowl win over Cleveland, the Ravens beat the Cowboys, Jags, Giants, and Bengals during this win streak. Not exactly murderers' row.
This is a rematch on the November 22nd game where the Titans won an overtime game in Baltimore. And now the Ravens are 3.5 favorites in Nashville? For the life of me, I can't figure out why. If you recall, these teams also played in the playoffs last year and the Titans also won 28-12 in Baltimore.
Tennessee obviously has issues on the defensive side of the ball, but Derrick Henry is an animal and Ryan Tannehill is playing the best football of his career. With A.J. Brown, Corey Davis, and a couple TE threats, there's a lot to like about this offense.
There's a reason why this is the closest spread of the weekend. It should be a high scoring game with multiple lead changes. I'll take the 3.5 points and the Over. Sprinkle some on the money line too.
Picks: Titans ML and the Over
Chicago Bears @ New Orleans Saints
Line: Saints – 10
Total: 47
Back to the NFC for the Sunday afternoon game. This is a rematch of the November 1st showdown that saw New Orleans pull out the W in overtime. Since then, Mitch Trubisky was handed back the reins of the offense and the Bears won three out of their last four to stake claim to the last NFC playoff spot.
With that said, I just can't trust Trubisky in a road playoff game. These Bears are the same team that lost six straight games in the middle of the year. They aren't very good. Meanwhile, the 12-4 Saints have their sights on a Super Bowl berth. A heavy dose of Alvin Kamara and a strong defensive effort should make quick work of Chicago.
Although the Saints wild card loss to the Vikings last year is still fresh in my memory, I think they come into this matchup focused and hungry. We know who the better team is – now just come out and perform. Give me the Saints and give me the Under. I'm thinking somewhere along the lines of a 31-10 win.
Picks: Saints -10 and the Under
Cleveland Browns @ Pittsburgh Steelers
Line: Steelers -6
Total: 47.5
Let's throw out the Week 17 game between these two. Back in Week 6, the Steelers wiped the floor with the Browns, winning 38-7 at home. It was during that stretch of games where the Steelers looked invincible. However, dealing with injuries and COVID issues, Pittsburgh limped to the regular season finish line, only winning one of their last five games. Can they turn it back on and play like they did in October?
On the other hand, the Browns are a bit of an enigma. First, ODB gets hurt, which may have proven to be addition by subtraction. Then, throughout the season, Baker Mayfield's level of play raised a lot of question marks. Finally, Head Coach Kevin Stefanski comes down with COVID and will be forced to miss the Wild Card game.
If Cleveland has a chance of covering, they'll need to run the ball and keep Big Ben and the Steelers potent passing attack on the sidelines.  Of course, a nasty Pittsburgh D will won't make it easy.
Are you willing to roll the dice on Baker Mayfield with no head coach? Not me. After all, we're talking about the Browns here. Expect the "Mistake by the Lake" to screw something up again. I'll lay the points and go with an Under again.
Picks: Steelers -6 and the Under
If you liked this article, you'll love listening to this:
NFL Wild Card Round Picks + 2021 Betting Resolutions | Bout That Action (Ep. 20)