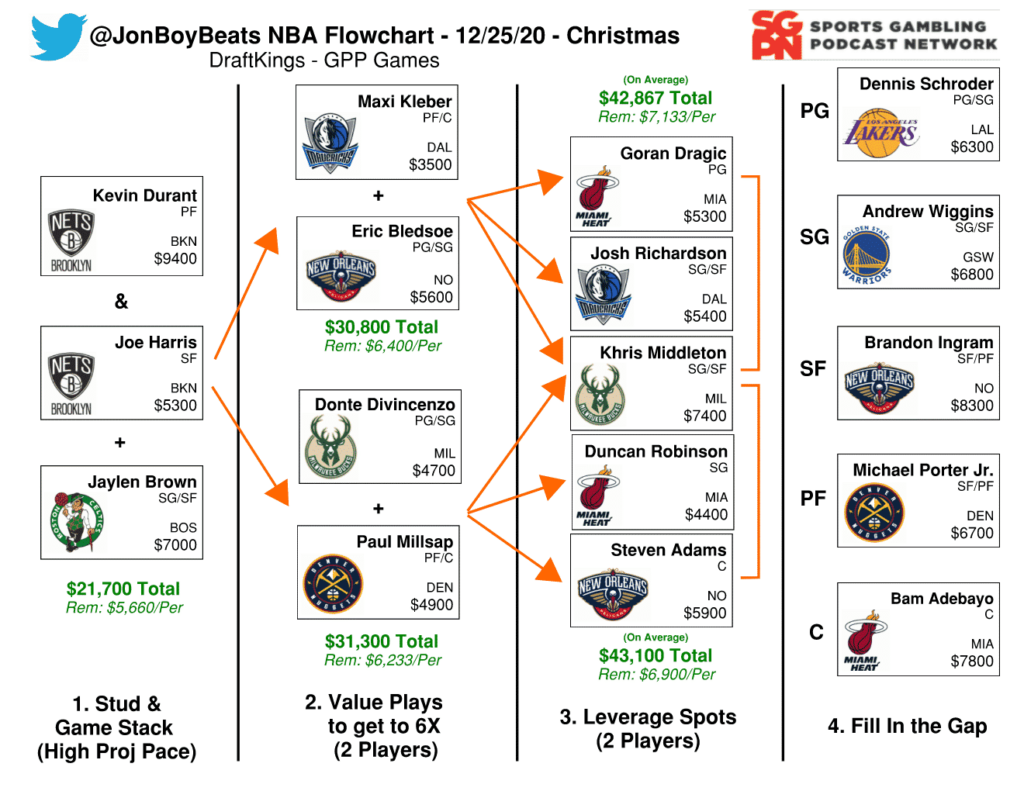 Merry Christmas everyone and Happy NBA Season! We have had some great success this year with the NFL DFS flowcharts. Now with the NBA back before you knew it left, it's time to reintroduce the basketball version of the flowchart! It's the NBA Christmas DFS Flowchart!
In this first article, I am going to help focus on some of the ground rules for the flowchart rather than diving into specific players too much. I think the flowchart performs best when the NBA slate is between 5-8 games, so moving forward you can expect to see the hoops version of this getting sprinkled in throughout the week on those slates. After the NFL season concludes, I will really start ramping up the NBA work, so for now get your feet wet in the basketball waters and hopefully we can have some early season success.
Differences Between NFL and NBA DFS
Most everyone has had their head buried in the NFL for the last 3 months, so I wanted to take some time to highlight some of the major differences between the NFL and the NBA from a DFS perspective.
First, there is a lot less volatility in basketball. When you think about an NFL game, a big touchdown pass or a long run can really swing the scoring for your lineups. You can get some of the bonuses that DraftKings offers on one or two big plays and game script will also directly affect how players are used during a matchup. We tend to see high-priced studs fail on weeks when it doesn't seem possible, and there are always a few punt options that luck their way into a big fantasy day. The NBA is almost exactly the opposite. There aren't any single outlier big plays that swing a player's daily production, and the usage rates, projected minutes, and nightly averages are a lot more consistent in basketball. This leads to the star players being a lot more valuable in NBA and the expensive chalky options paying off a lot often.
The second main differentiator is stacking. In football GPPs it has almost gotten to the point where a team stack is a requirement for a lineup to do well and jamming as much correlation as possible into a lineup will give you a better chance at GPP success. Stacking can be a good thing in basketball, but it is entirely slate dependent. On large slates (like yesterday's nightmarish 13 game offering), game stacking is not as useful because there are so many good options who will perform well. In the more mid-range slates (like the 5-8 game slates I will be targeting with the flowchart) it is a little bit more useful, however still not necessary. Since a lot of a players DKPt projection is directly tied to their minutes projection, stacking in basketball oftentimes works if you stack starters or bench players from opposing teams and hope that those units are on the floor in a highly competitive game or vice versa in a blowout.
The last main difference, is the value of salary punt players. Like I mentioned above, a $4k receiver can easily achieve value on one long touchdown pass on a Sunday. The same can't be said for the NBA. Almost every slate there will end up being some good value plays that find themselves in the starting lineup due to a late scratch to a starter, but other than that we are mostly going to try and focus on players that are good point-per-minute (PPM) producers and hope that they see the floor more that night. You really have to narrow down your player pool when it comes to the punt options, because the difference between a chalky $4k player scoring 30 DKPts and a thin $4k player scoring 6 DKPts will really control your outcomes.
If this all seems a little bit overwhelming, that's okay, it should be. I will be doing my best to help relay who these target players are in each of the flowcharts this season, but if you want to have long-term success in NBA DFS I would really encourage you to study the nuance in the scoring/outcomes so you can start seeing long-term success.
NBA Flowchart Fundamentals
Game Stack
When the slates are between 5 and 8 games, I think there is an advantage to targeting a game and having up to 3 players from that positive scoring environment. It's important to keep the Vegas team totals in mind while targeting which game to stack, but the ownership from the field will also gravitate to the largest totals. The games which have a good total AND a tight point spread are really where you want to focus on stacking. The theory is that these players will be in a more competitive environment with less blowout risk and we should be able to count on the minutes projections holding strong. For the Christmas day slate, I am targeting the Brooklyn and Boston matchup. We saw both of these teams get huge wins in their first game of the year, and I think this could be a preview of an Eastern Conference playoff matchup. Kevin Durant is priced under $10k, but I am sure he will be over that mark for most of the season. Joe Harris was all over the court in their first game, and should continue to benefit on wide open shots with the presence of KD and Kyrie Irving. For the bring back, I like Jaylen Brown who comes in at a manageable salary and has the ability to show up big in the clutch in these competitive matchups.
Players Projected to hit 6X Value
Due to the volatility of NFL slates, you will oftentimes see extremely high scoring lineups at the top of GPPs on days when the chalk hits, and then on days when the popular plays fail the cash line and high score will be a lot lower. This isn't the same for NBA. If you want to have a shot at taking down a GPP you really need to be knocking on the door of a 300 DKPt lineup, regardless of the slate. I reviewed some of my bigger days last season and I had a few 290+ lineups that landed in the Top 10 of GPPs and paid out really well. With that 300 DKPt goal dangling in front of us, that means we should try and target guys who have a good shot at getting 6X value. This is obviously easier said than done, but based on the quick turnaround that DraftKings has for setting salaries every night and the proclivity for late news to pile in from the NBA prior to lock, those options are usually there every night. On Christmas, the guys I really like to get 6X Value are Eric Bledsoe and Duncan Robinson.
Low-Owned Leverage Spots
Regardless of the sport, leverage will always be one of the most important concepts in DFS. When I get DMs or messages from new DFS players, I always try and guide people to focus on understanding and identifying leverage players. In the NBA, the leverage options are oftentimes a lot more fruitful than in the NFL. For instance, in football is a team's wide receiver is projecting for a lot of ownership it oftentimes makes sense to target the team's running back and hope that the TDs go his way. In the NBA, the concept is similar but there are usually a lot more options. Let's take Giannis Antetokounmpo and Luka Doncic as an example. Both players are usually above $10k and project to score over 50 DKPts. If for some reason Luke is projecting to be 40% owned while Giannis is projecting to be 10% owned, it's safe to say that I will play Giannis 100 times out of 100.
That concept is easy to grasp, but the harder one (and the one that not enough NBA DFS players take into account is the late swap ability). On any given NBA night, we will see waves of tipoffs at anywhere from 3 to 6 different times. It makes sense to keep an eye on how your lineup is doing in the early games to help identify how you should construct the late swap options in your lineup. Given the same example above, let's assume that Giannis is playing on the West Coast and both him at Luka are tipping off at 7pm. If your lineup has done well throughout the night (and you are seeing a lot of fire emojis above your scores), then it might make sense to swap in the higher owned Luka in order to block the 40% of people below you who have him and ensure that as the more popular player scores, you will continue to stay at the top of your contest. On the flipside, if your lineup is off to a bad start and you already had Giannis and maybe a thinner value play, then it might make sense to swap to two mid-range guys and hope that they have 90th percentile outcome games that allow you to pass up stars/scrubs lineups with both Luka and Giannis.
Fill in the Gap
Since the positions on DraftKings are so varied for NBA, it is likely that you will get to a point in the flowchart where you absolutely need to plug in a certain position in order to fill out your lineup. For that reason, I will always provide a player from each position in the last column who I view as really solid plays that day. This allows you to kind of do whatever you want in the first three columns of the flowchart and then take a high floor option to fill in the gap at the end.
As the NBA season progresses, I am sure that the flowchart will have some minor tweaks and changes (as it did in the NFL this year), but these fundamental concepts should hold true throughout. I hope this helped your brain start to switch over from NFL to NBA and I wish you a ton of success this season. We are just getting started, and I can't wait to dive in all the way into basketball as the NFL playoffs wind down to a finish.