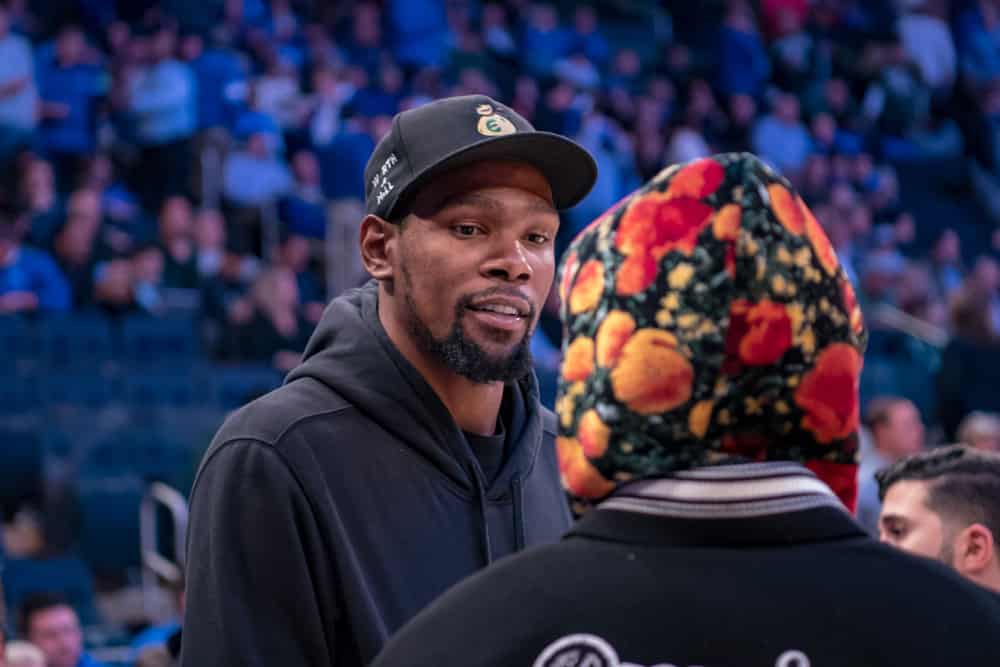 Hello my friends! Christmas is rapidly approaching, and with Christmas comes a nice NBA slate. A five game slate means that there are a ton of options for your NBA DFS lineup which can get confusing.
Never fear, however! I've seen a ton of success in the DFS department of the NBA and I'm here to share to share my Christmas Day GPP lineup with you. Best of luck to everyone who's playing, and let's cash us something big!
NBA DFS DraftKings GPP Picks Christmas Day
PG – Goran Dragic – MIA ($5,300)
We're going to kick off this lineup with a guy we can trust. Goran Dragic is only $5,300, and I knew I had to play him as soon as I saw his price. The Heat make their season debut Wednesday before playing again Friday, and there hasn't been many changes on the team over the offseason.
Goran Dragic will draw the start at PG, and he will almost surely see more minutes than his backup Kendrick Nunn. He was playing exceptionally well in the bubble until Miami ran into a brick wall in the Lakers. I expect big things from the veteran PG this season. He's in line to do big things against an average Pelicans team on Christmas.
SG – Paul George – LAC ($8,700)
The SG position is one I want to pay up for on this slate, so we'll take the chalk and Paul George. The Clippers looked outstanding against the Lakers in their season debut. Now, they draw a matchup with Denver who is solid, but they have some holes defensively.
One of those glaring holes will come across from PG13 as the Nuggets are thin at SG. Gary Harris and PJ Dozier figure to take the bulk of the SG minutes, and neither are outstanding defenders. George dropped 33 points with six rebounds, three assists and a steal in his season debut. He should have no issue putting up similar numbers Friday.
SF – Andrew Wiggins – GS ($6,800)
Golden State isn't a pretty team this year, and there's only a handful of trusty DFS options. The clear number two option for them is Andrew Wiggins. The Warriors now draw a matchup with Milwaukee on Christmas. This isn't exactly a pretty matchup, but you can still trust Wiggins to put up a decent stat line.
Wiggins added 19 points, four rebounds, three assists, three blocks and one steal in his season debut. He showed us that he's an all-around player who can contribute to a team on both sides of the ball. I'm not expecting Wiggins to score 40+ DFS points. However, 25-30 is reachable and there's always a chance he pops off 50+ fantasy points.
PF – Moe Harkless – MIA ($3,600)
We're going bargain bin shopping at the PF position. Moe Harkless is one guy you want to play for his pricing if nothing else. It isn't totally clear if he will start for Miami or not, but he will almost surely be the first big man from the bench if he isn't starting.
Harkless started both preseason games for the Heat although he was more of a pedestrian in those games. We may transition to Maxi Kleber if Harkless isn't exactly featured in the rotation in their debut. However, we will play Moe Harkless in this lineup for the time being.
C – Tristan Thompson – BOS ($5,200)
Keep an eye on the injury report and be prepared to shift to Dwight Powell or Bobby Portis. However, if Tristan Thompson is active then playing him is a no-brainer. He's averaged a double-double each of the last two seasons, and he is one of the best paint players out there.
It's unclear how the timeshare between Thompson and Daniel Theis will work out which explains Thompson's cheap price. However, Thompson is too dominant of a player to ignore. I expect him to be valuable in DFS for his rebounding and size no matter how many minutes he plays.
G – Will Barton – DEN ($6,300)
Will Barton has become one of my favorite middle-of-the-road priced players over time, and I'm playing him in my Christmas Day lineup. There are some questions as to exactly what role Barton will play with Denver this year. This doesn't scare me though because I think he has something to prove.
Barton is primed for a great campaign if he can stay healthy. He averaged 15.1 points last season with 6.3 rebounds and 3.7 assists per game also (all career highs). You'll get what you pay for with Barton. He's almost a sure-thing to score between 30-40 DFS points, and he's capable of much more.
F – Josh Hart – NO ($4,700)
This is another example of an underpriced player in my opinion. Josh Hart has been a key part of New Orleans's rotation the past two years. I don't expect his role to change much this year despite the coaching change for the Pelicans this offseason.
Hart is a good defender with the shooting ability to pop off on any given night. This play has a little bit of variance as Hart could add anywhere between 10 to 50 DFS points. However, I like the upside he brings and I expect this New Orleans offense to be clicking on all cylinders.
UTIL – Kevin Durant – BRK ($9,400)
You've probably been looking at the header picture and wondering where Kevin Durant is. Well, you found him. We're going to close this lineup out with an absolutely solid anchor. KD looked sharp in his season debut, and he looks fully healthy for the first time in a while.
Durant only played 25 minutes in Brooklyn's blowout debut. However, he still had a great night as he scored 22 points while adding five rebounds. The Nets play Boston on Christmas Day, and this could be a game where KD plays 35+ minutes. He's pricy, but one thing is for sure. Kevin Durant can be trusted to be a NBA DFS mule.
Will's DraftKings 12/25 GPP Lineup
Make sure to subscribe to NBA Gambling Podcast on Apple and Spotify. Ryan and Zach continue picking every NBA game against-the-spread and posting right here: sg.pn/nbapicks