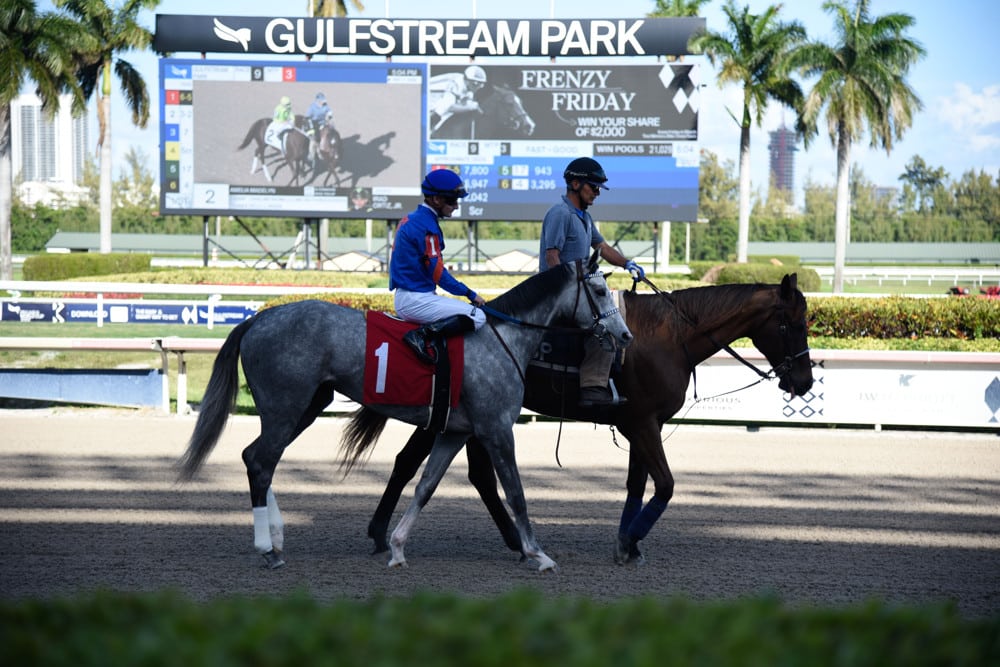 DFS is all the rage today. But have you ever played horse racing DFS? That's where StableDuel comes in! Players select a track that they want to play, enter a "stable" into the contest and select 10 horses, with a salary cap of $50,000 from the race card to complete their entry. The cost of the horses is based off of the Morning Line Odds or their 'chance of winning the race.' Points are awarded based upon the finish of your horse in each race. Bonus points are awarded based upon the lengths a horse wins by and points are deducted for lengths behind … so you don't want a horse that is going to lose by a lot.
The real beauty of this game is that one bad pick won't kill your chances. Unlike traditional horse racing, where if your horse doesn't win, you're out, StableDuel contests gives the player a chance to make up points with better finishes. It's the equivalent to having a bad pick in a 1:00 PM football game but coming back with a huge play in one of the later games.
Finding Value
The key to success on StableDuel is finding value. Since the morning line odds are setting the prices against the salary cap, finding a horse that has a high morning line can be a huge advantage. Unlike in traditional gambling where you love a horse that is 12-1 on the morning line and you wait all day to bet it and the tote board lights up 7/2, your value is locked in at the 12-1 price.
Head on over to the App Store to download and sign up. They have FREE contests everyday this week (except Friday/Christmas) so you can play with no cash investment. If you want to try for the big pools, here are a some horse racing DFS picks for the Gulfstream Park Contest tomorrow:
Horse Racing DFS High-Cost Plays
In Race 2, I like Midtown Rose. She is getting some class relief from her previous starts, which should help. I think you can draw a line through the last two starts with one being a sloppy track and the other on the grass. Also, she sets a high % trainer in Saffie Joseph and a top jockey in Irad Ortiz.
For the 4th race, I like Movie Moxy. This horse is lightly-raced and keeps showing improvement. She has won a race going a one turn mile, which makes me like her more. Hopefully, she keeps moving forward and gets the job done.
Race 10, Awsum Roar is a closer in a grass sprint. I think there is enough pace in front of her to get this veteran mare the score. She loves the track and distance and is consistently in the money.
Horse Racing DFS Mid-Level Plays
Cairo Campaign gets my nod in the 3rd race. At 6-1 ML, you are going to get fair value on a horse that has speed numbers to fit with this group. This gelding is moving up in class, but not far enough to worry me. He will be looking to go gate-to-wire, which I think he is most capable of doing.
In race 5, Camellia Gal presents an interesting resume. It took this filly 10 starts to break her maiden and normally that would be a toss out for me. Her best speed figures have come on the grass and she's 3 for 5 in the money at Gulfstream. Zayas stays on to ride and I'm hoping now that she knows how to win, she takes off.
Zodiac Princess is my selection in race 7. This 4-year-old filly is a horse for the course and has speed figures that hang with this group. I not only look for this one to hit the board, but hopefully jogging to the Winner's Circle.
Horse Racing DFS Value Play
I'm not one to hunt for bombs all day. Usually, the horses with huge ML odds are deserving of that number. Nevertheless, I found one on today's card that I think is a MUST use in any stable. Bright Venezuelan in the 9th race is going to provide a ton of value. The mare does her best running at Gulfstream and at this distance. She will be closing into a nice pace and likes to hit the board. For a 20-1 ML play, that is all we need.
**You must select your horses and submit your stable before first post at 11:30pm ET.