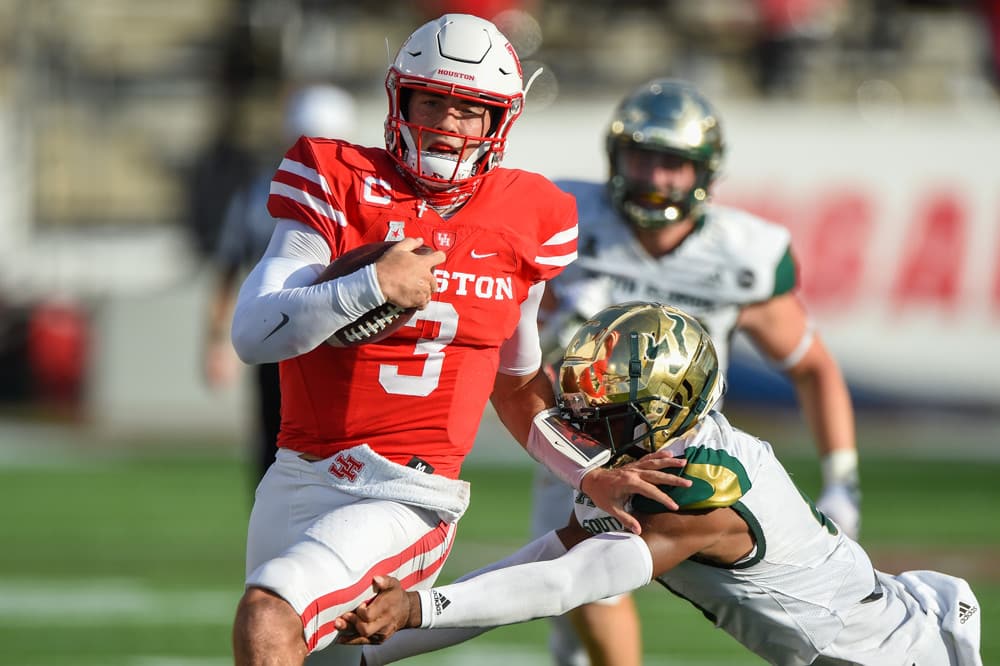 It's the final week of this crazy 2020 College Football season. Well, I think it is. The schedule this year is a very fluid situation. Either way, we have at least one more opportunity to have some fun and win some cash with College Football DraftKings Picks Week 15.
It's been a wild, roller-coaster of a year and hopefully you have been along for the ride. As usual, this column will cover the main DraftKings Saturday afternoon slate. Tune into our weekly podcast (which can be found on The College Experience) for our picks for the Friday and Saturday night slates.
Let's do this!
College Football DraftKings Picks: QB's
Big Money Man:
Clayton Tune – Houston ($7,800)
My plan in the afternoon slate will be to save some coin at the QB position so I can spend up elsewhere. Mac Jones and D'Eriq King are fine options who will surely produce, but Clayton Tune is a steal at only $7.8K.
In Tune's last game against USF, the JR QB threw three TD's and ran for 120 yards and two more scores. The annual game vs Memphis always seems to be a shootout and I'd expect the same this week. Memphis gives up over 300 yards per game in the air plus Tune can also beat you with his legs. It's an off the radar pick that could pay nice dividends.
Middle of the Road Joe:
Jordan Travis – Florida State ($7,000)
Listing the Seminole QB here is more about fading the FSU opponent this weekend rather than an endorsing Travis. FSU takes the field for the first time in almost a month against the struggling Duke Blue Devils. The last three ACC teams to face Duke have all scored over 50.
Jordan Travis and the 'Noles might be rusty but rostering anyone playing Duke isn't a bad idea. Pay attention to who gets the starting nod at QB but if it's Travis, he should have a solid day and I expect his ownership to be low.
Bottom of the Barrel:
Sam Hartman – Wake Forest ($6,800)
Wake Forest is another team that hasn't played in almost a month. Way back on 11/14 they lost to UNC, 59-53. In that game, Hartman threw for 429 and 4TD's, accumulating 44.4 fantasy points.
The Demon Deacons square off against Louisville on Saturday in a game with an O/U of 63.5. Wake lost this game last year 62-59. So yea, you might want to take the Over here and you might want to consider taking a shot at the undervalued Sam Hartman for only 6.8K
College Football Fantasy Picks: RB's
Big Money Man: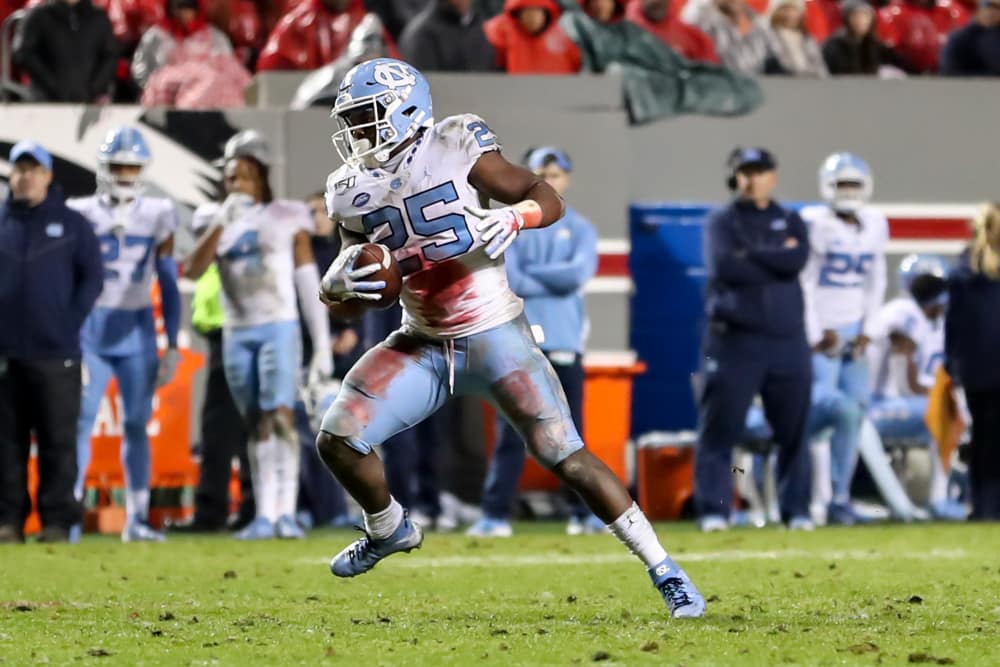 JaVonte Williams – UNC ($7,000)
I was shocked at the low price tag for JaVonte Williams this week. This dude hasn't been less than $7.2K since Week Six. Sure, he's coming off two bad games but that was against a great Notre Dame defense and a blowout vs Western Carolina where he didn't play much.
Expect the star running back to put up the kind of production we saw towards the middle of the season. Williams has ran for over 900 yards, has caught 23 balls for over 300 yards, and has a whopping 19 total TD's. He's also actually priced less than the other Tar Heel RB Michael Carter ($7.3K). Williams ceiling in this game against Miami is through the roof.
Middle of the Road Joe:
Christian Beal-Smith – Wake Forest ($6,600)
When I first heard that Wake's main RB Kenneth Walker opted out of the rest of the year this week, I was eager to see the price tag on Beal-Smith. Well, the fine people at Draft Kings aren't dummies. I was hoping Beal-Smith would still be in the $4K-$5K range where he's been all year. Even at the higher price, I'm all over the junior RB.
While playing second fiddle to Walker, Beal-Smith still ran for almost 600 yards in only seven games which includes eclipsing the century mark vs Campbell, Va Tech, and UNC. Now all by himself in this backfield, expect him to go off.
Bottom of the Barrel:
Donald Chaney Jr.– Miami ($4,300)
At only $4.3K, Chaney Jr. is a dart throw that just might hit bullseye. With Jaylon Knighton out, the three-headed Hurricane backfield has been trimmed down to just two. Although, Chaney still technically backs up Cam'Ron Harris ($6.7K) that didn't stop him from scooping up over 140 yards from scrimmage vs Duke last week.
Plus, if you haven't noticed yet, I want a lot of pieces in the UNC/Miami game. There's a lot of expensive players on this slate that will be tempting to pay up for. If you find yourself short on cash in the flex spot, I like rolling the dice with Chaney Jr.
College Football Fantasy Picks: WR's
Big Money Man: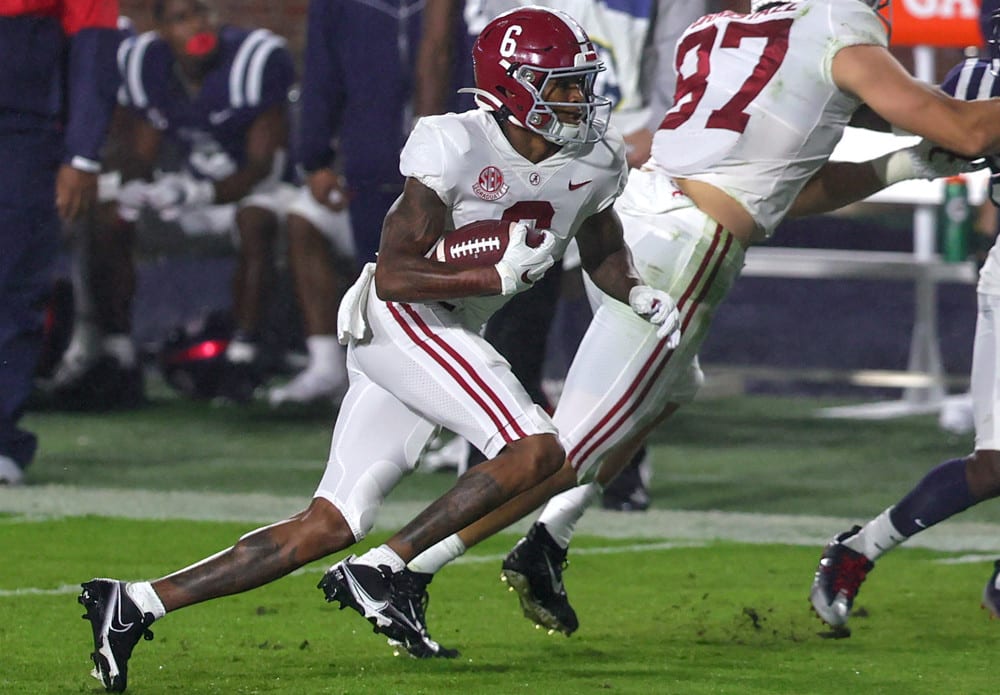 DeVonta Smith – Alabama ($10,000)
Come on, who else. Right now, it's pretty crazy the kind of numbers DeVonta Smth is putting up. Through nine games, the senior wideout already has over 1,300 receiving yards with 16 total TD's. In the four games since Jaylen Waddle's injury, he is averaging over 8 catches for over 185 yards and almost 3 TD's per game. In two of these games, he's been over 50 fantasy points himself.
Of course, you will have to pay up. last week, I paid the $9.6K price tag and won some money mostly because of Smith. I don't know how I feel about an even $10K (1/5 of your entire budget) but DeVonta Smith is a bad man and there's no stopping him.
Middle of the Road Joe:
Dazz Newsome – UNC ($6,300)
Back to the UNC at Miami game. If you've listed to our weekly podcast, we've discussed Dazz Newsome often. Arguably, the most talented UNC wide receiver, the senior got off to a slow start this season. Whatever caused that I am not sure, but it's now a thing of the past. Over the last four games, Newsome has caught at least 6 catches in each game and has 4 TD's. Against Wake, he went off, reeling in 10 balls for 189 yards and 2 scores.
At the risk of being repetitive, did I mention I want players in this game? Newsome found the end zone against the U last year and he'll do it again this week.
Bottom of the Barrel:
Sean Ryan – West Virginia ($3,600)
Shhh..there's a real low priced wideout on the West Virginia Mountaineers who most people aren't aware of. In the last three games, he's caught 14 balls for 146 yards and he's still priced at only $3.6K. He's name is Sean Ryan.
Look, I know those stats aren't going to blow you away but try to find me anyone else at this price range with that solid production. Chances are a lot of DFS players will be taking a couple low dollar flyers in this slate and they should consider Sean Ryan. Four catches for 50 yards will do just fine for the cheapest guy on my roster.
RELATED
College Football Picks Week 15 – Sports Gambling Podcast (Ep. 918)