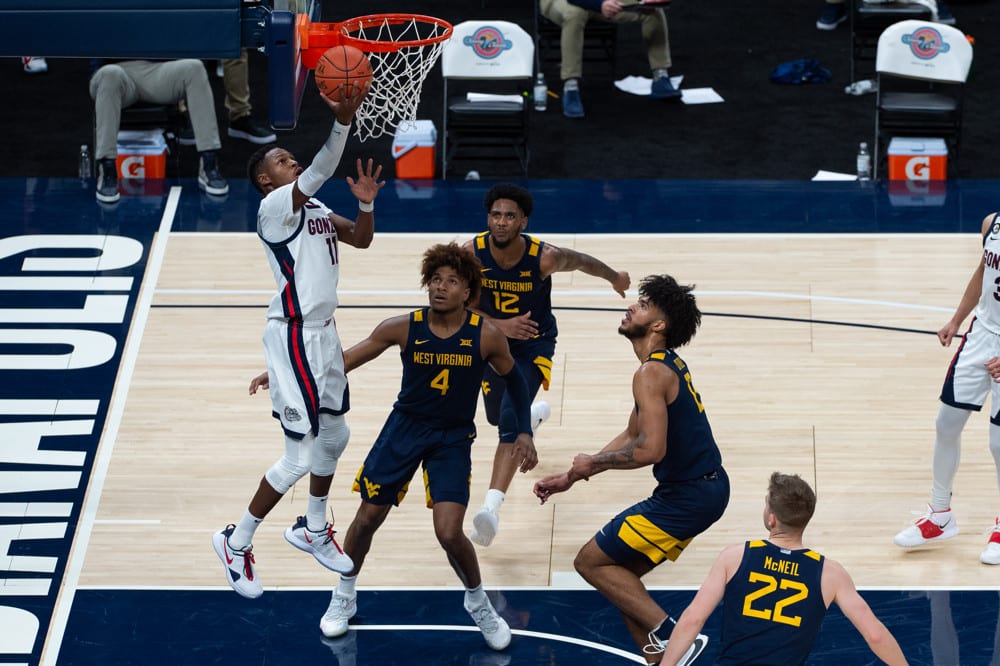 We're back Fantasy College Basketball fans. It's been an excellent start to the season. Of course, like every other league, college hoops is dealing with COVID and game cancellations have unfortunately become the norm. Even with the plug being pulled on several nice matchups, we've already seen some of the nation's premier programs go head to head.
Saturday is more of the same. Let's kick back, play some College Basketball DFS and let's win some cash. Let's do this!
College Basketball Fantasy Picks: G's
Big Money Men:
McKinley Wright, Colorado – $8.8K
Colorado fans breathed a sigh of relief when Mckinley Wright announced he was returning for his senior season. One of the best kept secrets in America is no secret when it comes to DFS players. He's the most expensive G on the slate and for good reason. Last year, the do-it-all guard averaged 14.4 PPG, 5 APG, and 5.7RPG.
Through two games this year, Wright has realized he'll have to shoulder more of the scoring load and has been north of 20 each game. Against Kansas St, Wright put up 24-5-5 which tallied up to 39.8 fantasy points. He should have a field day vs Wazzu at home on Saturday.
Joel Ayayi, Gonzaga – $7.1K
If you aren't rostering a guy or two on Gonzaga, you probably aren't winning many DFS contests. While the Zags frontcourt players are more expensive, you can scoop up Ayayi for a decent price and be pleased with the return.
In the two close games Gonzaga has played this year, Ayayi is putting up north of 30 fantasy points. Against a tough West Virginia squad, he put up 21 points, 7 boards, 4 assists, and 4 steals. I can't wait to watch this Baylor/Gonzaga matchup partly because I'll have so many of the guys on my DFS squad.
Marcus Sasser, Houston – $6.4K
The son of Texas Tech's Jason Sasser, Marcus is having an excellent start to his sophomore season and is currently leading the Cougars in scoring at 17PPG. His relatively inexpensive price tag is due to low rebounding, assists, and steals totals.
While you'd like to see him play a more complete game, he can straight up fill it up with the best of them. Expect another strong offensive output for Sasser against South Carolina on Saturday
Bargains: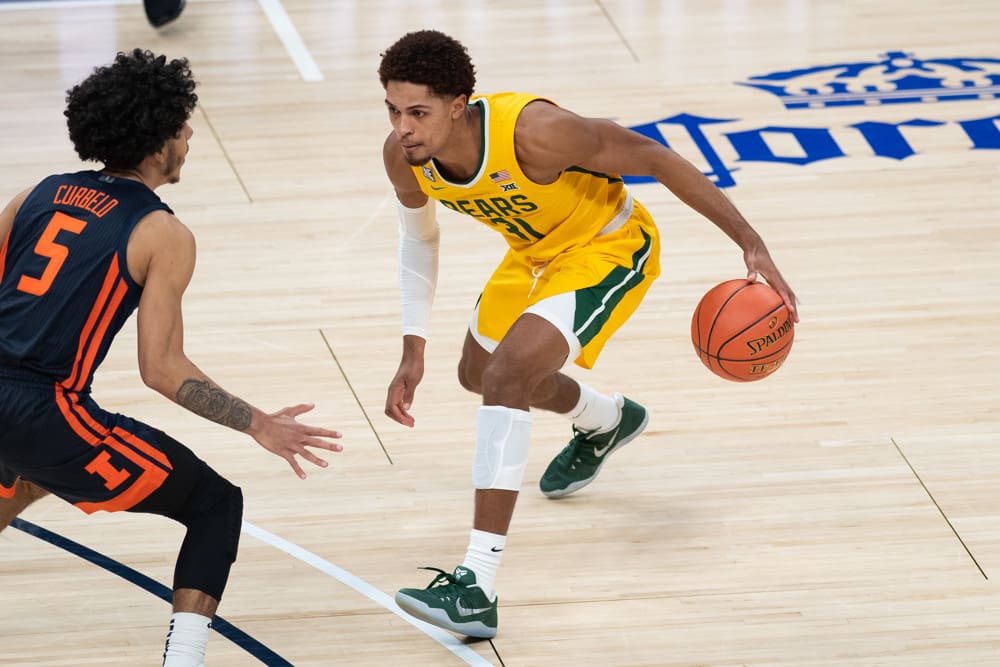 MaCio Teague, Baylor – $5.9K
I want pieces of this Baylor and Gonzaga game and that doesn't just mean Bulldogs. This should be a high scoring affair with loads of fantasy points for players on both teams. If you don't have the money for the more expensive Bears, Teague is worth taking a look at.
First, he's averaging over 30 minutes a game so potential volume shouldn't be an issue. Second, when opposing teams focus on Jared Butler and others, they often assign their worst perimeter defender to Teague. Third, thru three games he's averaging almost 25 fantasy points a contest. At this price, sign me up.
Greg Jones, Lipscomb – $5K
Sometimes you must to go off the radar in the search for value. Grabbing a Lipscomb Bison against Arkansas this week would certainly qualify. With Jones you have an upperclassmen guard who is averaging 14 PPG, 3 RPG, and 3 APG. Plus, we really don't know how good Arkansas is this year and they have yet to be tested.
Assuming a very low ownership percentage for Greg Jones, he could be a sneaky play this week.
Braxton Beverly, NC State – $4.2K
For my last bargain bin guard, I'll stay in my home town of Raleigh and choose the senior guard for NC State. Look, there's a reason why Beverly is this cheap. He's a limited player who's main asset his ability to shoot the three ball.
However, he does start for the Pack and at $4.2K it's not easy to find a starter. Plus, if he gets hot from beyond the arc, watch out. I recall him putting up over 20 in games against UNC and Syracuse over the course of his four year college career.
College Basketball Fantasy Picks: F's
Big Money Men:
Connor Vanover, Arkansas – $8.7K
Vanover may be the most expensive forward on the Saturday slate, but its because he's been over 40 fantasy points in both Razorback games this year. As an under the radar transfer from Cal, the 7'3" tree has found a home in Fayetteville.
Arkansas plays Lipscomb on Saturday and while the Bisons are projected to win the Atlantic Sun, they definitely do not have anyone on their roster who can remotely hang with the 7 footer.
Corey Kispert, Gonzaga – $7.9K
Did I mention that you'll want pieces of this Gonzaga offense? The #1 team in KenPom's adjusted offensive rankings, the Zags are averaging over 90 points a game.
While fellow Bulldog big man Drew Timme may be the better player, he's also $600 more expensive. Plus, the two are averaging about the same fantasy points per game so far. I'll take Corey Kispert all day long.
Jordan Brown, Arizona – $6.8K
Most preseason publications expected the transfer for Nevada, Jordan Brown, to start for the Wildcats this year. However, most people didn't expect him to lead the team in scoring his first game. Against Grambling, Brown put up 19 points with 15 boards, 3 blocks, 2 assists, and a steal.
It's only one game so it's a gamble but the dude almost put up 50 fantasy points. Plus, it's not like Eastern Washington (AZ's opponent this weekend) is going to offer much of a challenge on the interior. The Eagles are lacking size on the inside and will play 3 or 4 guard lineups for most of the game.  I think Brown can have a repeat performance against the under-matched Eagles.
Bargains:
Tanner Groves, Eastern Washington – $5.9K
Speaking of Eastern Washington, the only interior player worth mentioning on this team is Tanner Groves. The redshirt junior had a nice first game against another Pac-12 opponent in Washington State, where he put up 17 points and 9 rebounds. As really the only frontcourt presence, Groves will play a lot of minutes and rack up some stats. I like this high volume play for a cheap price.
DJ Funderburk, NC State – $5.2K
It appears DJ Funderburk is in the doghouse in Raleigh and his DK price tag reflects as much. As the team's leading returning scorer, people were expecting big things from the 6'10' senior. Surprisingly he has been splitting time with Manny Bates at the 5 spot and is only averaging 19.7 minutes a game. The Wolfpack have looked excellent this year but have beat up mostly on cream puffs.
My hunch is that the lack of minutes is due to the lopsided games so far. With Uconn on the schedule this weekend, that will change quickly. If Funderburk can stay on the floor, he's an absolute steal at this price.
Jonathan Tchamwa Tchatchoua, Baylor – $4.8K
Don't ask me to pronounce this guy's name, but the transfer from UNLV will play an important part role on Baylor this year. With starting big man Tristan Clark retiring from basketball due to health reasons, Jonathan TT is next in line to start and play big minutes.
Baylor just may be one of the best teams in the country, and while they are perimeter oriented, they'll need an interior presence against the big guys at Gonzaga. "TT" is a nice roll of the dice if you are short of cash.