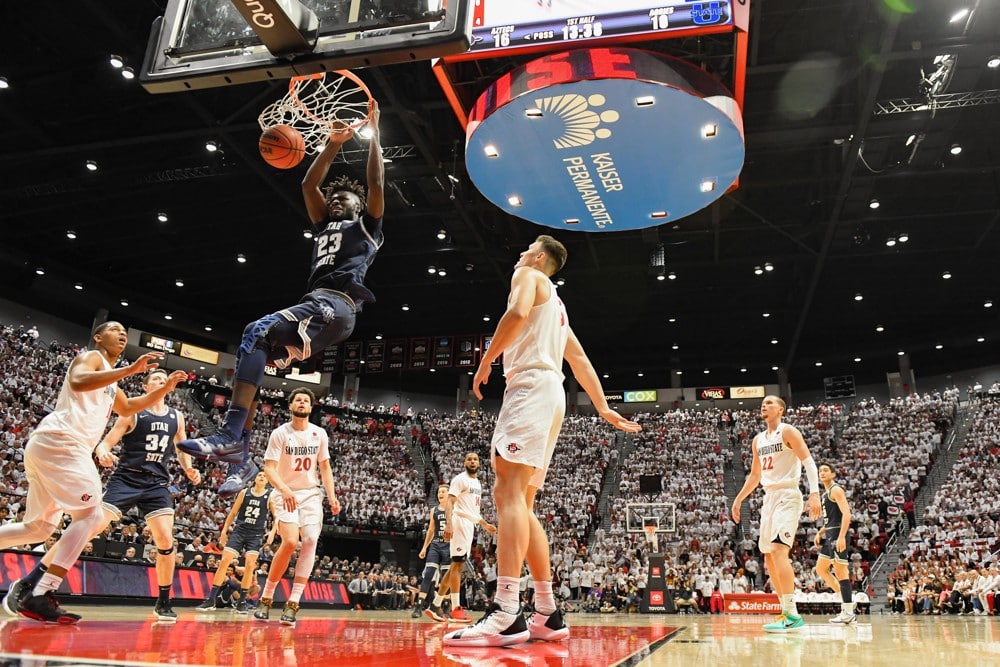 College Basketball Fantasy Picks? Yessir. We watch the games, we bet on the games, why not play a little college basketball DFS as well?
We'll hit you with this column on at least a weekly basis this season so be sure to bookmark us and come back often. Also, check out our weekly CBB DFS podcast on The College Experience. Each column will highlight a few high dollar options and some bottom-of-the-barrel bargains for both the G and F positions. If you haven't played fantasy college basketball yet, you're missing out man. Get on board and let's win some cash!
College Basketball Fantasy Picks: G's
Big Money Men:
Collin Gillespie – Villanova, ($8.7K)
If we are talking college basketball, we are talking senior point guards. The dream of every head coach is a dream shared by DFS players. Gillespie has seen his stats increase year over year. As a freshman, he hardly got any burn. As a sophomore, he contributed 10 PPG and almost 3 APG but played less than 30 MPG. Finally last year, he took over the reins of the team and averaged 15 PPG, 4.5 APG, and even chipped in with 3.7 RPG.
The Wildcats play an outmatched Boston College team where Villanova should be able to do whatever they want offensively. If Gillespie isn't hitting the shots himself, he's setting up his teammates and either way, it's fantasy points for you. Don't be shy to spend up for this stud.
Will Richardson – Oregon – ($6.4K)
I'm going to zig where others zag here. I want pieces of this Oregon Duck backcourt against Eastern Washington of the Big Sky conference. Peyton Pritchard has graduated which opens up a scoring void for the 2nd best offense in the Pac 12 a year ago. While others might grab his teammates Amauri Hardy ($7.1K) or Chris Duarte ($6.9K) give me Richardson.
He's the 2nd leading returning scorer from a year ago and put up over 20 fantasy points in 6 of the last 7 games. Plus, I love his 6'5 size over the 6'2 guards of EWU.
Kane Williams, Ga State – ($6.1K)
Allow me to go small school on you here. The Panthers of Georgia State have put together a real nice program for several years and are projected towards the top of the Sunbelt again. I expect a close game against Georgia Tech and a solid outing from Ga St's leading scorer and all Sunbelt performer, Kane Williams.
His last 5 games on the court have all produced over 35 fantasy points. I watched him last year put up 16 on Duke with 7 assist, 3 boards, and 2 steals. He's an all-around excellent basketball player at a nice price.
Bargains:
Jordan Usher, Georgia Tech ($5.9K)
Have I mentioned I have an affinity for senior guards? Jordan Usher has slowly seen his minutes uptick since he transferred in from USC. Now with a healthy PG in Jose Alvarado, the GT offense should be ready to roll and Usher will play a key part. He'll jump up and average over 10 PPG this year and I love the how he factors into all aspects of the game.
Not only did he score in double digits in eight of his last ten games, but he'll pull in rebounds, dish a few assist, and collect a couple steals as well. 20-30 fantasy points in this game should be a lock.
Darius McGhee, Liberty ($5.2K)
In Lynchburg, VA, Darius McGhee is better known as McThree. Last year, he was the 4th leading scorer on an excellent Flames team. The three players who put up more points have all graduated which elevates McGhee to top dog. He's almost a lock to be an A-Sun first-teamer this year and that'll start with a nice game vs. an injured Purdue team.
The Boilermakers top perimeter player, G Eric Hunter is out indefinitely and big man Trevion Williams is questionable. Liberty has a real shot to hang around here and Darius MsGhee has a shot of having a very nice outing.
Jacob Davidson, Eastern Washington ($4,7K)
I'm going back to the Eastern Washington vs Oregon game for my cheapest G of the day but this time it'll be an Eagle instead of a Duck. Jacob Davidson is a redshirt senior who averaged over 18 PPG a year ago. He's the best player in the Big Sky and put up over 30 points in three games last year, including 39 vs North Dakota. More importantly, he also had nice games vs top tier opponents, scoring 26 on Boston College and 17 on Gonzaga.
Oregon has a lot of moving pieces which could keep this game close for at least a portion of the game. Davidson is a great volume play at such a low price.
College Basketball Fantasy Picks: F's
Big Money Men:

Garrison Brooks, UNC ($9.3K) / Armando Bacot, UNC ($6.9K)
When previewing the ACC, I mentioned that UNC might have the best frontcourt in the country. If you can afford Garrison Brooks at 9.3K then you have deeper pockets than myself. While he's a lock for an excellent game, I plan to grab the #2 guy on the Tarheels interior instead.
A true freshman last year, Armando Bacot was raw but impressive. With a year under his belt, and a bit more refinement, I expect a big season. Due to youth, foul trouble, and fatigue, Bacot only averaged 24 minutes a game last year. Expect his playing time to increase to over 30 per game this year and his stat line will show it.
Olivier Sarr, Kentucky – ($7.8K)
Not only is Kentucky bringing in the best recruiting class in the country, they also snagged arguably the top transfer in Olivier Sarr. Sarr is from France and it took him awhile to grow into the player he is now. Finally getting solid minutes as a junior, Sarr averaged 13.7 PPG and 9 RPG for Wake Forest a year ago. Still scratching the surface on his potential, the 7 footer should have a huge year in Lexington.
Kentucky plays Morehead State and c'mon, it won't even be fair. The Eagles frontcourt consist of a 6'6 guy and a 6'8 dude. There's no one on their roster who can remotely hang with Sarr. My only concern is this game could be such a blowout that Kentucky's starters don't play much in the 2nd half.
Bargains:
Neemias Queta, Utah St – $5.9K
Lemme get another 7 footer here. The big man from Portugal averaged 28.5 fantasy points per game last year. Queta is another true mismatch down low. A double-double with a few blocks thrown in should be all but a guarantee.
While VCU is a solid opponent, it's an almost identical matchup to what Sarr is facing against Morehead State. The Rams of VCU also only start a 6'6 and 6'8 forwards and both were reserves a year ago.
Cody Riley, UCLA ($4.5K) / Ty Groce, Eastern Mich ($4.5K)
If you spent up elsewhere, I have a couple low budget big men for you here. I have them grouped together not because they are similar, but because of how different they are. Do you prefer the 6th man on a top team in the country or do you prefer one of the best players on a small school that should get crushed? There can be value in both.
Riley is the 6th man for UCLA but still played over 20 minutes a game last year. He also put up over 20 fantasy points in 10 of his last 11 games. He's a safe and steady pick but has a somewhat low ceiling.
In contrast, Groce is the leading returning scorer on an Eastern Michigan team that went 16-16 last year and should get slaughtered by Michigan State. However, that doesn't mean the senior big man can't put up a double-double and reward you nicely for a very small dollar amount. Especially, if the Spartans are up big and bring in reserves, Groce can produce.