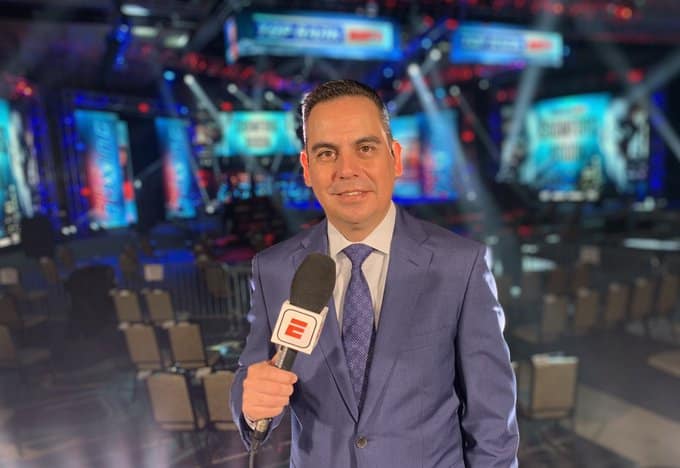 It was certainly an exciting and controversial weekend last Saturday night in Las Vegas, as Terence Crawford successfully defended his World Welterweight Championship, and then, instant replay caused a crazy lengthy delay in another title fight. And, now on the latest edition of our "Big Fight Weekend" podcast, ESPN's Bernardo Osuna who was right there as part of their coverage in the MGM Grand "bubble" comes aboard to give us insight on all of it.

Osuna joins Senior Writer of BigFightWeekend.com, Marquis Johns, and me for a fun, lengthy discussion on several subjects.
He talks about Crawford's impressive 4th round knockout of England's Kell Brook, which was the fourth successful defense of his WBO 147-pound title. But, more importantly, what will be Crawford's next fight, and can Top Rank Boxing retain him by getting him one of the bigger names in the division like Errol Spence or Hall of Famer to be Manny Pacquiao?
Bernardo takes on all of those questions in our conversation.
He also has great Insight on the lengthy replay delay during last Saturday night's co-feature fight in Vegas between Joshua Franco and Andrew Moloney. The fight was eventually ruled a no-contest due to an accidental headbutt, however, controversy continues to surround whether there actually was a clash of heads. Or, was the damage to Franco's eye actually from punches Moloney was landing?
Bernardo gives his on-scene insight and analysis, including the controversy of Nevada Athletic Commission Executive Director, Bob Bennett, being in a heated argument with Top Rank promoter Bob Arum over the ruling, right in front of him.
Finally, TJ and Marquis go over the two prominent fight cards of the weekend: one in London involving the son of former middleweight World Champion Nigel Benn, Connor Benn. And, there are some prospects fighting in the Los Angeles "Premier Boxing Champions" show on Fox Sports 1 cable Saturday night.
Marquis has the full breakdown on the names to watch and what fighter might be worth gambling something on, if you're so inclined, at MyBookie.ag ?
Hear it all as part of our Big Fight Weekend Preview show and make sure to subscribe / five-star rate and review us on Apple Podcasts, Spotify, etc!