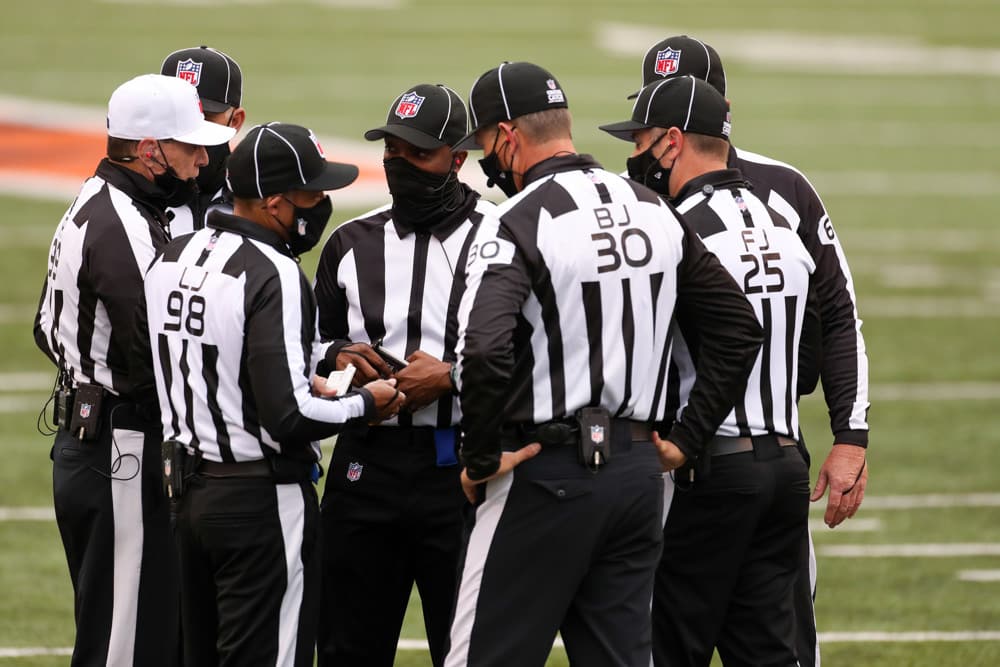 As sports fans and gamblers, we often wonder if referees have influence on a game or favor the home team or road team. I became curious to learn if there was any merit to it. In the NFL Week 10 Referee Stats Report, I highlight a few glaring stats of four NFL referees.
DOWNLOAD THE FULL NFL REFEREE REPORT HERE
Brad Allen
Thus far this season, Brad Allen has officiated eight games this season including the Thursday Night matchup of Indianapolis Colts vs Tennessee Titans. Prior to the game, the home teams have a 29%-win percentage. Furthermore, road teams are 5-2 Straight Up and 5-2 Against The Spread. Allen's games have a 5-2 record to the Over, averaging 53.71 points per game. True to form, the road team Colts won the game and covered the spread on Thursday night. Plus, the total went over the posted number of 48.5 as the game ended with 51 total points.
LEAN: Colts +1 and Over 48.5
Clete Blakeman
Clete Blakeman's most glaring stat is in the total. Blakeman is a shocking 8-0 to the Over. Blakeman officiated games are averaging 58 points per game. Additionally, the home team is averaging close to 31 points per game. In Week 10, Blakeman is officiating the NFC West showdown between the Seattle Seahawks and the Los Angeles Rams. Currently, the total for this matchup is posted at 55.
LEAN: Over  55.5
Sports Gambling Podcast's NFL Week 10 ATS Picks
Jerome Boger
Jerome Boger officiated games show a big advantage to the home team, which have a win percentage of 63%. In addition, Boger has called 16 more penalties on the road team in the 8 games he's officiated this season. Furthermore, home teams are 5-3 straight up, 6-2 Against the Spread, and have a +8.5-point differential. This Sunday, Boger is assigned to the Los Angeles Chargers and Miami Dolphins game in Miami.
LEAN: Dolphins -2 and Dolphins Team Total Over 24.5
Clay Martin
Clay Martin's stats are the most shocking thus far this season. In his eight games, the road team is 7-0-1 Against the Spread. Road teams have a +8-point differential thus far. Additionally, the Over is 6-2 in his matchups averaging close to 58 points per game. In Week 10, Martin is assigned to the NFC East divisional matchup between the Philadelphia Eagles and the New York Giants.
LEAN: Eagles -4.5 and Over 44.5
Below are the FULL referee assignments for Week 10