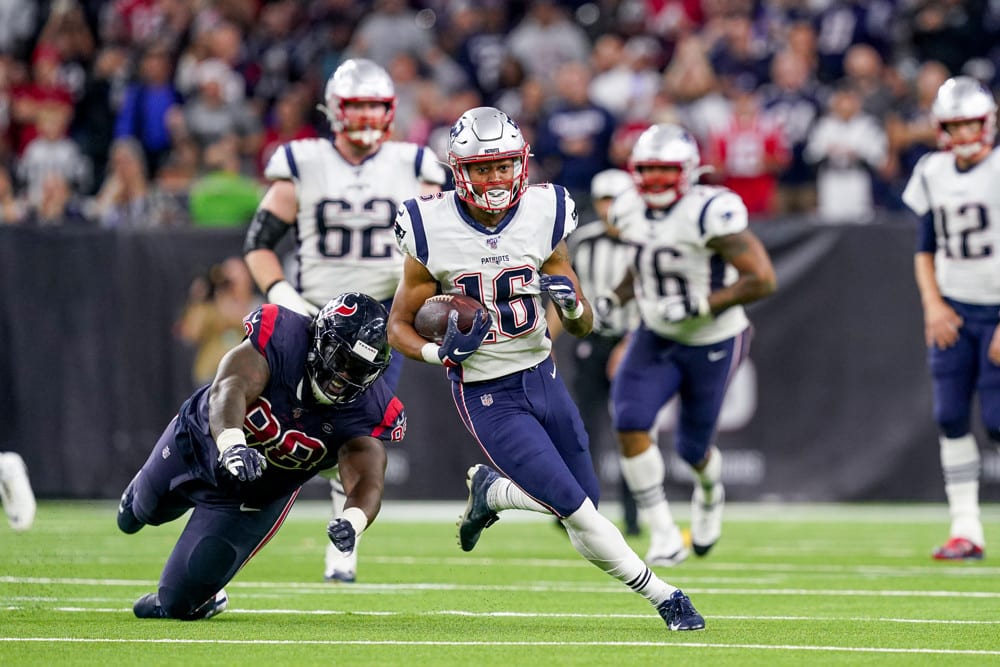 Monday night's game is why DraftKings Showdown Picks are necessary. Without a lineup at stake, very few people would watch this game. The winless New York Jets are taking on a team that is a shell of its former self without the "system quarterback." The Patriots are certainly not the same with Cam Newton and the record proves it. Neither team is full of offensive weapons and both are struggling to move the ball.
This game will make value plays of the utmost importance as having Newton in the captain's slot will cost you almost $20k. Also, with Sam Darnold out and Joe Flacco in, you will need to find some cap room lower on the list, as this is a night where you may want to roll out both quarterbacks.
As always, the players below are not meant to be considered a "core." These are simply players to consider as you are building your lineups. Play one, play them all, it is entirely up to you. My job is to help you see the reasoning behind selecting these players and how they can help you win. We wish you luck on your Monday Night Football DraftKings Showdown Picks.
DraftKings Showdown Picks
Jakobi Meyers – Captain $13,500; Flex $9,000 WR New England
The Patriots receiving corps is not filled with all-stars. Julian Edleman is the Brady era holdover of the crew and is now on the shelf. N'Keal Harry shows promise, but he too will be sitting this game out with a concussion. That leaves a handful of second year players to carry New England. Meyers is the one with the most potential in a group that seems hard to trust for your DraftKings Monday Night Showdown Picks.
His track record is not long, but he's seen 16 targets over the last two games. He's caught 10 of them for 110 yards. He is going up against a Jets defense that is allowing just over 280 passing yards a game. This should put Meyers in a solid position. The downside is, Cam Newton has only had one game this season where he has thrown for over 200 yards. In a game where fantasy points will be scarce, Meyers is about as sure a bet as you will find on the slate.
Breshad Perriman – Captain $6,300; Flex $4,200 WR New York
It is not very often you can say that having the starting quarterback out for a game actually helps a receiver. But, with Sam Darnold out this week, Joe Flacco will make the start for the Jets. As you may recall, Perriman and Flacco were teammates in Baltimore not too many years ago. The winless Jets do not have much to feel good about this season. Maybe having the two former Ravens on the field together may provide a spark.
Unlike the Jets, New England's defense is a little better against the pass, surrendering around 219 yards per game. Again, this doesn't leave very much to go around and it's possible Jamison Crowder gets the bulk of the work. With that said, Perriman supplies value you will need if you are looking to put Newton in your captain's spot. His best game of the year came in week 6 where he caught 4 of 8 targets for 62 yards. This seems right around his ceiling for tonight.
Frank Gore – Captain $4,200; Flex $2,800 RB New York
It has been tough to roster any Jets players for fantasy this season. It has been even tougher rostering a Jets running back. With the departure of Le'veon, the backfield has been left to La'Mical Perine and Gore. Neither has made the most out of that opportunity. Last week, Gore had 10 carries for 30 yards in a timeshare with Perine. Of the two, Gore actually had the most rushing yardage. The only difference in the game was Perine's two catches.
You are not expecting a giant breakout game from Gore this week. What you will get from Gore is salary relief from having a top heavy slate from the players you know will score the points. Given that he now benefits from having Joe Flacco under center, he may just catch a pass or four like he did in week 6 against Miami. If you can get an 11 point game out of him like that, you will certainly see some green.
DraftKings Showdown Picks Related Posts