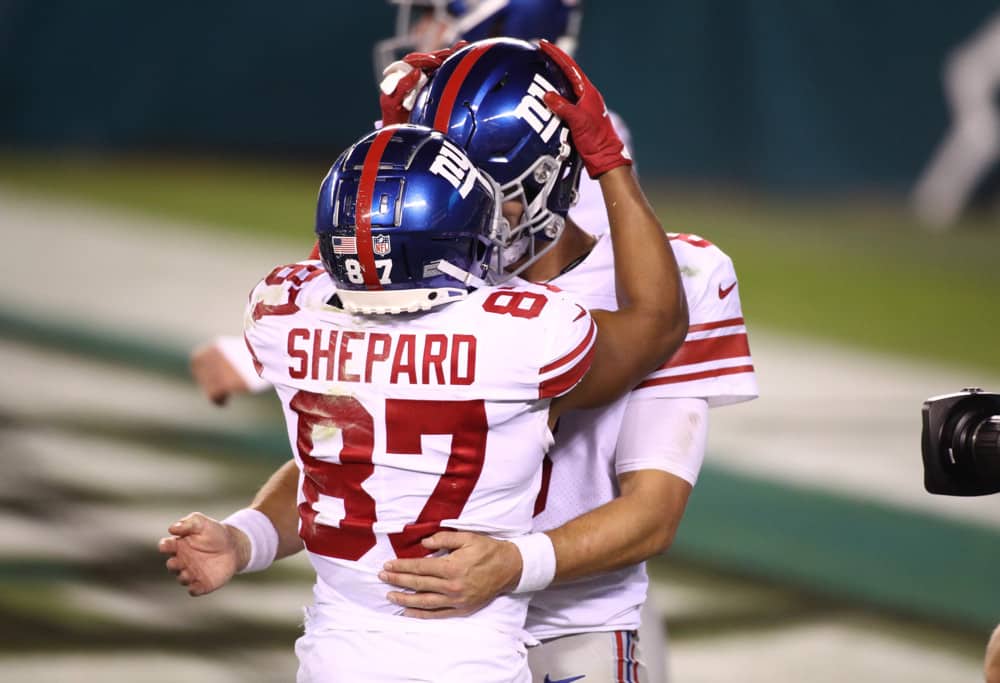 Monday night, the surging Buccaneers will meet a Giants team that have not recovered from losing their best player in Week 1. Tom Brady has all the confidence in the world as Tampa is riding the high of their new prolific offense. On the other side, Daniel Jones has led a snake-bitten squad which has yet to find any success. This game could turn ugly by halftime which means there will be fantasy points to be had in your DraftKings Monday Night Showdown Picks.
Let's take a different approach to setting up this slate. On top of laying out a few picks for you, I'll tell you the story of why these picks make sense. In the story of this game, Brady will lead the Bucs to a sizable lead early enough in the game. He and his receivers will do enough to allow his running backs to salt away the game late.
With the Giants facing a double-digit deficit, Jones will be forced to throw a ton. This puts New York's main pass catchers squarely in play for fantasy relevant nights. So, for roster construction, having Brady paired with a Tampa receiver will cost. You must offset this cost by finding cheaper upside. The Giants playing catch up should supply this upside.
As always, the players below are not meant to be considered a "core four." These are simply players to consider as you are building your lineups. Play one, play them all, it is entirely up to you. My job is to help you see the reasoning behind selecting these players and how they can help you win.
DraftKings Monday Night Showdown 
Sterling Shepard – Captain $9,900; Flex 6,600 WR New York
Last week, Shepard enjoyed a fine first outing after his injury absence. He hauled in 6 of his 8 targets for 59 yards and a touchdown against the Eagles. Daniel Jones enjoyed having his top talent back on the field and it showed. Despite ultimately suffering the loss, Shepard showed how important he is to a sputtering Giants offense. Now that he's back, expect him to continue to get looks and even better produce on those looks.
The Buccaneers have been enjoying all the benefits of their "system quarterback," including sizable leads. These leads mean teams are forced to put the ball in the air more than normal. As a result of playing from behind, pass catchers have had a decent amount of success against them. In fact, the Bucs are fresh off a game in which Nelson Agholor tallied 5 catches for 107 yards and a touchdown.
Given the presumption that the Giants will be playing from behind Monday night, it won't be hard to see Shepard having a roster worthy day. Also, by those same standards, he makes a highly intriguing play at the captain's spot. Either way, he should be locked into your DraftKings Monday Night Showdown Picks.
Leonard Fournette – Captain $9,300; Flex $6,200 RB Tampa Bay
Ronald Jones reigns supreme in the Tampa backfield this is true. But Fournette made his presence felt last week against the Raiders. He saw the field over half of the Bucs offensive snaps and made his touches count. He garnered 11 carries and 6 receptions. All told he walked away from Las Vegas with 97 total yards and 15.7 fantasy points, 5 points more than Jones. Hopefully for us, what happened for him in Vegas didn't stay there.
Leonard Fournette's eyes tell me he's too surprised that he's breaking a run in this photo. pic.twitter.com/VSesDmtWKd

— Kate Magdziuk (@FFballblast) October 31, 2020
The Giants have a spotty track record against running backs, especially those of the pass catching variety. It would not be hard to envision Fournette turning in another stat line like last week. He checks in a full $2k and change less than his backfield companion with the potential for similar if not better output. Don't be too concerned with his new label as a "nickel back," this just means he has more potential for PPR production. Should he deliver, it will do well to have him in your DraftKings Monday Night Showdown picks.
Evan Engram – Captain $8,700; Flex $5,800 TE New York
Still riding the come-from-behind narrative from the intro, Engram becomes a target for your lineups. It has been tough to trust the Giants star tight end this season. His production has fallen in concert with New York's inability to move the ball. What should move the needle in his direction though, is his targets. Engram is coming off of a game in which he saw Jones look his way 9 times. Six of those found the mark resulting in 46 yards, good for just under 11 points.
Tampa has done well against the position this season, but it can be argued that they haven't faced very many with Engram's talent. Of the few they have, Jared Cook turned in an 80 yard night on 5 receptions, and Darren Waller collected 50 yards and touchdown on his 6 catches. The Giants need someone to step up and with Shepard back, maybe it will take some pressure off Engram. His price makes him worth a look in a multi-entry lineup or two.
Wayne Gallman – Captain $7,800; Flex $5,200 RB New York
As if New York is not already thin at the position, Devonta Freeman has been ruled out for Monday night. This leaves two healthy backs left on the slate for the Giants. Gallman will assume lead back duties. Dion Lewis will back him up while potentially carrying out duties as a pass catching back. I get that the Giants running backs don't instill the greatest sense of confidence. I also get that he'll likely be in a game where his team will probably be playing from behind. All that said, Gallman per his position, will get touches. As is preached each and every week by each and every fantasy analyst, touches equal potential for fantasy points for your DraftKings Monday Night Showdown Picks.
Devonta Freeman (ankle) again didn't practice Saturday. It's Wayne Gallman week. #mnf #Giants #Buccaneers https://t.co/gSckM5dCOx pic.twitter.com/XjjNymfQrP

— Jordan Raanan (@JordanRaanan) October 31, 2020
In relief of Freeman, Gallman managed to find the end zone on one of his 10 carries. He also caught all 5 of his targets. All in all, he racked up 16.4 points in limited work. With a full game at his disposal, this type of game will be all you need to make this a solid investment. His price relief alone will make it hard to pass up on his potential. He is obviously not a secret weapon by any means. He in fact could be heavily owned in tournaments, so it will be important to pick your spots in using him.
READ ALSO
Early Week 9 Waiver Wire Fantasy Football
MORE FROM SGPN