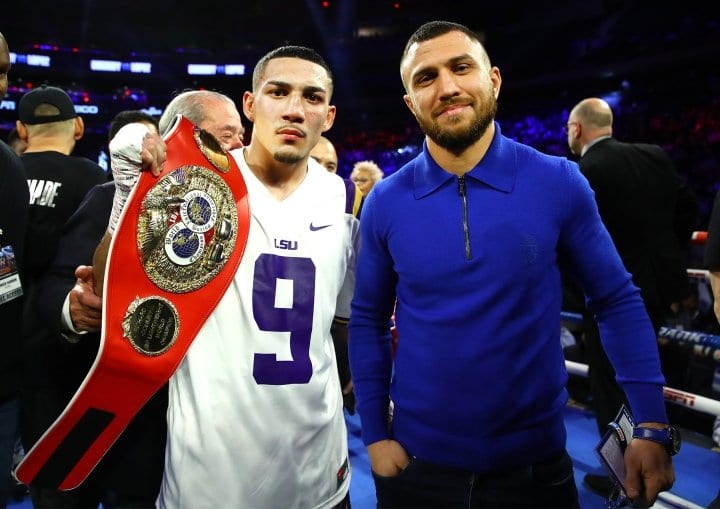 It's a highly anticipated World Lightweight Championship main event Saturday night from Las Vegas. And, we're ready to preview Vasiliy Lomachenko taking on Teofimo Lopez, as part of  the "Big Fight Weekend Podcast."
Host T.J. Rives is ready to go with insight and analysis, plus his special guests. They include, Marquis Johns, senior writer at BigFightWeekend.com and T.C. Martin host of the 5-day a week
"T.C. Martin Show" in Las Vegas. T.C. is on scene in "Sin City" for the showdown at 135 lb.
This is one of the top remaining fights of 2020 and is a bout that was originally scheduled for May at Madison Square Garden. That's before Covid-19 caused the shutdown of the sport for over 90 days earlier this year. Now, it's back on and it's time to see who can back up all the talk that's been going on for moths.
Will it be the Ukranian veteran and former Olympic Gold Medalist Lomachenko, who has much more world-class experience and holds three of the lightweight titles? Or, will it be the big punching unbeaten Lopez from New York, who won the IBF World Title last December in his last fight?
This battle will be a classic matchup of an experienced, slick, hard-punching veteran vs. a young tough and even maybe "too cocky" fighter, who's ready to take the next big step in his career.
T.J, Marquis and T.C. debate whether Lopez's father, who will also be in his corner, is creating extra distraction and controversy for him in the preparation of this fight. This, as Lomachenko has repeatedly made mention, including earlier this week, the damage he's going to inflict on Lopez, because of all of his father's comments and antics.
The guys also make their predictions on who will win, as headed into Friday Lomachenko is -430 with Lopez an appealing Underdog at + 330.
Lopez, who has 12 Knockouts in his 15 career wins, is + 550 to win the World Title fight by stoppage or KO. Meanwhile, Lomachenko is + 210 to do the same.
This fight will take place in front of some limited invited guests inside the Top Rank Boxing "bubble" at the MGM Grand Convention Center on the Las Vegas strip. And, ESPN will televise all over the country late Saturday night, as one fighter will walk out of the ring as the Undisputed Lightweight Champion of the World.
Make sure to not only listen what's subscribe and five-star rate/ review the big fight we came podcast on Apple podcasts, Spotify, Etc!