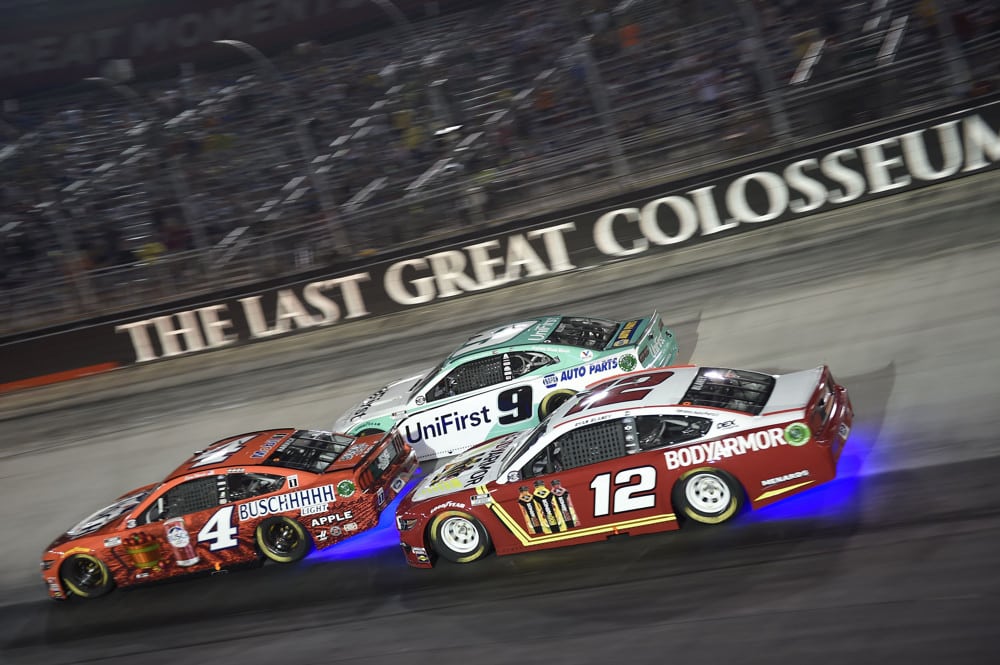 It's the final leg of the First Elimination Round of the NASCAR playoffs, as those on the cut line fight tooth and nail to advance on the high flying short track of Bristol Motor Speedway. That means it's time to go all-in on your NASCAR DFS picks.
Here's everything to know about the track and the race before putting together a DraftKings (promo code SGP) lineup for Bass Pro Shops NRA Night Race.
Past Winners
2020 (Spring) – Brad Keselowski
2019 (Summer) – Denny Hamlin
2019 (Spring) – Kyle Busch
2018 (Summer) – Kurt Busch
2018 (Spring) – Kyle Busch
2017 (Summer) – Kyle Busch
2017 (Spring) – Jimmie Johnson
Track History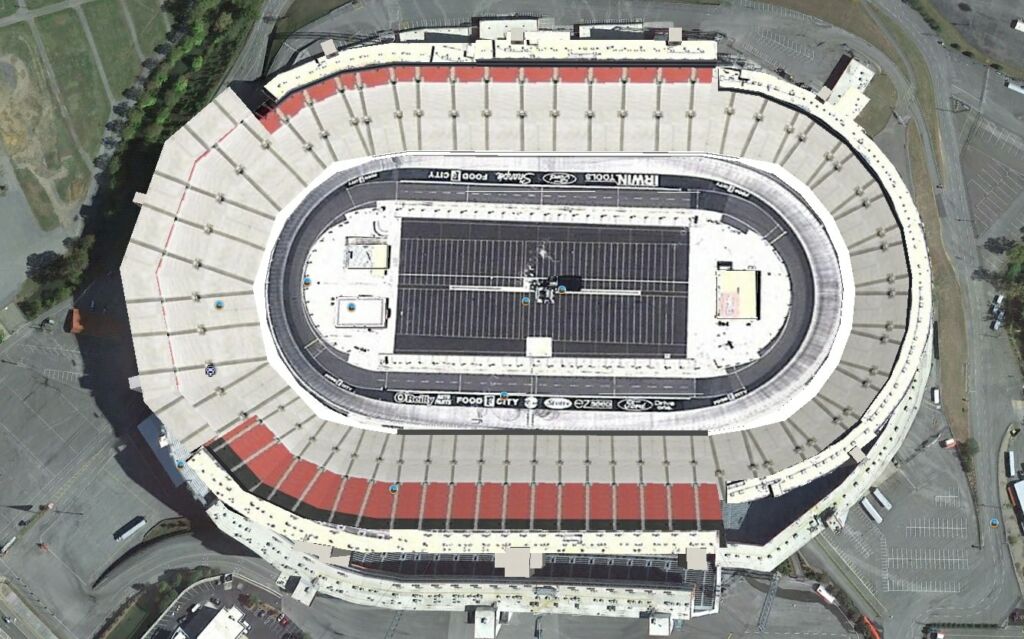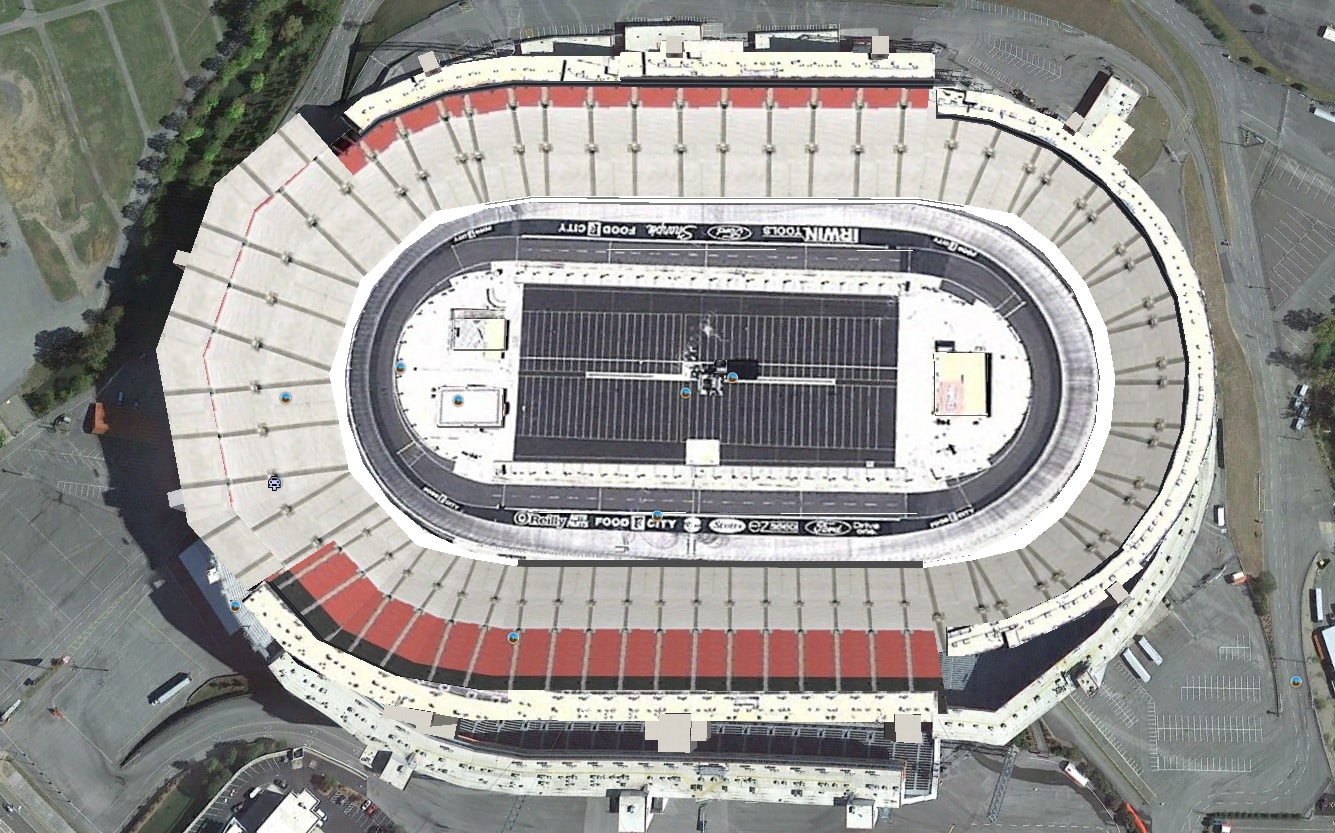 The site of the current Bristol Motor Speedway opened in 1961 by a group of local businessmen who wanted to build a speedway in northwest Tennessee after watching a race at the Charlotte Motor Speedway. Instead of making a carbon copy of Charlotte, they built a perfectly symmetrical half mile concrete oval with 22 degree bankings. The original seating capacity at the track was 18,000 and gradually expanded to 71,000 over the next 35 years. Since that time track alterations reconfigured it as more of a hairpin oval, similar to that of Darlington.
In 1996, Speedway Motorsports, Inc. purchased the track and rapidly expanded the seating to accommodate the exploding popularity of NASCAR. Over the next two years, 60,000 seats and 100 luxury boxes were built to attract more bodies and bigger corporate sponsors to the track. Further improvements to the track continued in 2003, with the addition of a pedestrian tunnel, a revamped infield, two new scoreboards and another 30,000 in seats to bring total seating to 160,000. At the height of the track's popularity, all 160,000 seats would be filled for the annual Summer Night Race at the track.
Bristol Motor Speedway is now the seventh largest sporting venue in the world and looks more like a football stadium instead of a race track. In fact, it was able to attract the Tennessee Volunteers to take on the Virginia Tech Hokies to play a football game in the infield that drew a crowd of 156,990. That set the record for the most attended college football game in history.
While the track doesn't sell out anymore, the track remains as one of the more popular on the circuit for fans. The fast paced oval can produce very exciting races with high speeds, constant side by side action and many fender benders. Watching a race at Bristol is even more exciting and at times can be a little overwhelming. The whirlwind pace can make it difficult to keep track of the top cars on the track, as well as constantly cranking your neck side to side to watch all the action. If there was a fan experience equivalent to attention deficit disorder, Bristol Motor Speedway is it.
The only complaint from fans in recent years is the graduated banking of the corners that was done in 2007. The bottom groove of each corner is banked 24 degrees, while the top groove is 28 degrees. This made passing at Bristol more challenging, especially for anyone who drove their preferred line on the bottom. The top of the corners allowed cars to carry more speed both throughout and out of the corner, making passing from the bottom a very difficult task. In response, NASCAR has added a composite material to the bottom groove to add more grip, which has helped make passing on the bottom a little easier.
Other Race Notes
1. Ryan Blaney is in serious trouble. Blaney was one of the hottest drivers during the summer when he had six Top 5's in six races, capped with a thrilling win at Talladega. Since then, Blaney has been very pedestrian with only four Top 10's in his last 15 races, and he's been very poor in the first two races in the playoffs to put his chances of advancing in serious jeopardy. It's a shame because Blaney has had very fast cars this year, as he's led the 7th most laps and has the most stage points of anyone in NASCAR. He'll need a miracle to advance to the next round, and it probably can only happen with a win on Saturday night.
2. If you gave a random NASCAR fan three guesses who has the best average finish at Bristol since 2017, they probably wouldn't guess Clint Bowyer. Bristol has been one of his best tracks in recent memory, as he's only finished in the Top 10 six times in seven races, including a runner up finish here in the Spring race. Bowyer heads into Bristol right on the cut line, but at one of his best tracks he stands a great chance to lock up his spot in the next round.
3. Overall, the Toyota's have been the most dominant manufacturer at Bristol since 2017. Their collective average finish is 13.9, which is significantly better than both the Ford's and the Chevrolet's. Kyle Busch and Denny Hamlin have combined to win four of the last 7 races for Toyota and have led 1,275 laps at the track in that stretch.
NASCAR DFS Picks
Kyle Busch – $10,400
Busch is 18 points ahead of William Byron and should be safe to advance to the next round, but he's definitely in danger of not advancing into the Elite 8 if he doesn't start accumulating more playoff points. Busch has two straight Top 10's and has led the most laps of anyone at Bristol since 2017. Is Kyle Busch really going to go a full season without a win? At some point he has to break through, and maybe this is the week.
Kurt Busch – $9,100
The other Busch Brother is only 7 points clear of the cut off spot, so he and his team should be laser focused to make sure they advance to the next round. Kurt Busch has a very solid recent history at Bristol with an average finish of 10.1. During that stretch he has a win and four other Top 10's at Bristol. Another Top 10 would be plenty useful for a DFS lineup at this price point.
Ryan Blaney – $8,800
Blaney is going to race desperate, and though Bristol hasn't been his best track we know he's capable of bringing a car with speed. Blaney dominated the first stage in the Spring, only to get caught up in an unfortunate accident early in Stage 2 to knock him out of the race. The only way for Blaney to advance to the next round is a win, and he'll do whatever it takes to get up there.
Clint Bowyer – $8,400
As mentioned above, Bowyer has the highest average finish of anyone in the field at Bristol, and his price point is very reasonable for someone with such a strong history at the track. He also should be very motivated to post a good finish as he's right on the cut line in the playoffs.
Christopher Bell – $7,100
It's been an up and down season for Christopher Bell, but he had a fast car in the Spring and has a good history at the track in the Xfinity Series. Bell finished 9th at Bristol in the Spring and won at Bristol in the Xfinity Series in 2019. He could surprise for a good finish.
Michael McDowell – $5,900
McDowell has made the most out of limited equipment all season. He's finished inside the Top 20 in eight of his last 15 races, which doesn't sound impressive but when you're a driver for an underfunded team racing that's very impressive. He also has two Top 20 finishes in his last two races at the track. McDowell starts deep in the field and could do much better than his starting position for bonus points.